Our fast-track course is the best way to get your NCTJ qualification as quickly as possible so you can start applying for your dream journalism job.
This intensive course is a full-time commitment, and you will learn everything from media law and public affairs to how to write news stories quickly and accurately.
Your studies will be accompanied by extra-curricular sessions designed to boost your career prospects and develop your multimedia and broadcast journalism skills. 
News Associates courses in London and Manchester have won top fast-track course by the National Council for the Training of Journalists for the last eight years, and we've run the top fast-track course in London for 12 straight years.
Check out our 2020 success here and click here to see the NCTJ league tables.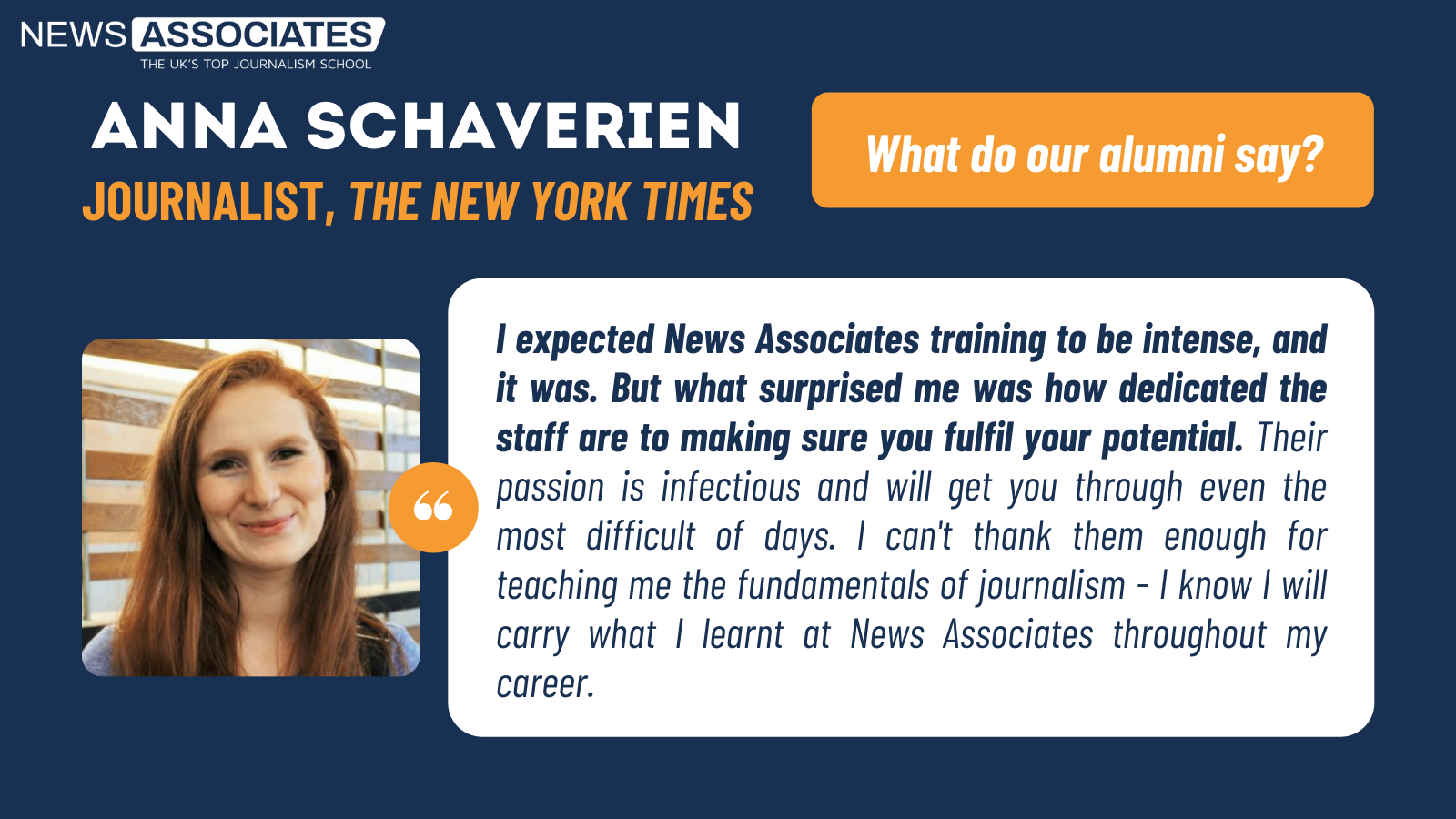 Contact hours
At the start of the course we'll give you a course handbook which will have all your term and exam dates.
Lessons will take place Monday, Tuesday, Thursday, Friday (Monday-Friday for the first two weeks) 9am-5:30pm, with breaks in between lessons and an hour lunchbreak. 
In-person attendance is compulsory, as we're preparing you for the world of work.
Wednesday is your day to do a journalism placement of your choice. You can choose to do weekly placement with an external publication or broadcaster, or you can carry out placement with our in-house local news websites in London or Manchester.
If you have work or family commitments, or need to earn an income while studying, check out our in-person part-time course (40 weeks) or our remote part-time course (18 months).
Course modules
Trainees on this course will study ten compulsory modules, taught by tutors with experience in different corners of the journalism industry. 
Mandatory modules:
Optional modules:
The optional modules are additional to the mandatory modules. You can still achieve your gold-standard NCTJ Diploma by sitting just the mandatory modules. The optional modules are offered at no extra cost or time.
As well as your formal modules, we will leave plenty of time for extra-curricular sessions including guest talks and career development.
Furthermore, if breaking news hits, we are likely to throw the timetable out of the window and get you working as real journalists. Just recently our trainees have covered the death and funeral of Queen Elizabeth II and King Charles III's coronation, as well as multiple local and general elections.
News Associates' practical and dedicated approach to teaching sets us apart from other training providers, earning us the Innovation of the Year award at the 2020 and 2022 NCTJ Awards for Excellence.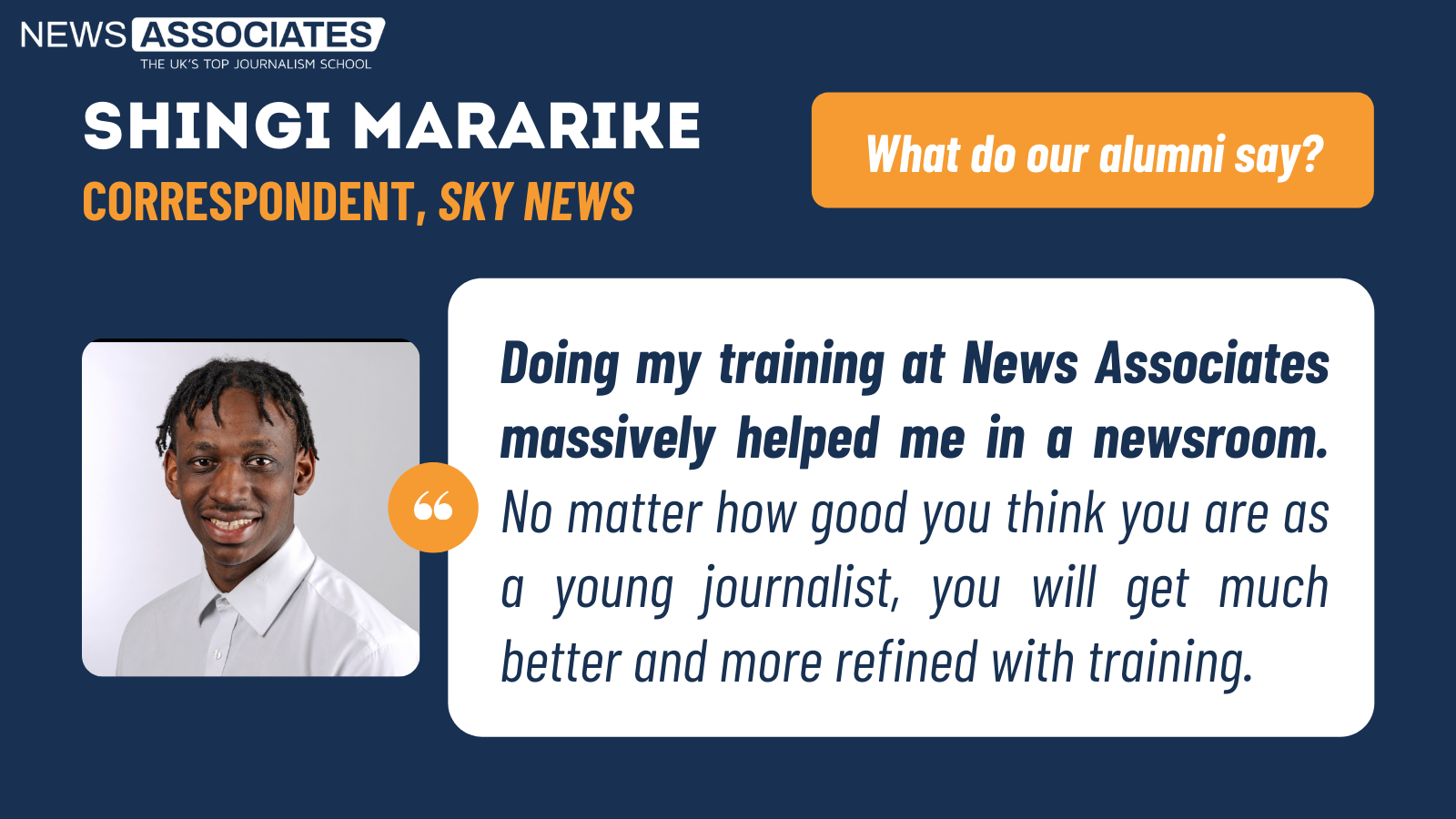 See a list of our trainees' first job destinations here. 
The next intakes of our fast-track courses start in September 2023 and February 2024.
Please note, this is a postgraduate course and the fees are £5,250. Click here to learn more about fees and funding.
Click here to find out more about our undergraduate multimedia journalism degree, The School of Journalism.
Got a question about our fast-track journalism course? Contact us on training@newsassociates.co.uk or 0203 026 3781.
Read our fast-track FAQs here.
Sign up for a free journalism workshop or Q&A here.
Apply for our fast-track journalism course here.