Want to study with us at News Associates? Here are some of the questions we get asked regularly about our 35-week full-time sports journalism courses.
What is the NCTJ?
The National Council for the Training of Journalists administers the industry's qualification for aspiring reporters in the UK. Most journalism jobs require the NCTJ qualification. It is a charity which provides a world-class education and training system for aspiring journalists, meeting the demands of a fast-changing multimedia industry.
NCTJ accreditation is widely viewed in the industry as the benchmark of excellence for journalists.
Read about what the NCTJ is and why it is important here.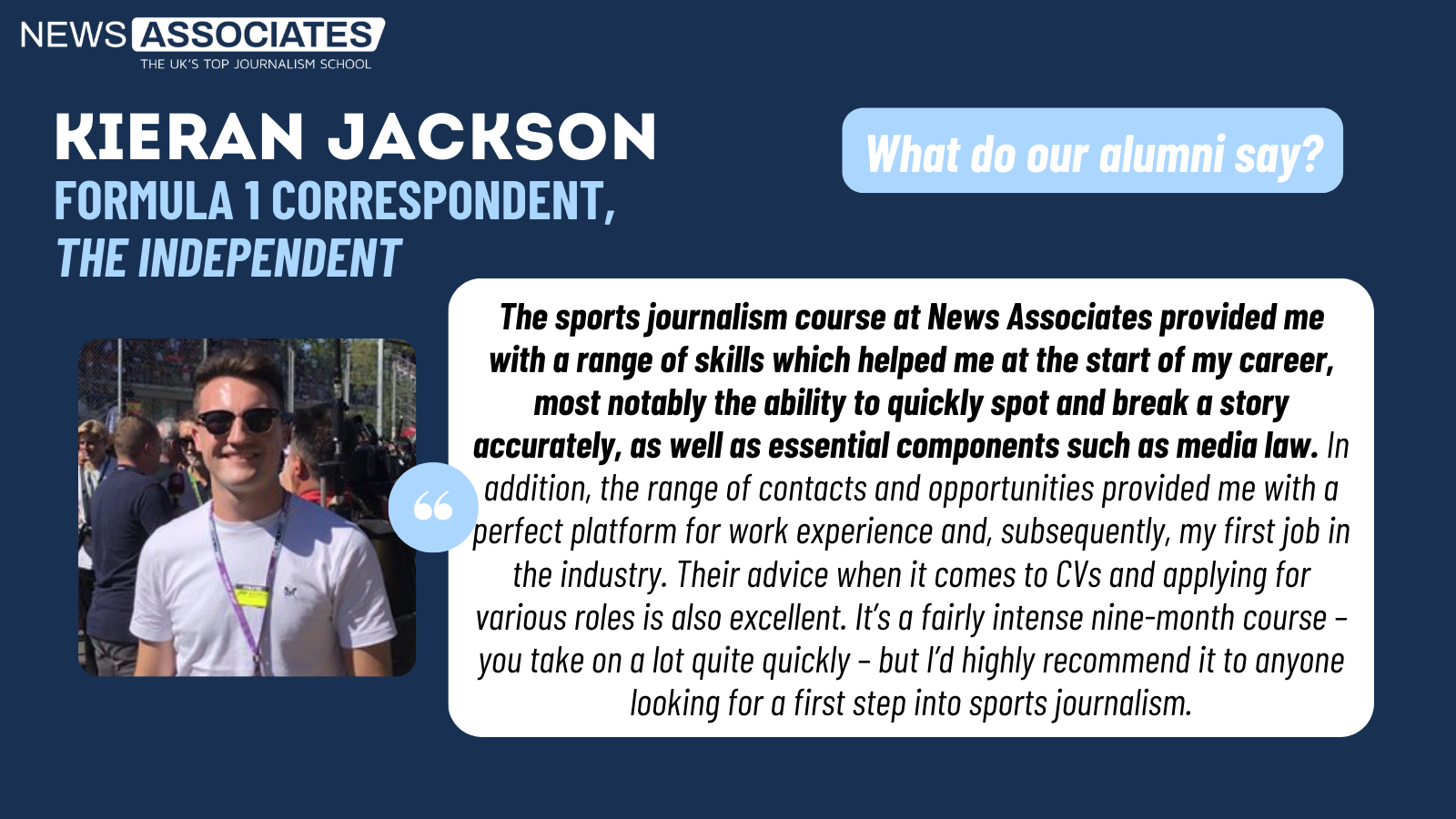 What modules will I sit on the sports journalism course?
On our 35-week full-time sports journalism course you will study nine mandatory modules: data journalism, essential journalism e-portfolio, essential journalism, essential journalism ethics and regulation, essential media law and regulation, journalism for a digital audience, public affairs for journalists, PR and communications for journalists and of course lots of sports journalism, including live blogging.
You can read more about the modules here: https://newsassociates.co.uk/nctj-course-elements/
There are also two optional modules: shorthand and media law court reporting. 
You'll also cover lots of broadcast journalism which you can include in your portfolio, and social media skills. We thought you'd like to watch this produced by our sports journalism trainees in 2023:
The optional modules are additional to the mandatory modules. You can still achieve your gold-standard NCTJ Diploma by sitting just the mandatory modules. The optional modules are offered at no extra cost or time.
As well as your formal modules, there is also plenty of time for extra-curricular sessions including guest talks and career development.
If I sit and pass shorthand, are the other modules still compulsory?
Yes, shorthand and court reporting are the only optional modules and they are in addition to the other modules.
Can I only be a sports journalist if I do this course?
We believe it is important to be an all-round journalist first and foremost, which is why you will study all of the fundamental skills need be a journalist – including media law, politics and social media, for example – with lots of sports journalism on top!
Our sports journalism course is specifically designed to not pigeonhole you into just becoming a sports journalist, if you don't it to.
You will study the core modules of the NCTJ curriculum – including essential journalism, essential journalism ethics and regulation,  essential journalism e-portfolio and essential media law and regulation – as well as the NCTJ sports journalism module. You'll also learn invaluable skills to be a successful sports journalist, including live blogging, social media and data journalism.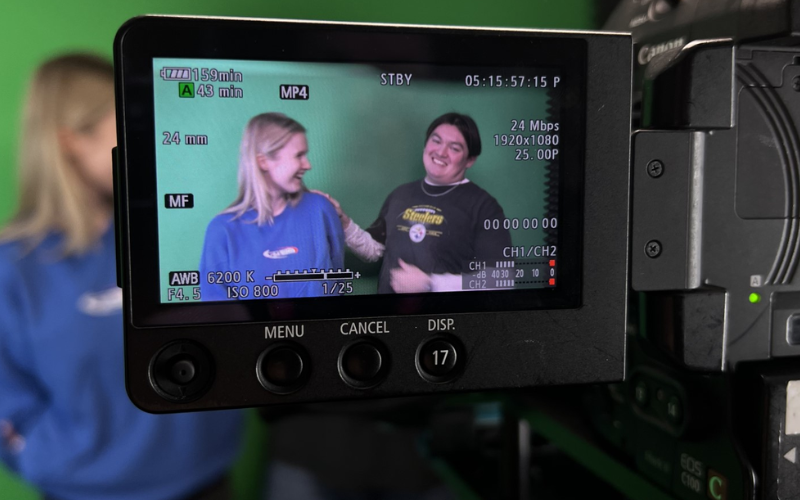 How much sport will I get to cover?
You will get to cover a lot of sport on this course. This will be both for your sport exam and through extra curricular activities such as match reports, live blogs and broadcast projects. 
Our sports journalism trainees have covered everything from the Ryder Cup to the Australian Open, the men's football World Cup to Cheltenham, Australian rules football to the Rugby League World Cup and much, much more.
They also have unrivalled access to exclusive events in the industry, including the Sports Journalists' Association British Sports Journalism Awards. 
If I sit and pass shorthand, are the other modules still compulsory?
Yes, shorthand and court reporting are the only optional modules and they are in addition to the other modules.
I am working full-time, can I study for the NCTJ Multimedia Diploma around my employment?
The full-time sports course is an intensive 35-week period. We recommend you fully commit to the course and do not undertake any part-time work.
If you need to hold down employment alongside studying for your NCTJ then we suggest looking at one of our part-time courses.
The application process is the same as the sports journalism course, and you will leave with the same qualification, just without the sports journalism module.
See more about our in-person 40-week part-time course here. And our 18-month fully-remote part-time course here.
What contacts do you have?
Our NCTJ-accredited sports journalism course is run in association with Britain's leading sports press agency Sportsbeat – and you learn from tutors with first-hand experience in sports reporting.
Our media links put us at the heart of the industry. Our news and sports agencies, including Sportsbeat, produce more than 75,000 stories for 500 media organisations each year.
We are the official news agency for a host of organisations providing content to clients as diverse as the Football Association, the British Olympic Association and the National Lottery, with content on all platforms from newspapers to radio stations, magazines to social media and TV to magazines.
We also have a huge alumni network working in written and broadcast sports journalism across the globe.
What an evening last night for the @theofficialfwa awards dinner. Chuffed to pick up my award for Hugh McIlvanney Student Football Writer of the Year. And extra special for Caroline McIlvanney to present it to me 🙌 pic.twitter.com/QUz95TbfMq

— Dom Smith (@MrDomSmith) May 26, 2023
Will you help me find a job?
We're passionate about the fact our job isn't over until we've found you one. We have an unrivalled network of alumni contacts who frequently send us jobs to circulate to trainees.
The course involves sessions on employability, such as CV clinics and mock interview practice, as well as guest speakers and networking events.
What's the difference between studying with News Associates and taking a Masters in journalism at university?
In our opinion, an NCTJ with us and a Masters are very different qualifications. There are no academic elements to our courses – it's practical training and learning by doing. We have a favourite saying here that you can't learn journalism from a textbook, and we stand by it.
If you choose to study with us then we'll treat you like a trainee journalist from day one, not a student – which isn't for everyone. Our course is shorter (and cheaper!), but ultimately focussed on getting you your first journalism job, or moving to a different area of the industry.
Read more about this here: https://newsassociates.co.uk/what-is-the-nctj/ 
What are your entry requirements? Do I need a degree?
The majority of our trainees have an undergraduate degree, from a variety of different subjects, however we are looking for a clear passion and commitment to the industry, such as through student media or relevant work experience.
We sometimes accept applications from mature applicants without formal qualifications. It is highly desirable that you have some relevant work experience in journalism, especially when applying for our fast-track course. This may be paid work, an internship, student journalism at your university/college, freelance work, or a combination of these.
If English is not your first language, you must get a minimum overall score of 7.0 in the IELTS English language test, including at least 7.0 in the writing component of the test. You will be required to take this test at your own expense.
Will I be able to build a portfolio whilst completing my NCTJ training?
Producing a body of work you are proud to show to a potential future employer is a key part of the course. As part of your course, you will produce a 10-piece e-portfolio, including a live blog. This is a compulsory module on all our NCTJ-accredited courses.
You will be able to build on top of this portfolio during your weekly placement. You can choose to do weekly placement with an external publication or broadcaster, or you can carry out placement with our in-house local news websites in London or Manchester and sports journalism agency Sportsbeat – you will write for these publications loads as part of your course anyway, you can pitch to us whenever you like and join our Wednesday placement days.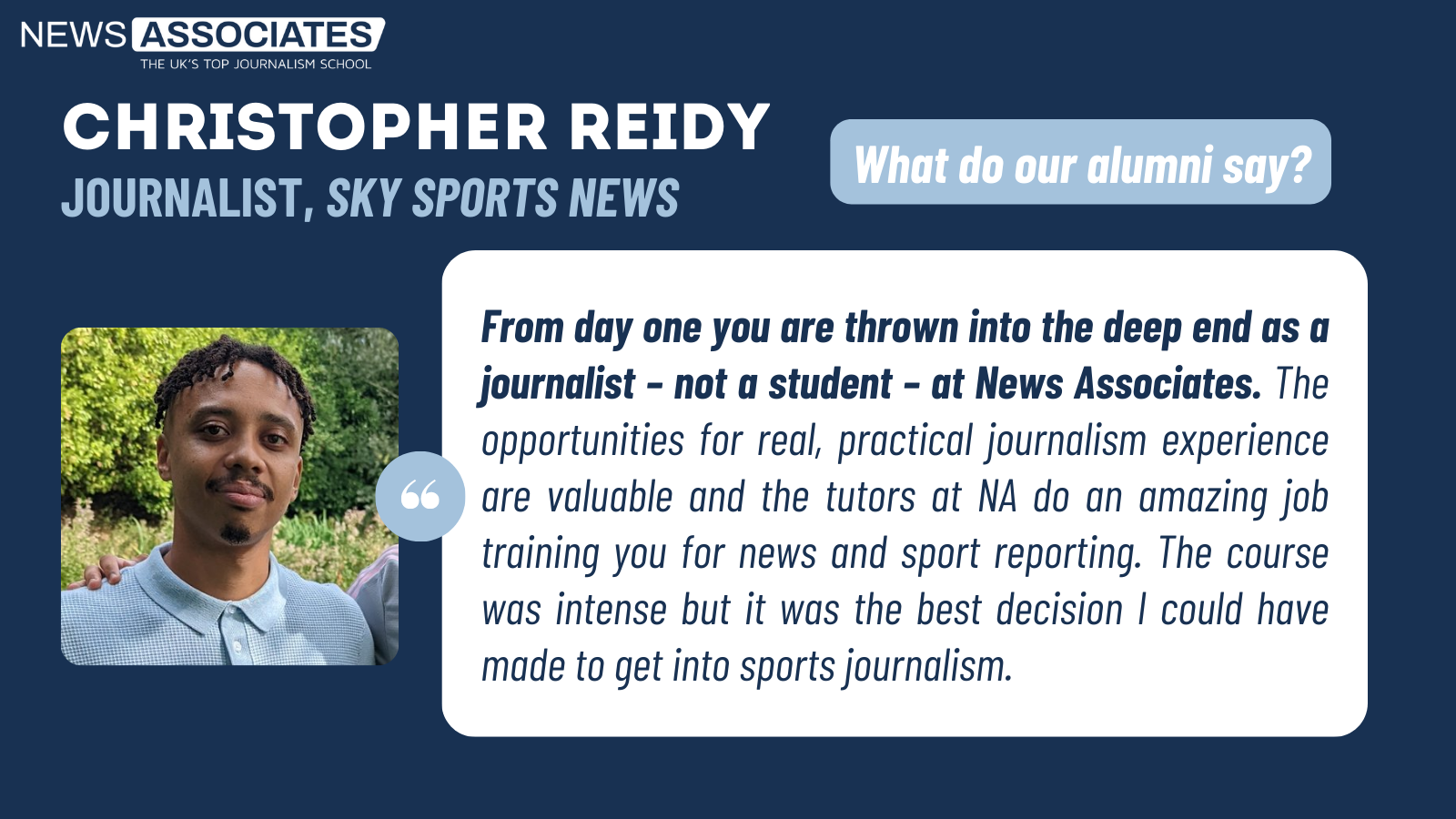 How does the application process work?
Our application process has three phases. The first stage is this short form online.
After your initial online application is assessed by our training team you will be emailed a longer admissions form which you will need to fill out and email back.
If successful, the final stage is an interview and exam at our office or remotely. 
Subject to passing the exam and impressing in the interview you will be offered a place to study with us.
We regret that due to the high number of applications we are not able to give individual feedback on the process.
Can I apply if I'm based internationally? 
International trainees can apply for all our training schemes but please note we are not on the Sponsor Register of Employers and are not currently in a position to sponsor Tier 2 or Tier 4 visas for international graduates. Therefore our courses are not eligible for student visas and we cannot assist with any visa applications.
Alternatively, you could apply for our 18-month remote-only course. This allows our trainees to study from anywhere!
I don't live in London or Manchester, can you help me find accommodation?
Our trainees come from near and far, and have no problems finding somewhere to live. We can put you in touch with fellow course members who might want to house share with you, and there are plenty of student houses and spare rooms advertised on websites.
How much does the course cost?
The course fees are £5,950. You can see more and bursaries and paying in installments here: https://newsassociates.co.uk/fees-funding/ 
Can I talk to someone or come and have a look round before I make my decision?
Many of our trainees came to one of our free workshops first to meet the team, but we're also more than happy to book a time for you to come and ask us your questions. Please email us at training@newsassociates.co.uk or call us on 0203 026 3781.
Our @NCTJ_news trainees loved hearing from @SkySportsNews presenters @skysports_sheth and Jo Wilson 🤩

They shared advice on getting into sports journalism, their top tips for broadcasting and memorable career highlights ✨ pic.twitter.com/8nJ84x06yV

— News Associates (@NewsAssociates) April 14, 2023
Got a question about our journalism courses? Contact us on training@newsassociates.co.uk or 0203 026 3781.
Sign up for a free journalism workshop here.
Apply for our NCTJ-accredited journalism courses here.