What is the sports journalism module?
The sports journalism module is only taken by trainees on our NCTJ-accredited Diploma in Multimedia Sports Journalism, introducing you to the concepts at the heart of sports reporting.
Sports journalism trainees do similar modules and exams as our fast-track and part-time trainees, but with one key difference: you will also do the NCTJ sports journalism module to prepare you for life as a sports journalist.
Sports journalism is a compulsory module on the following courses only:
• NCTJ Diploma in Multimedia Sports Journalism (full-time/35 weeks, London & Manchester)
It's Aussie Rules day here at News Associates London! 🇦🇺

We're taking our @NCTJ_news sports journalism trainees out of their comfort zone and getting them to cover Brisbane Lions v Richmond in the preliminary final. 😃#AFLLionsTigers #AFLFinals #TheAussieRulesShow pic.twitter.com/pFpJGZuo3d

— News Associates (@NewsAssociates) October 2, 2020
You learn how to file 'on the whistle'. We'll introduce you to dressing in quotes, quotes-led rewrites and round-ups. We'll explore interview skills, colour writing, picture editing and social media collation.
You'll cover all these key skills and more, as we continually adapt our sports journalism module to keep up with changes in the industry. You will be expected to live blog, live update a Twitter feed and create SEO-friendly content for websites.
My interview with Ellie Wakeling – the only woman playing men's NIHL 1 ice hockey – is out today in the Telegraph's women's sport supplement!
Pick up a copy and don't forget to watch GB women competing at Worlds over the next few days 🏒 pic.twitter.com/Ot9Y2ggImO

— Elise Hamersley (@EliseHamersley) April 20, 2023
Why should I train to be a sports journalist with News Associates?
When the NCTJ wanted to develop a this specialist module, they turned to the reporters and editors at our own sports news agency, Sportsbeat, to shape the syllabus and design the examination.
Every year Sportsbeat supplies over 70,000 stories to a client base of media titles, event organisers and international and national sports associations, including the British Olympic Association, Football Association and British and Irish Lions.
Covering more than 40 sports at local, regional, national and international level, the NCTJ recognised we were ideally placed to help shape and teach this qualification – because, as employers, we know the skills needed from graduate reporters.
England's @Lionesses survive a scare to claim Finalissima with penalty shoot out win over Brazil | Sportsbeat's @milly_mcevoy for @EnglandFootball https://t.co/X2PI9oaKPt pic.twitter.com/SVFpTIRWe7

— Sportsbeat (@Sportsbeat) April 6, 2023
What makes a good sports journalist?
We believe sports journalism is so much more than knowing the latest footie scores.
On all of our courses you will first and foremost learn how to be a great reporter, and the sports journalism course is no different.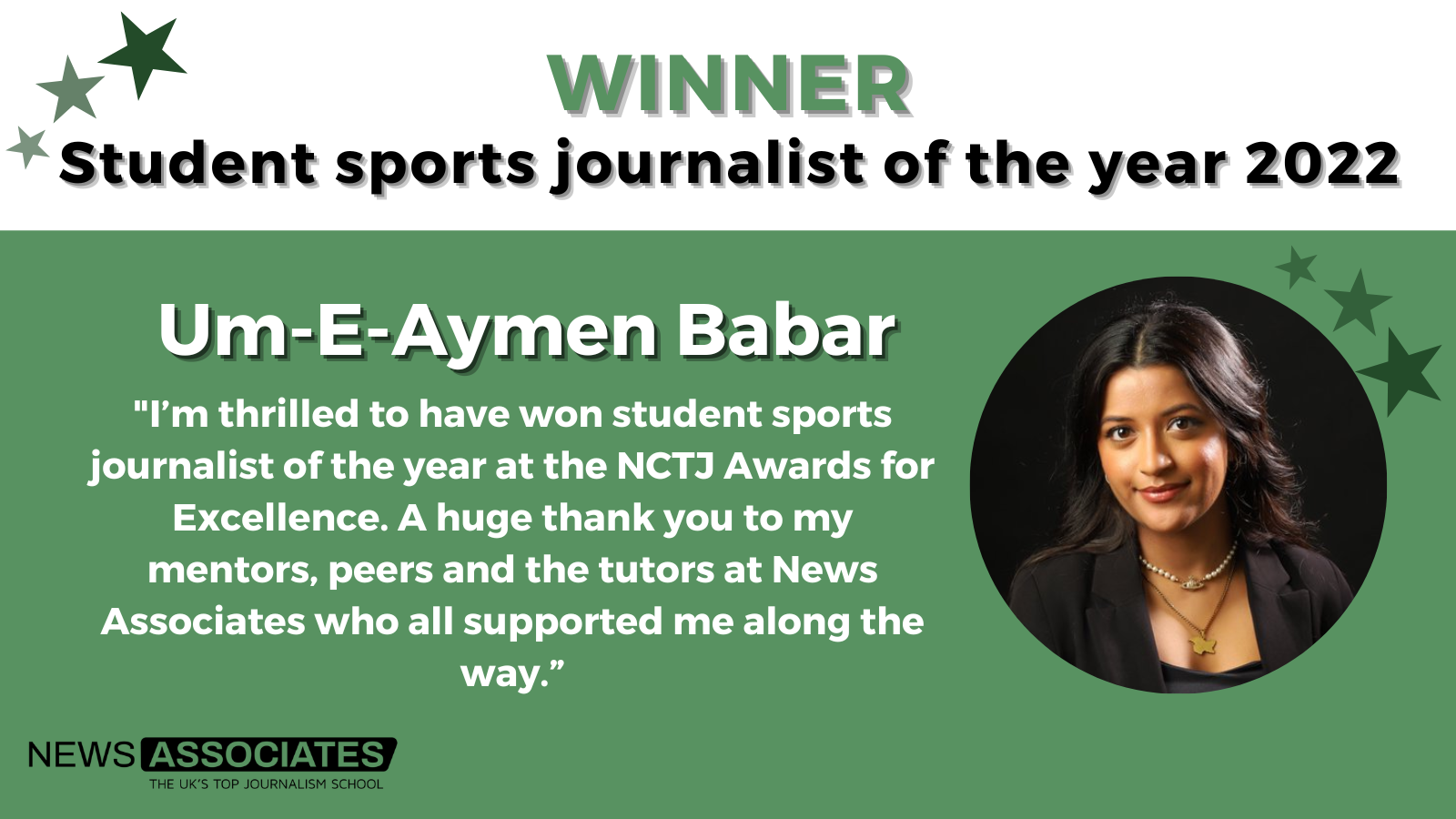 You will soon learn that sports news increasingly dominates not only the sports editor's agenda, but also the news pages…
Sport is big money. Premier League clubs have combined annual revenues approaching £3 billion while some estimate the 2022 Fifa World Cup will cost more than £138 billion to stage.
Sport is big business. The International Olympic Committee and world governing body FIFA have major brands lining up to contribute more than £1 billion in marketing rights while American broadcaster NBC recently paid £2.7 billion to broadcast the 2014, 2016, 2018 and 2020 Olympic Games.
Sport is big politics. Just witness the world leaders queuing up to help secure their countries major events – Tony Blair, Barack Obama and Vladimir Putin have all made time in their schedules for politicking at sporting gatherings.
And when these three combine there are, inevitably, big stories. We'll train you how to spot these stories, dig deeper and join the ranks of our impressive alumni working everywhere from Sky Sports to MailOnline Sport.
Want to become a sports journalist? Read this advice from trainees who have done our sports journalism courses.
✅ Sports knowledge
✅ Interviewing skills
✅ Work experience

Find out more about what it takes to be a sports journalist from our fantastic panel of alumni! 👇 #TeamNA #StartedHere #ChooseNCTJ @NCTJ_news https://t.co/XBhXU2lyHG

— News Associates (@NewsAssociates) May 22, 2021