It's different studying part-time – but we have a decade's experience in delivering the NCTJ syllabus to those combining work with study.
Here's some advice from those who have been there and done it.
Sam Stevenson, Express Newspapers news editor
"The best advice I could give to a part-time trainee would be throw yourself into every available opportunity, use every resource, be prepared to work really hard and ensure you make the most of the expert advice on offer by asking your tutors lots of questions. It's tough juggling your exams and coursework with a full-time job, as many of us did, but employers will recognise the dedication you have shown, which will pay dividends down the line. It's also great to be able to 'earn while you learn' – something that will give you not only a greater sense of independence but also make you feel very proud of yourself when it's all over! Good luck!"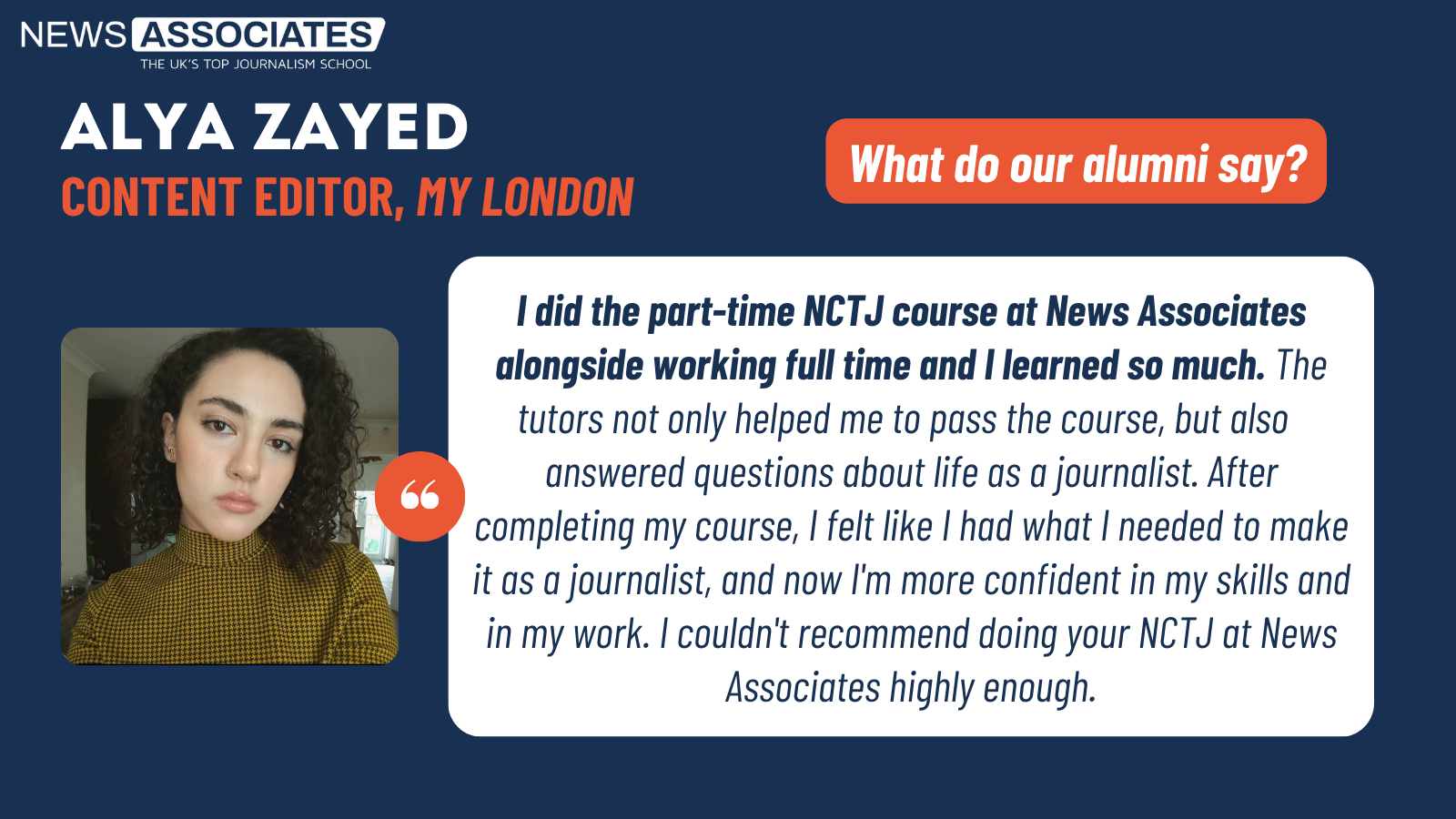 Helen Thomas, VICE senior social editor
"My number one piece of advice is to be flexible with your job applications after training. Don't restrict yourself just to editorial roles – socials, marketing and production are all vital aspects of modern journalism, and you'd be surprised how many different tools from the NCTJ training come in handy for those alternative media jobs. Learning how to condense wording, select snappy clips and not get sued are all skills I use daily as a Snapchat Shows editor, and I wouldn't have had them without the NCTJ. I started my first job at VICE while I was still training part-time, but they were so supportive and understanding of the workload and I think respected me more knowing I was clearly dedicated to becoming a journalist. The NCTJ, especially when it's part-time, earns you a lot of respect from editors." 
Lottie Tiplady-Bishop, The Telegraph assistant news editor
"When studying part-time for your NCTJ you have to be prepared to give up your free time – but it's totally worth it. As well as equipping you with all the skills you need and helping to build your confidence as a journalist, the part-time course also helps bolster your time management and organisational skills. As a journalist you never really switch off from the job and the part-time NCTJ helps to instil your news sense because regardless of your day job, you'll be dipping into the world of journalism most nights and weekends."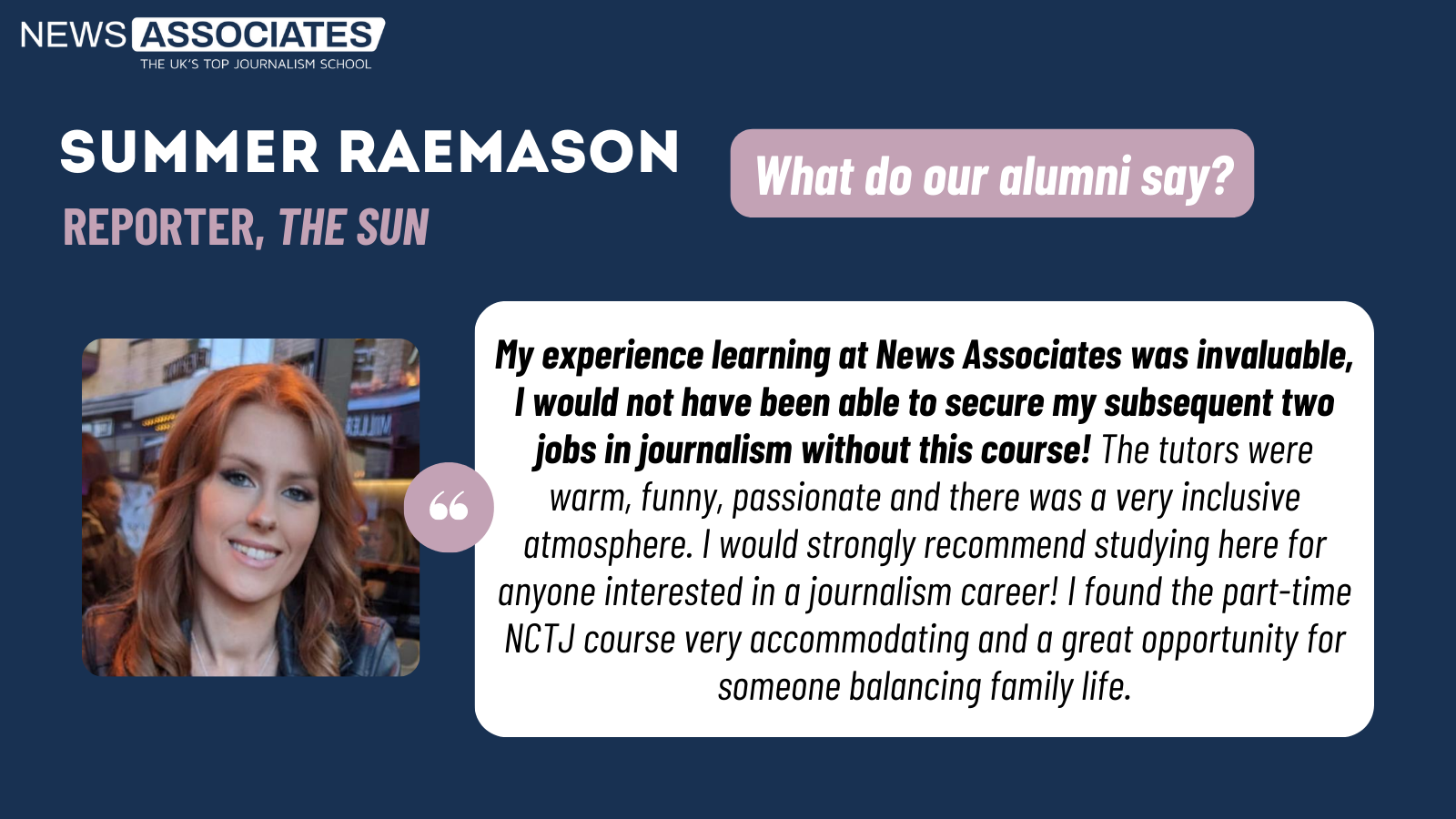 Kate Gill, The Independent video news editor
"I had worked for a news agency for two years but it wasn't until I joined News Associates that I realised how much my skills needed to be honed. Though challenging at times to study part-time alongside a full-time reporting job, the juggle really paid off. News Associates equip you with the knowledge and discipline to flourish in this industry while exposing you to areas and roles you wouldn't typically be able to access. They provide you with invaluable lessons and are brimming with dedicated tutors who are committed to getting the best out of you – but you have to put the work in. It goes without saying it's hard graft. What you put in is what you'll get out. Reap every ounce of information you can from tutors, workshops and course mates, don't miss classes (especially not public affairs or media law) and do your shorthand revision!"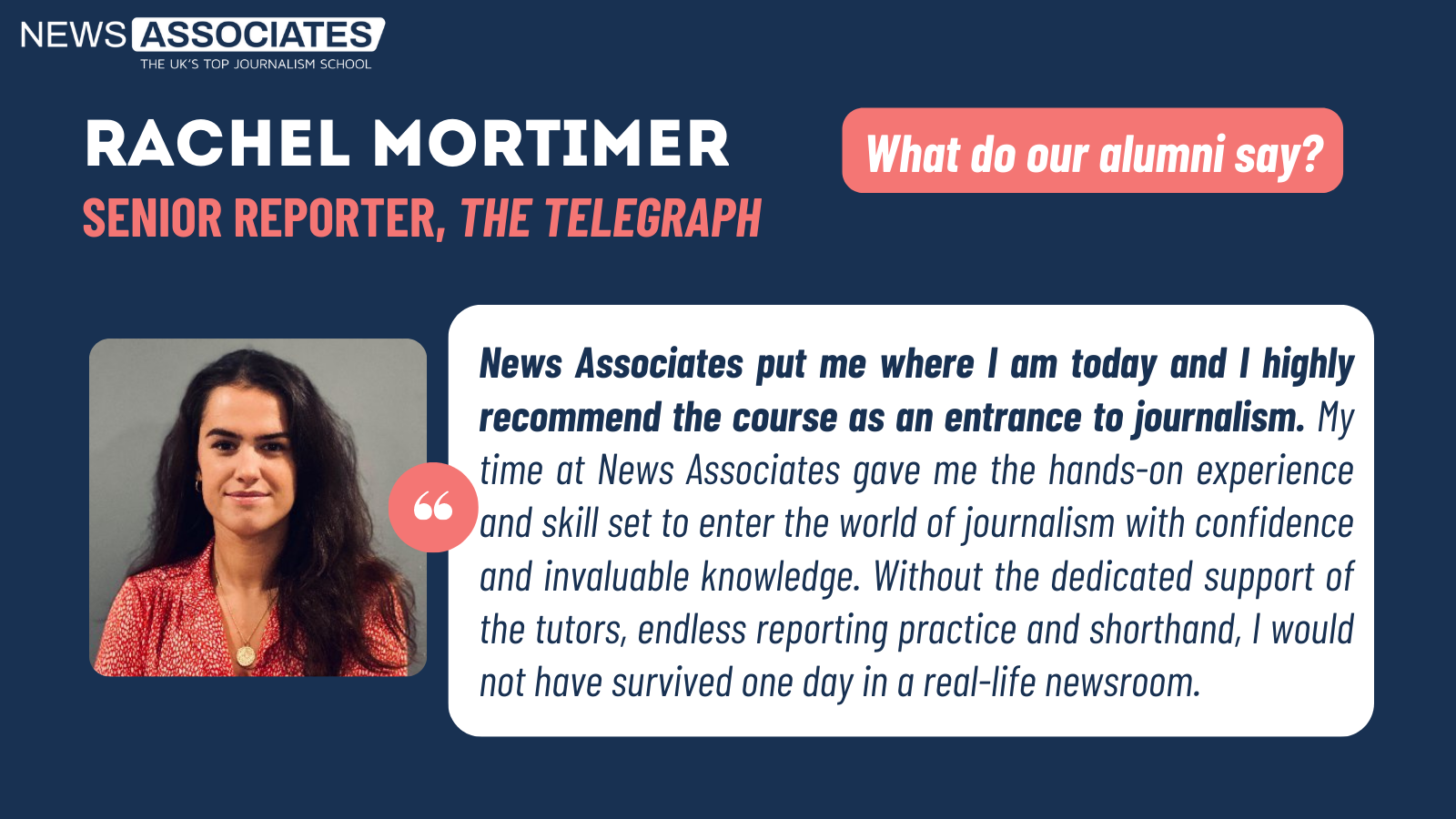 Kirstie O'Mahony, BBC Newsround journalist
"The part-time course is a brilliant way to develop as a journalist and get into the industry, but it's not easy. Juggling work and an intensive course such as this one takes a lot of time and dedication. That being said, it's incredibly rewarding, not only because of the qualification and the skills you learn, but also the people you meet – the people you study with will potentially become your future colleagues, and the people that teach you have tons of wisdom to pass on.  My number one top tip would be to keep as organised as you possibly can, as revising for multiple exams when you've got work and life commitments to worry about is no joke!"
Got a question about our part-time journalism courses? Contact us on training@newsassociates.co.uk or 0203 026 3781.
Sign up for a free journalism workshop here.
Apply for our part-time journalism course here.