Our unique approach to part-time training means you don't have to put everything on hold to complete the essential NCTJ qualification.

We understand your studies have to fit in around demanding work and family commitments, and perhaps even having a social life.
With more than a decade's experience of delivering part-time journalism courses, we know our flexible approach is tried and tested and the perfect way to become a fully-qualified journalist while maintaining an income.
Whether you want to go into news, investigative, showbiz or lifestyle journalism, this course will equip you with the skills to succeed: including reporting, media law, public affairs and much more. 
Along the way, you will practise broadcast and social media journalism, and learn career development skills from our tutors with experience across the industry.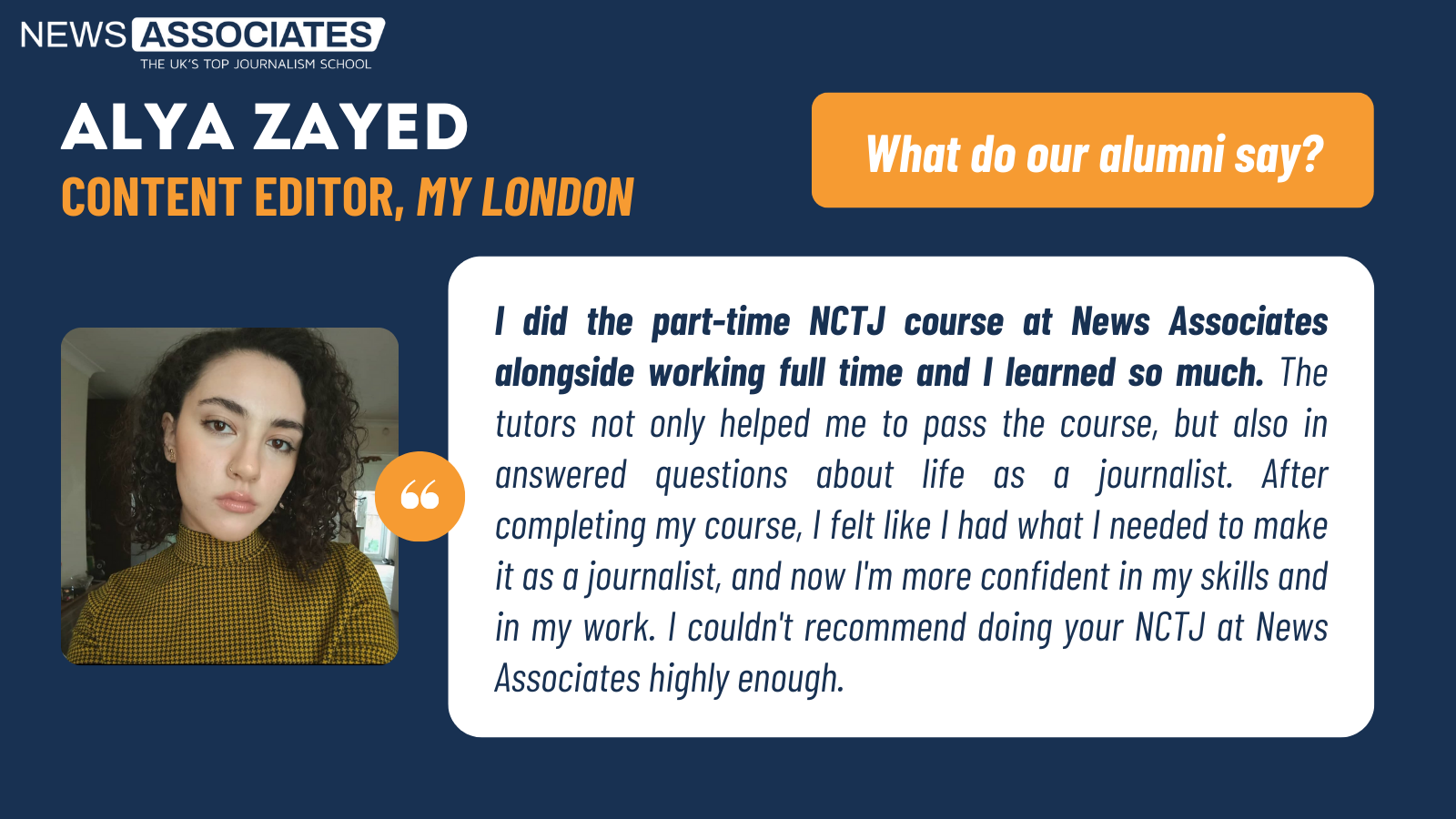 Contact hours
At the start of the course we'll give you a course handbook which will have all your term and exam dates – which take place mid-week but can be sat in-person or remotely.
On our part-time course you'll study on Wednesday evenings 6:30pm-9:30pm (offered both in person and remotely) and all day on Saturdays 10am-5:30pm (in person only), with shorthand lessons offered on Monday evenings 6:30pm-8:30pm (remote only).
In consultation with our alumni, we've built in some flexible study weeks around Saturday lessons. We call them 'self-study Saturdays' and they occur approximately once a month, giving you the chance to catch up on revision and coursework in your own time at home. On these Saturdays you do not need to come into centre but you will be set work to do across the weekend. We'll try to organise these weeks to coincide with bank holidays and seasonal holidays.
Exam dates will fall on weekdays, so we will communicate these dates to you as soon as possible at the start of the course to ensure you can make necessary arrangements.
Our London in-person part-time courses have intakes in October and March.
Our Manchester part-time course has one intake a year in October. 
Course modules
Mandatory modules:
Optional modules:
The optional modules are additional to the mandatory modules. You can still achieve your gold-standard NCTJ Diploma by sitting just the mandatory modules. The optional modules are offered at no extra cost.
As well as your formal modules, we will leave plenty of time for extra-curricular sessions including guest talks and career development.
Furthermore, if breaking news hits, we are likely to throw the timetable out of the window and get you working as real journalists. Just recently our trainees have covered the death and funeral of Queen Elizabeth II and King Charles III's coronation, as well as multiple local and general elections.
News Associates' practical and dedicated approach to teaching sets us apart from other training providers, earning us the Innovation of the Year award at the 2020 and 2022 NCTJ Awards for Excellence.
The next intakes of our in-person part-time courses start in October 2023 (London and Manchester) and March 2024 (London only).
Please note, this is a postgraduate course and the fees are £5,250. Click here to learn more about fees and funding.
Click here to find out more about our undergraduate multimedia journalism degree, The School of Journalism.
Got a question about our in-person part-time journalism course? Contact us on training@newsassociates.co.uk or 0203 026 3781.
Sign up for a free journalism workshop or Q&A here.
Apply for our in-person part-time journalism course here.