Innovation of the Year accolade for News Associates at NCTJ Awards for Excellence
News Associates won innovation of the year at the NCTJ Awards for Excellence 2020, where two grads also scooped gongs.
The innovation of the year award celebrates the new and exciting ways NCTJ centres are teaching and inspiring their journalists.
News Associates was recognised for adapting teaching styles and exercises for remote learning, keeping up morale for trainees and running a series of free online workshops open to everyone.
Sky News correspondent Ashna Hurynag, who presented the award, said: "A huge congratulations to you! The judges said they felt there was an impressive, innovative and pioneering re-working of the course and timetable, with careful thought given to student welfare.
"The judges said it felt like a whole team effort, with a comprehensive list of webinars, Q&As and talks, with social media tips which made great use of an impressive list of alumni. Congratulations to you."
News Associates managing editor James Toney said: "When Covid-19 made our world a little smaller, the News Associates team started thinking big. Overnight, lesson plans and careful scheduling were torn up and started again.
"When everything was so uncertain one constant remained, maintaining our unrivalled record for excellence in NCTJ results and job success.
"Knowing how hard aspiring journalists were finding lockdown, with placement and job opportunities suddenly harder to come by, we delivered a series of workshops, panels and guest speakers that reached more 2,500 people – including many from other NCTJ centres.
"The team sourced new technology and implemented it overnight, they never stopped striving to improve what we do. They worked in lock step with the NCTJ – whose support to deliver pioneering remote exams was in the finest tradition of journalism – never letting excuses get in the way of getting the job done. They juggled home commitments and less than ideal working environments and never let those frustrations show.
"In recent years News Associates has consistently been recognised for excellence at the NCTJ Awards but this prize is perhaps more special than any other."
The first award of the evening is for the Innovation of the Year. The winner is @newsassociates for adapting teaching styles and exercises for remote learning. The judges said it was a whole team effort with a comprehensive array of webinars, talks and Q&As #NCTJawards pic.twitter.com/PhCsqNRJwd

— NCTJ (@NCTJ_news) March 18, 2021
The annual NCTJ Awards for Excellence were presented by Sky News on Zoom.
"Well done to all of the award winners. But to be honest all of you have actually basically won the lottery because you are in, what I think is, the best profession, the bast career, the best industry," said Sky News special correspondent and NCTJ patron Alex Crawford, dialling in from Tanzania.
"I look back at those NCTJ days when I was learning shorthand, learning about public administration, learning about law in journalism, and I'm still using those lessons I learnt back then, and you will too. They will come back to you again and again and again."
Sky News presenter Anna Botting, who hosted the evening, said: "The job is vital, so is the training. I certainly couldn't have done it without the NCTJ training I got. I think we all agree it's really necessary for us to further our careers."
The evening then moved on to the performance awards, where there were more than 400 entries.
News Associates graduates made up the entire shortlist for the student sports journalist of the year category. But it was Josh Graham (The Sun) who was crowned winner!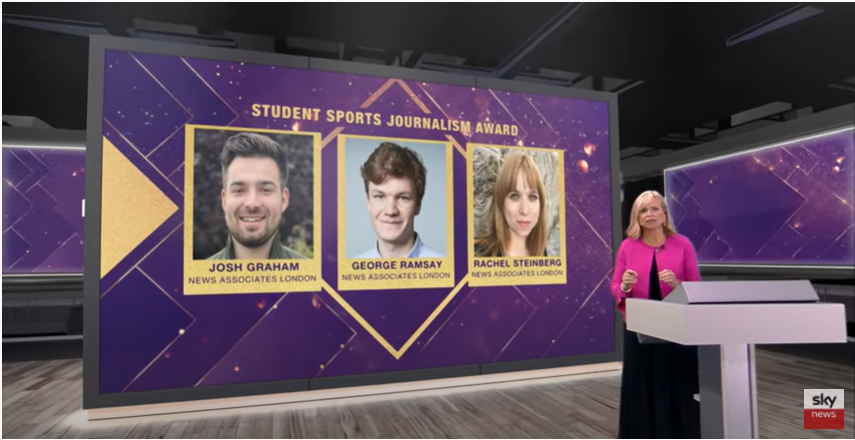 Sky News sport correspondent Martha Kelner, who presented the award, said: "The judges were impressed by Josh's compelling stories, told impressively across a variety of sports. Strong interviews combined with a notable attention to detail made this entry really stand out."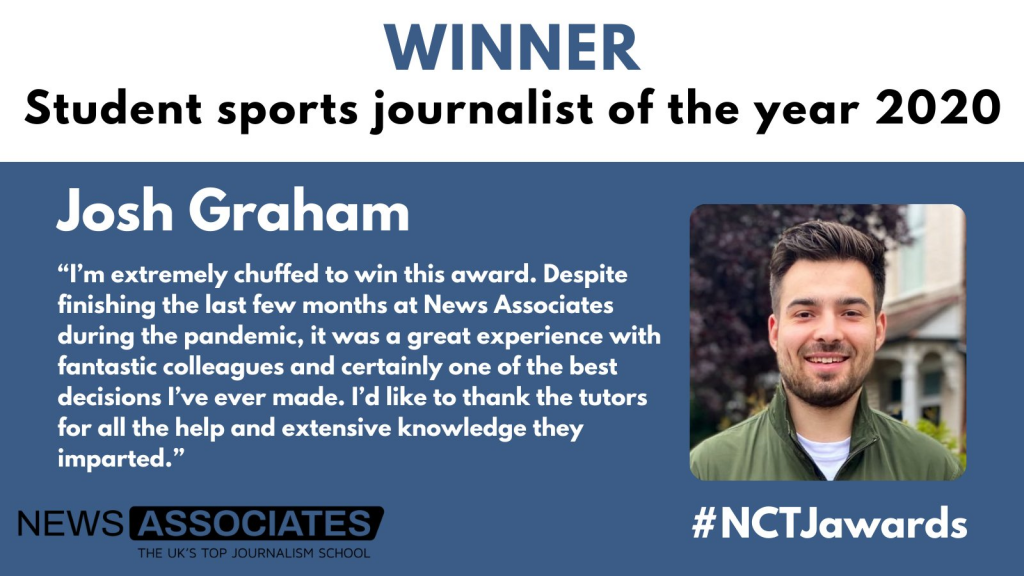 Later, part-time News Associates graduate Alex Diggins (The Telegraph) won student feature writer of the year.
Sky News presenter Sarah Hewson announced the winner. "The judges said the quality of submissions were brilliant, which made this a tough choice. They said that Alex stood out among the crowd with his fascinating pieces on urban architecture after Covid-19 and a must-read feature about the eel mafia. They described his features as beautifully written, very interesting and totally absorbing," she said.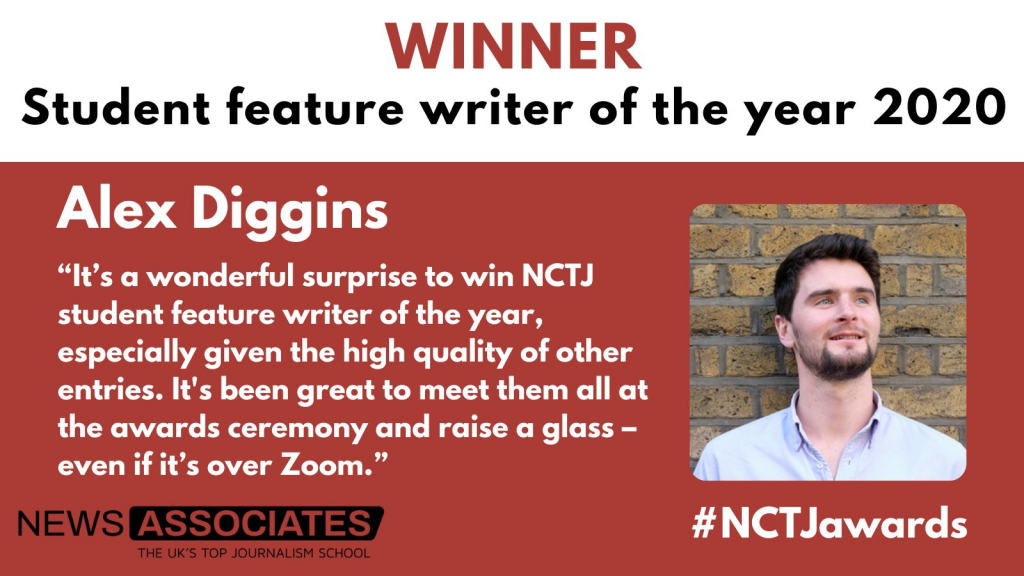 Huge congratulations must also go to our nine other shortlisted alumni – Anna Cooban, Anna Staufenberg, Camomile Shumba, Ellen Halliday, George Ramsay, Julia Atherley, Mimi Swaby, Rachel Steinberg and Yasemin Craggs Mersinoglu.
"There's no doubt your place on the shortlist demonstrates the skills, determination and resilience needed to forge a successful career in journalism," said Botting.
You can watch the full ceremony on YouTube here.