JournoFest 2021: Keynote speaker Daily Mirror political editor Pippa Crerar
A packed Zoom room of trainee journalists logged in for the keynote talk of JournoFest 2021, writes News Associates part-time trainee Declan Carey.
Daily Mirror political editor Pippa Crerar shared career tips and revealed how she broke one of the biggest stories of the past year.
Crerar started off by explaining how the pandemic has affected every aspect of political journalism and changed the way reporters find information in the corridors of power.
She said: "I'm used to walking through Westminster and bumping into people and sharing some gossip but this is not happening anymore.
"We all had to get used to different ways of working this year. In terms of politics and government, the pandemic changed everything. It shifted the economic cycles."
Times like this we have to look at the positives – big and small. I liked Pippa's outlook that employers will recognise what we went through as the class of 20/21 and all the skills we will have learnt as a result #journofest https://t.co/MIQe7lO6sB

— Ruby Frost (@rubylfrost_) March 6, 2021
Crerar and The Guardian reporter Matthew Weaver got the scoop on the prime minister's chief advisor Dominic Cummings and his trip to Durham in the first lockdown.
She described the tension of publishing a story of such magnitude and the fallout which led to many people questioning the government's Covid response.
She said: "The majority of the public think the government has a lot on its plate and that responding to the pandemic has been a difficult task.
"Boris Johnson is very limited in his capacity to make unpopular decisions. He finds delivering bad news really difficult."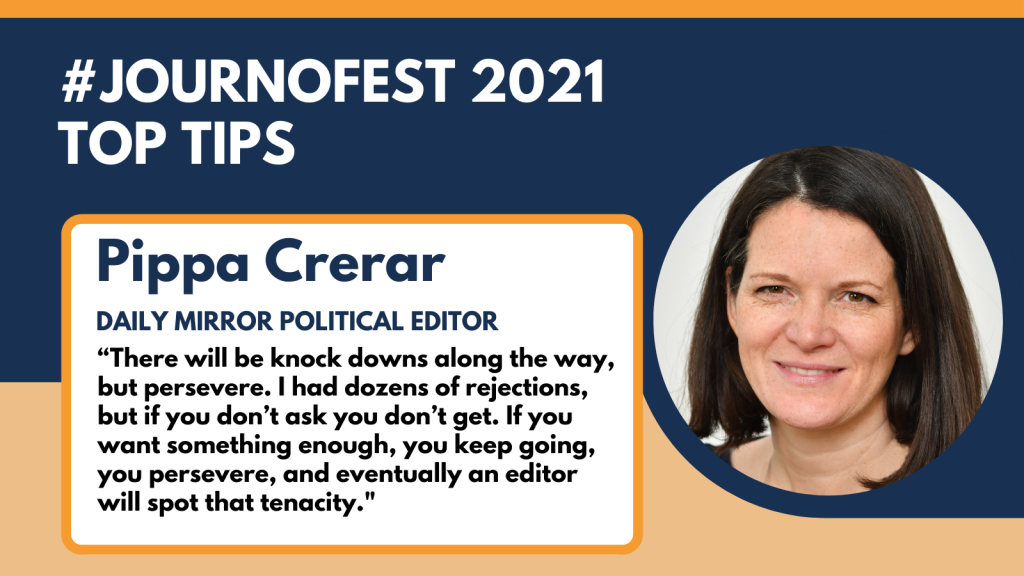 After the talk, questions fired in on the difficulties of political reporting and whether journalists starting out now will be disadvantaged due to lockdowns and social distancing.
Crerar said: "Your generation will be the most resilient after this last year. Get in touch with political editors and if you want it enough, you will get there.
 "Trust your instinct, you can make a massive difference."
You can read the highlights from JournoFest 2021 and all our previous journalism conferences here!