Every year we host a journalism conference packed with notable journalists from national newspapers and broadcasters and emerging digital platforms.
JournoFest brings together trainees and alumni from all our courses including our BA (Hons) Multimedia Journalism degree and prospective members of #TeamNA.
See below for highlights from 2017, 2018, 2019, 2020, 2021, 2022 and 2023.
JournoFest 2023
JournoFest 2023 saw eight fantastic journalists assemble in our News Associates newsroom. Our panellists discussed what makes great journalism and the next big thing in our industry. Our high-profile speakers and media experts took plenty of questions from our trainees before an afternoon of networking.
Our seventh annual journalism conference JournoFest 2023 opened with our keynote speaker John Witherow.
He focussed his talk on why now, more than ever, is a great time to get into journalism and why he is optimistic about the future of journalism.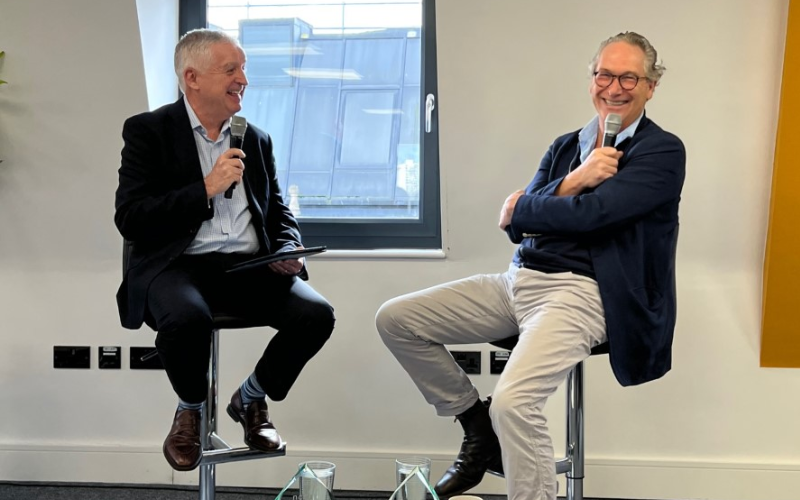 This year's second JournoFest panel focussed on 'What makes great journalism?', and discussed the core elements of compelling journalism as it catapults through the digital age.
Our trainees heard from Kamal Ahmed (News Movement co-founder and editor-in-chief), Jane Moore (ITV Loose Women panellist and The Sun columnist), Samantha Washington (Sky News presenter) and David Woode (The Times crime correspondent).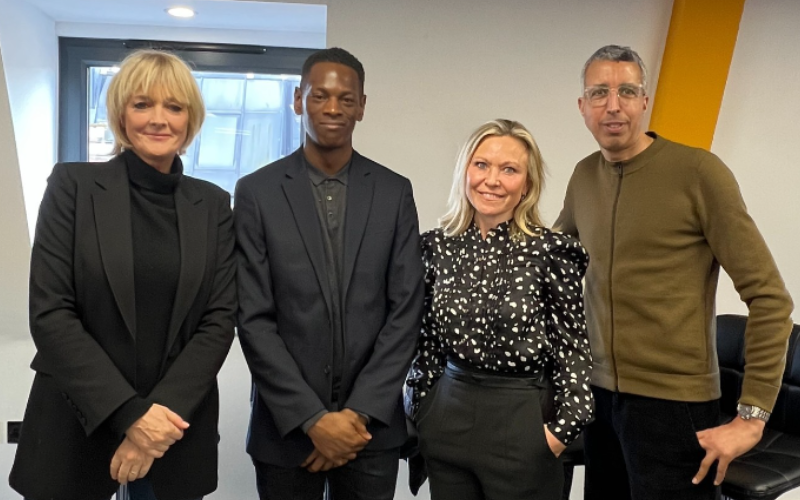 The final panel of this year's JournoFest discussed the ever-evolving question 'What is the next big thing in journalism?'. Naturally, there was an undeniable focus on AI and how it will transform the journalism industry.
The panel consisted of Andrew Colley (Newsquest Oxfordshire regional editor), Madhumita Murgia (Financial Times artificial intelligence editor) and Will Payne (The Sun director of digital and head of The US Sun).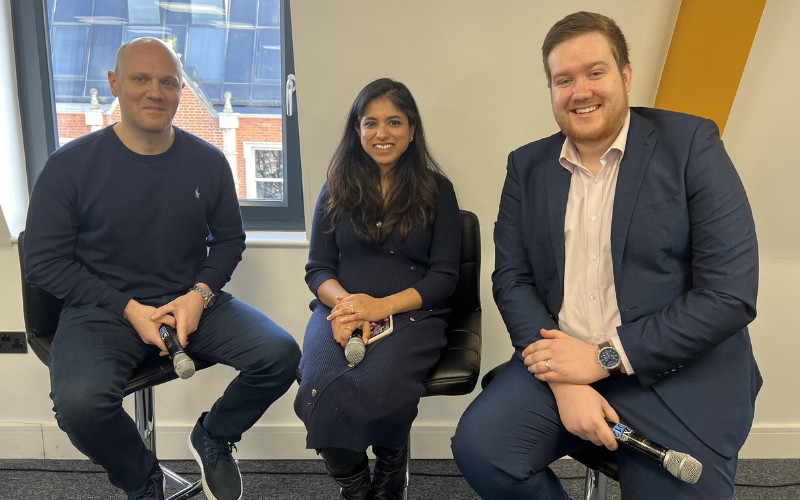 And before they all left we asked them to share their tops for being a successful journalist with you!
JournoFest 2022
This year's JournoFest returned as a week-long series of events, inviting some of the biggest names in the industry to speak at an exclusive launch event for News Associates trainees, followed by remote panel sessions open to everyone.
The in-person launch event saw Joanne Butcher (NCTJ chief executive), Nitya Rajan (Good Morning Britain correspondent) and David Wooding (incoming Sunday Express editor) give their advice for getting into journalism and explore why journalism is more important than ever.
Trainees got the chance to network with the panellists and meet special guests working in the industry.
Our second JournoFest panel was a discussion around tackling fear and obstacles when reporting from hostile environments, with a star-studded panel of correspondents including Alex Crawford (Sky News special correspondent), Jerome Starkey (The Sun defence editor), and recent BAFTA-winner Sophie Alexander (Sky News international affairs producer).
JournoFest would not be complete without a panel focused on the delights and challenges of sports journalism. The panellists included Matt Lawton (The Times chief sports correspondent), Dharmesh Sheth (Sky Sports News reporter), Katie Shanahan (freelance broadcast journalist), and Leon Mann (BCOMS founder).
JournoFest 2022 concluded with a panel about all things digital, hosted by BBC broadcast journalist and News Associates graduate Jacqueline Shepherd, with panellists Marc Blank-Settle (BBC trainer), Kesewaa Browne (BBC assistant producer), Liz Hazelton (MyLondon editorial director), Daisy Wyatt (Mail+ head of digital).
JournoFest 2021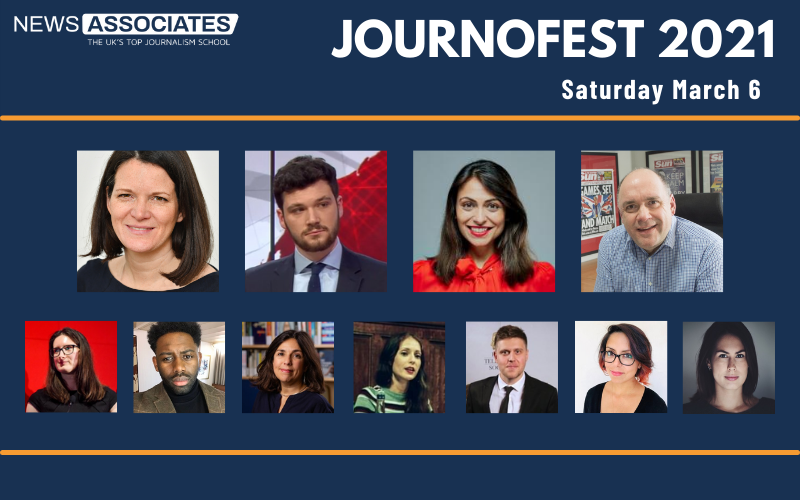 Our first ever remote JournoFest was our biggest yet, with more than 180 guests attending via Zoom.
The day kicked off with our keynote speaker, Pippa Crerar, The Daily Mirror's political editor. Pippa gave a fascinating and unique perspective on the government's response to the Covid-19 pandemic.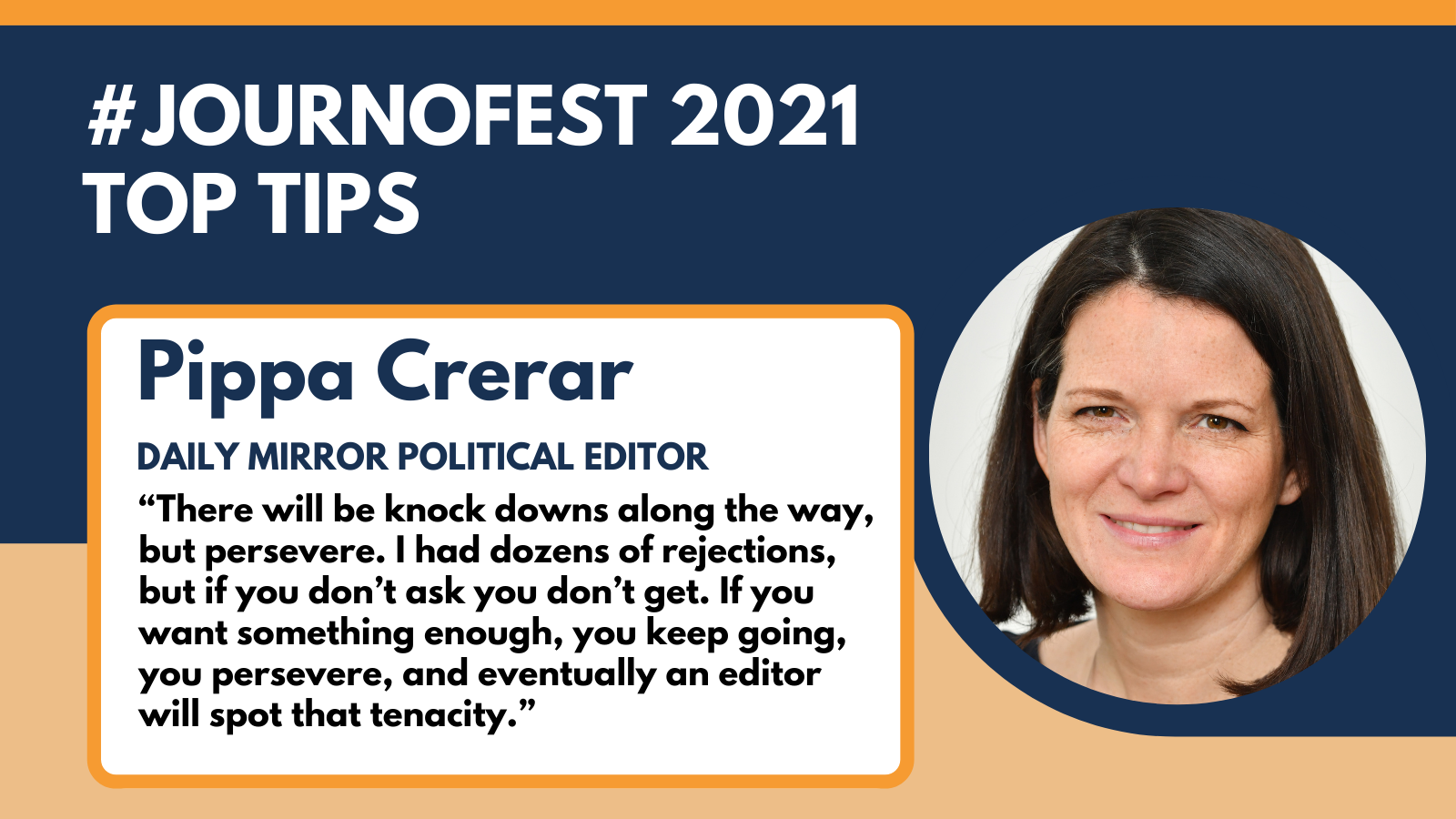 Next up, we hosted a panel to discuss the realities of being a journalist in the pandemic, with Press Gazette news editor Charlotte Tobitt, ITV political correspondent Daniel Hewitt, The Associated Press video journalist Renata Brito and The Athletic staff editor Richard Amofa.
Our next panel was in conversation with Alan Muir, The Scottish Sun editor, who spoke about Scottish politics and the future of print journalism, as well as giving great career advice to our aspiring journalists.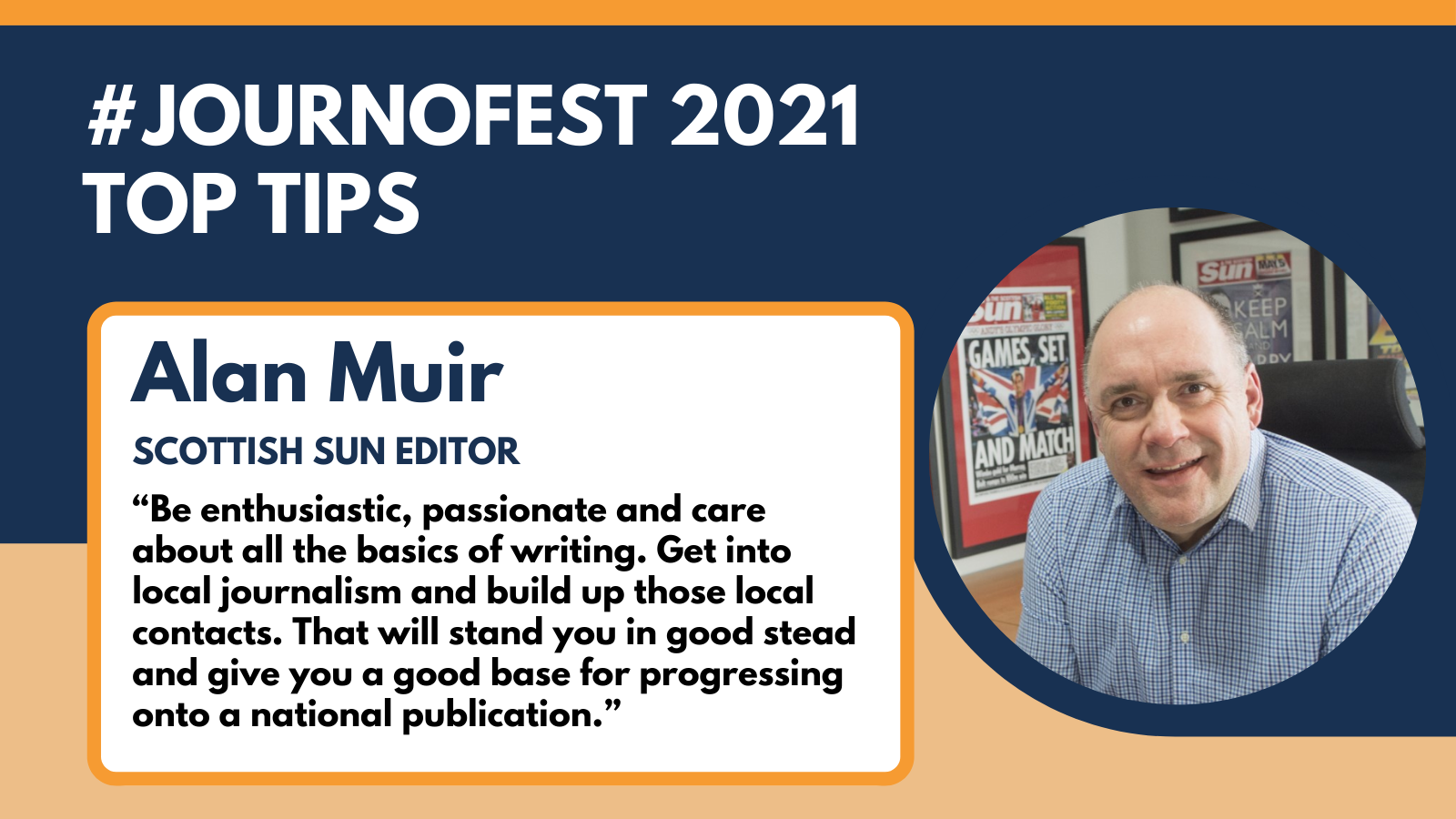 Everyone then joined a conversation with Times journalist and host of 'Stories of our times' podcast Manveen Rana. Manveen spoke about the joys of podcasting, the process behind carrying out investigations and her own personal experience of reporting from dangerous locations across the world.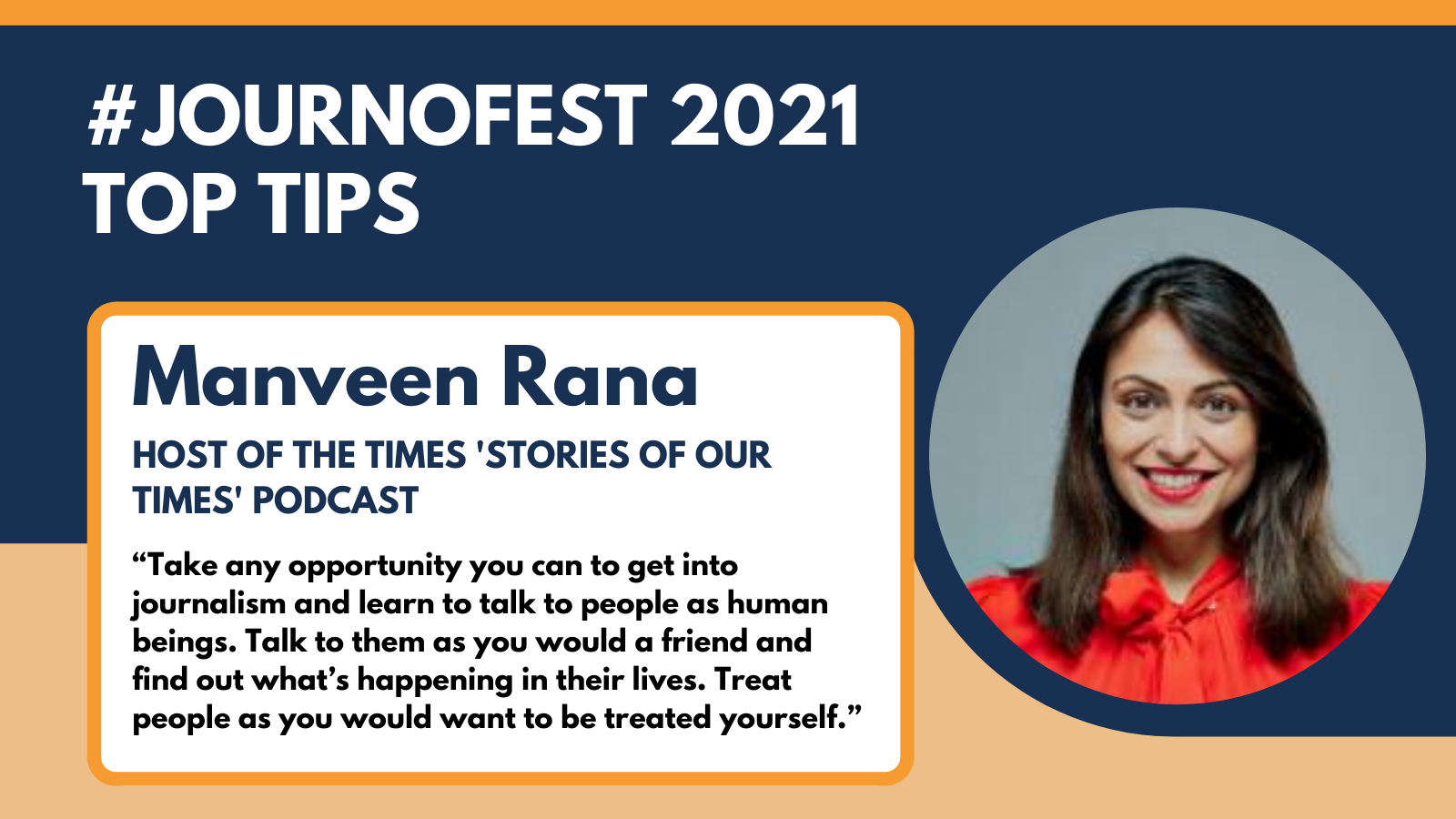 The next panel explored why truth matters and the importance of investigative journalism, with investigative journalist Katharine Quarmby, Byline Times editor Hardeep Matharu and First Draft News training manager Laura Garcia.
Finally, our guests were gripped by tales from the USA in conversation with Henry Zeffman, The Times chief political correspondent and former Washington correspondent. Henry spoke about everything from Trump to fake news.
JournoFest 2020 was our biggest to date with 17 speakers in total!
We started with a session all about breaking into broadcast journalism with Sky Sports News presenter Alice Piper, BBC Radio 4 journalist Alex Ritchie, BBC News reporter and producer Rianna Croxford and CNN series researcher at Raw TV Rose Knight.
The panel all stressed the importance of work experience and taking every opportunity that comes your way.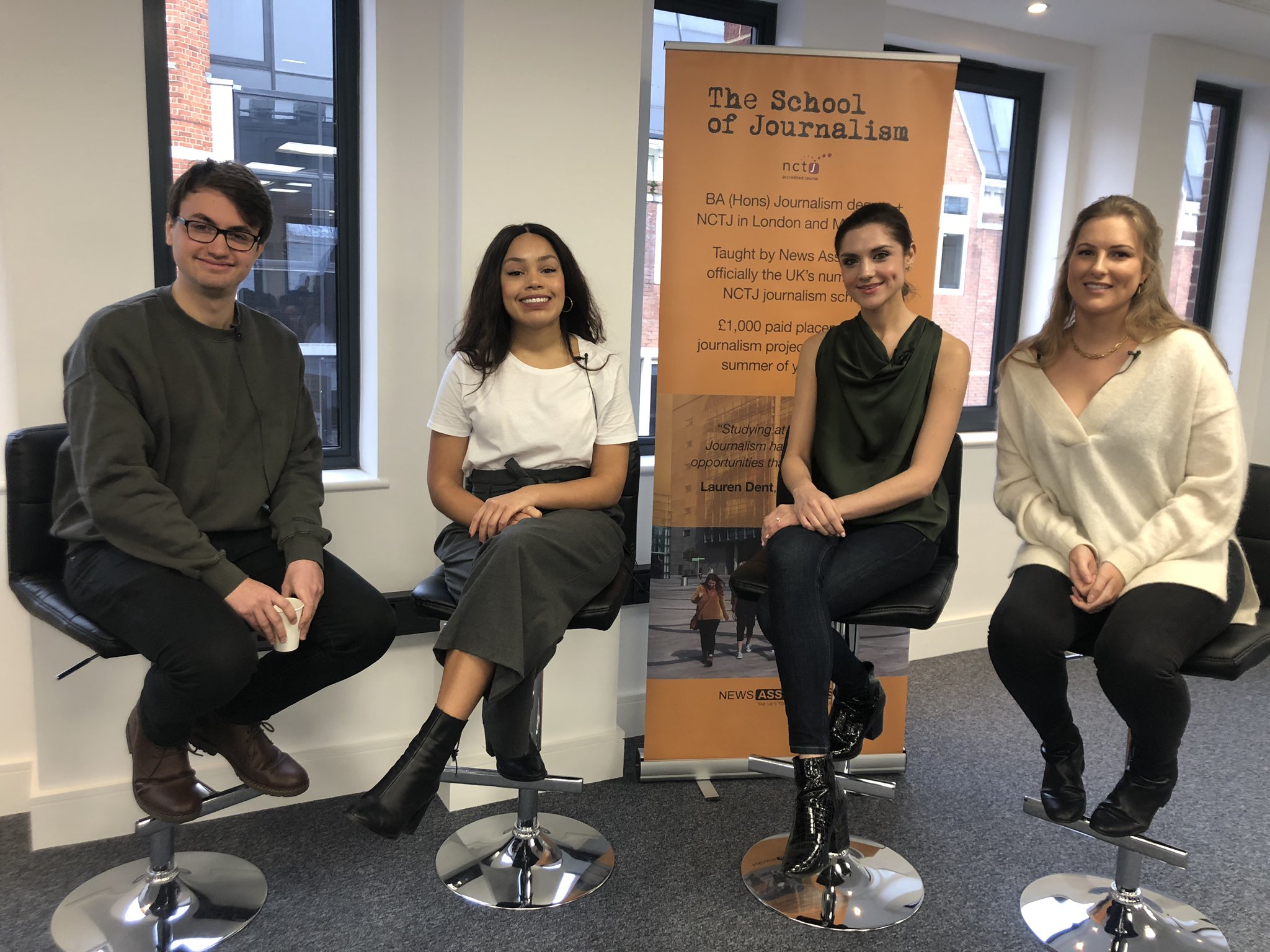 L-R: Alex Ritchie, Rianna Croxford, Alice Piper and Rose Knight
Our first keynote speaker, BBC journalist Christian Fraser, had our guests on the edge of their seats as he discussed his compelling career as a foreign correspondent.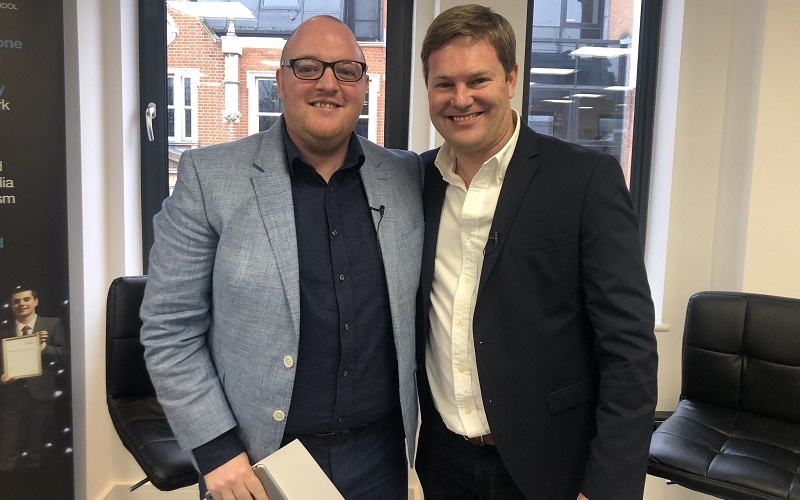 News Associates head of journalism Andrew Greaves (left) with Christian Fraser
Next, our audience were treated to a talk from BBC royal correspondent Sarah Campbell who discussed why the Royal Family dominated the headlines in 2019.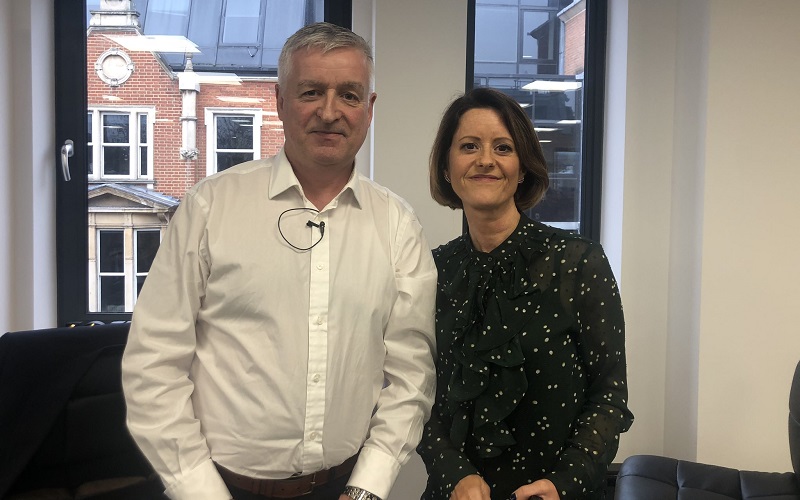 News Associates deputy manager Graham Dudman (left) with Sarah Campbell
Familiar face Dermot Murnaghan told our room of aspiring journalists that the world of journalism they are entering is very different to when he started out. 
The Sky News presenter also had our audience chuckling with his tales from Eggheads!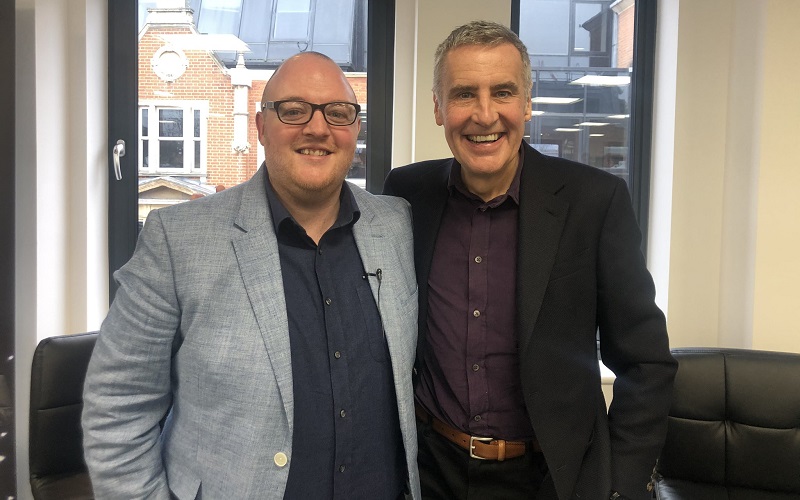 News Associates head of journalism Andrew Greaves (left) with Dermot Murnaghan
The start of the afternoon saw our guests learn all about working for a news agency with Ferrari Press Agency director and journalist Adam Gillham, Triangle News founder and director Benjamin Howe, South West News Service executive editor Euan Stretch, PA Media reporter Jess Glass and Solent News news editor Justin Menhenett.
The panel discussed what it takes to make it in a news agency and where working for a news agency can take you!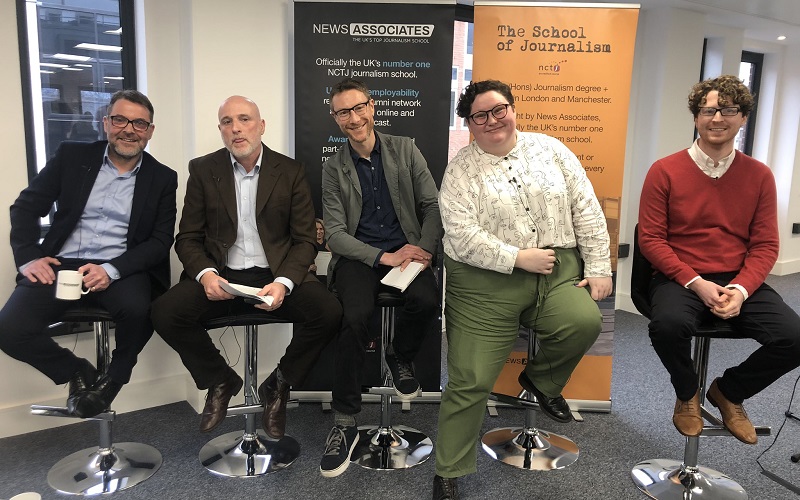 L-R: Adam Gillham, Euan Stretch, Justin Menhenett, Jess Glass and Benjamin Howe
Next up our wannabe journalists were in conversation with The Times deputy home editor Lindsay McIntosh who shared her unique insight into what it takes to put together the renowned broadsheet, as well as how she got to where she is today.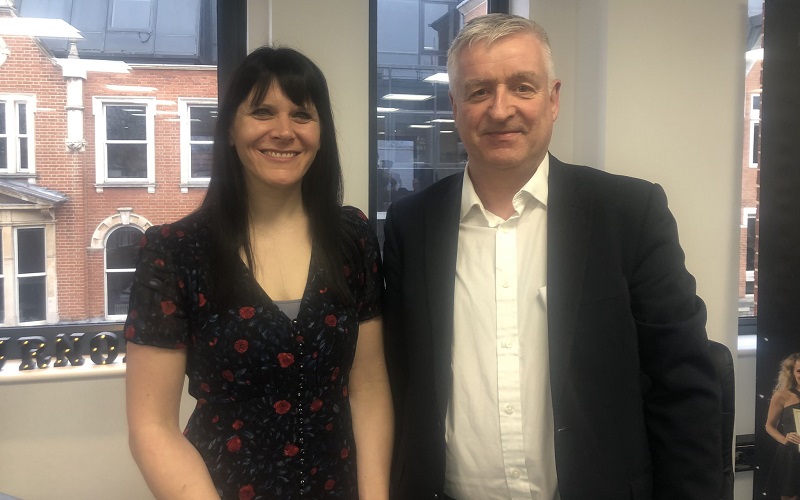 News Associates deputy manager Graham Dudman (right) with Lindsay McIntosh
At the end of a mammoth day our trainees and guests got to hear from three recent News Associates graduates. 
PoliticsHome reporter Anahita Hossein-Pour, Metro journalist Basit Mahmood and BBC/Panorama journalist Laura Fitzpatrick shared their top tips for taking your first steps in the industry.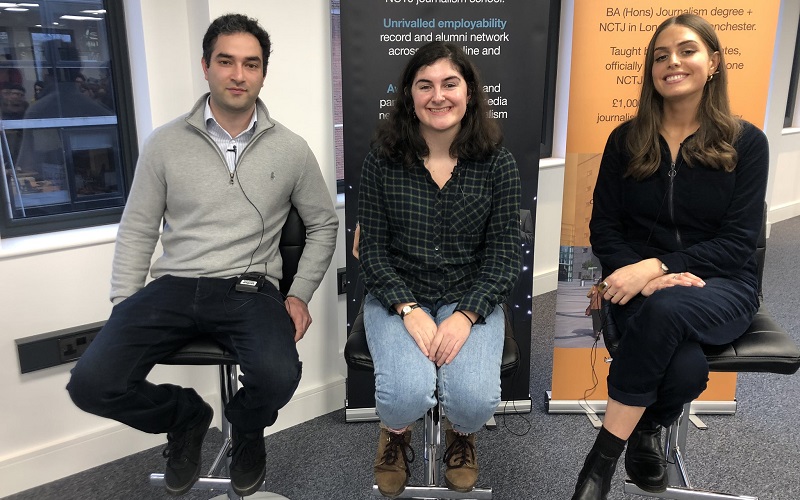 L-R: Basit Mahmood, Anahita Hossein-Pour and Laura Fitzpatrick
And before they all left we asked them to share their tops for being a successful journalist with you!
JournoFest 2019
We kicked off JournoFest with a twist in 2019 – with a panel all about public relations!
Guto Harri, previously communications director for Mayor of London Boris Johnson's administration at London City Hall, Funmi Olutoye, an external communications officer for the London Assembly, and Paul Morgan, communications director at Premiership Rugby all spoke about the unique relationship between PRs and journalists.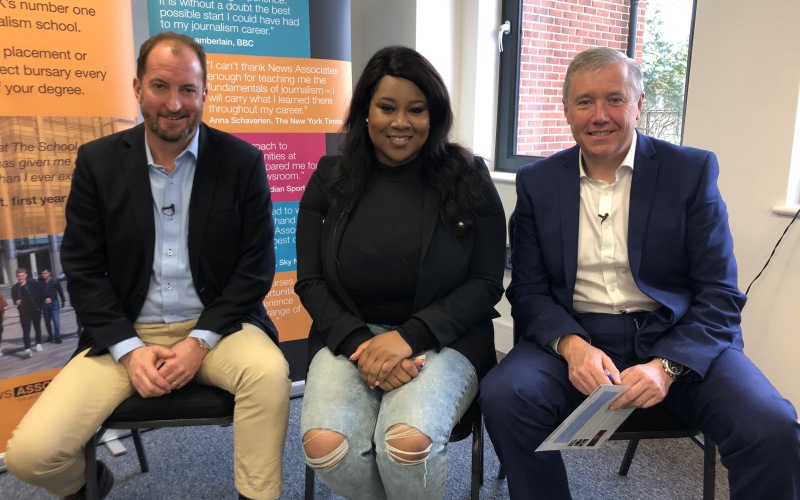 This year's keynote speaker was legendary columnist Susie Boniface AKA the Fleet Street Fox.
Boniface's talk centred around the creation of her anonymous blog and the top ten mistakes young journalists should avoid.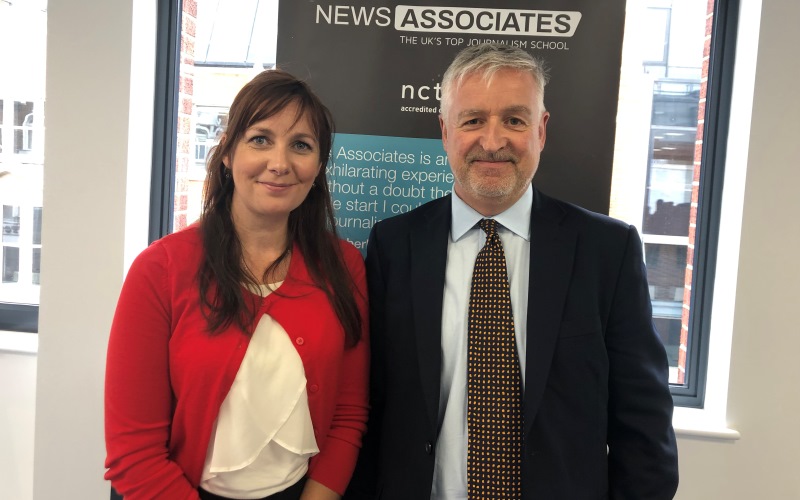 Boniface also signed copies of her latest book the Bluffers Guide to Journalism.
Boniface was a tough act to follow but Martin Stabe, the Financial Times' head of interactive news, wowed our audience with a presentation on data journalism. 
Stabe was later joined by Amy Ashenden, who runs video and social at Pink News, and Full Fact journalist Abbas Panjwani to discuss the future of digital journalism.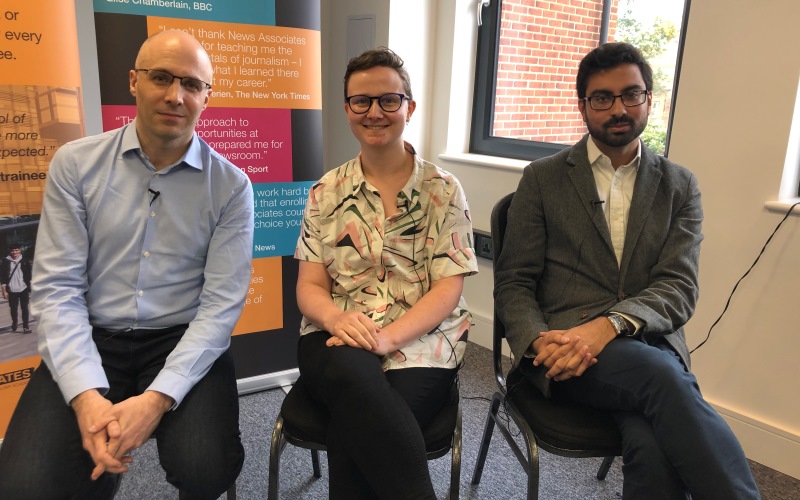 The panel mulled over the perils of digital journalism, including fake news.
Our final panel was a JournoFest first but definitely a new tradition. We spoke to three News Associates alumni one, two and three years after graduating. 
Ready to share their top tips for breaking into the industry was Jessica Cripps, who is in her first year at news agency Kennedy News and Media, Chris Reidy who has been at Sky Sports News for two years and Daily Telegraph lifestyle writer Madeleine Howell who graduated three years ago.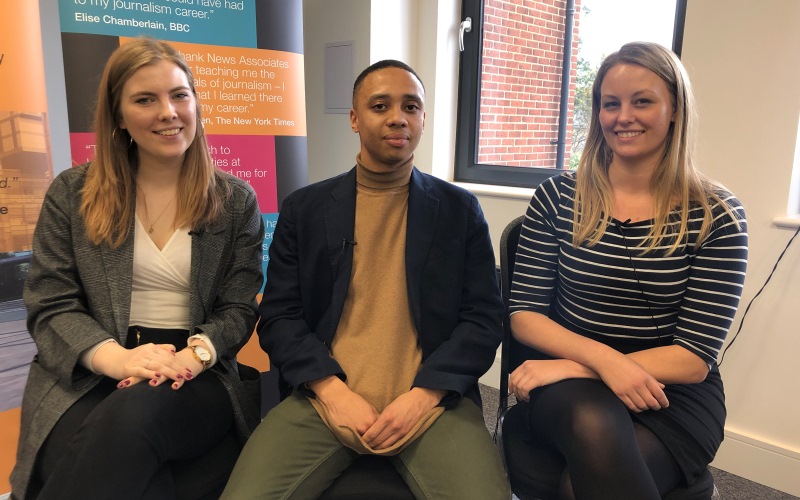 And last on the bill, but by no means least, was The Times chief reporter Sean O'Neill. 
Our audience listened in awe as O'Neill discussed his investigation exposing Oxfam's cover-up of sexual exploitation by aid workers in Haiti.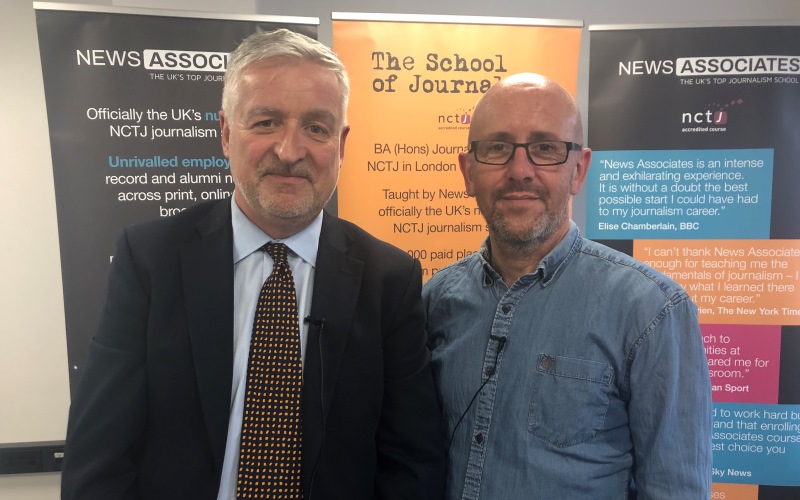 And of course, in true JournoFest style, we didn't let any of these incredible journalists leave without sharing their top tips for getting into journalism with Team NA! 
JournoFest 2018
Our first speaker couldn't have a more topical job title if she tried. The Guardian Brexit correspondent Lisa O'Carroll kicked off JournoFest 2018.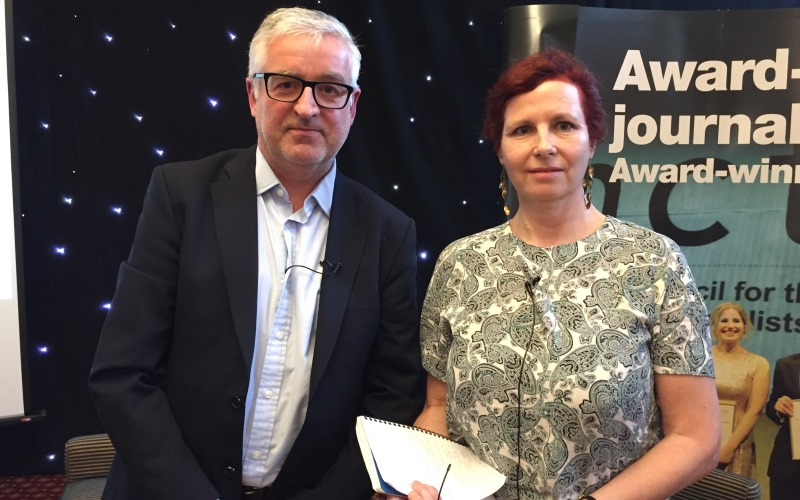 O'Carroll discussed how the media landscape has changed dramatically over the years, with Donald Trump and Brexit but also in the way we consume news.
Later she shared her top tips for budding journalists and stressed the importance of shorthand, mobile journalism and court reporting.
Next up we had our inaugural breaking into broadcast journalism panel with BBC News Intake senior broadcast journalist Narinder Kalsi, Sky News presenter Tom Macleod and Sky Sports News head of journalism training Laurie Tucker.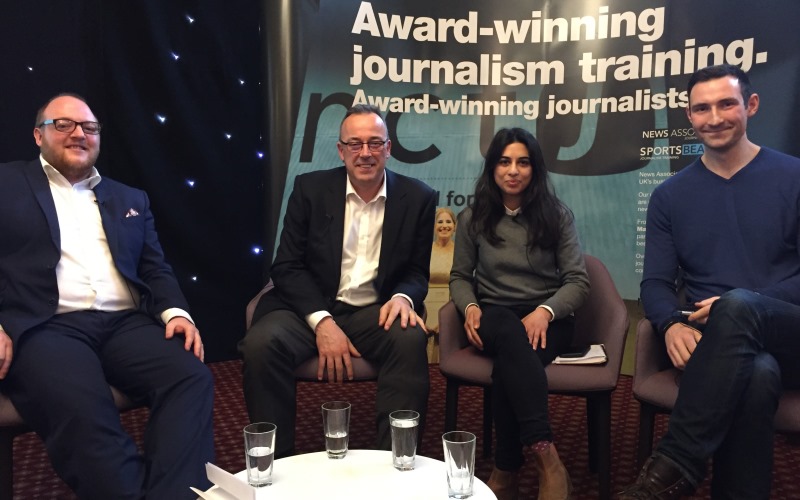 The panel discussed the importance of accuracy over speed and stressed the necessity of having a journalism qualification.
To read more about what our breaking into broadcast panellists discussed, click here.
Next up we were in conversation with Sky News senior correspondent Ian Woods.
Woods had the JournoFest audience on the edge of their seats discussing Richard Glossip and the death penalty in the USA – the subject of his new book 'Surviving Execution: A miscarriage of justice and the fight to end the death penalty'.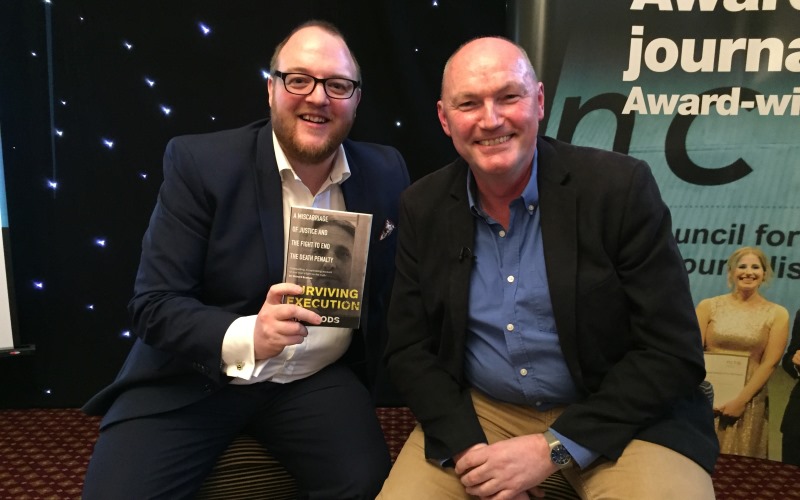 Our second panel of the day consisted of The New York Times digital journalist Anna Schaverien, Daily Mail leader writer Neil Darbyshire and columnist Naomi Firsht who were there to discuss the biggest challenges facing newsrooms in 2018.
Our panellists discussed the freedom of the press, diversity and unpaid internships. To see what else they spoke about, click here.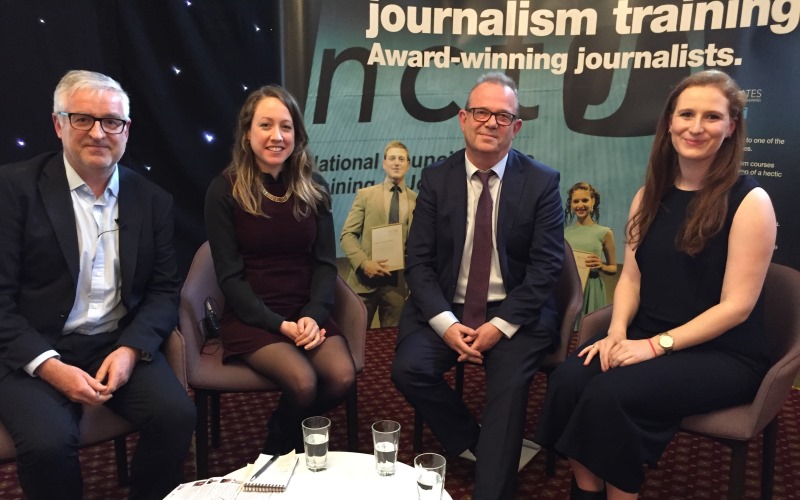 Staying topical, next up in the hot seat was Financial Times undercover reporter Madison Marriage.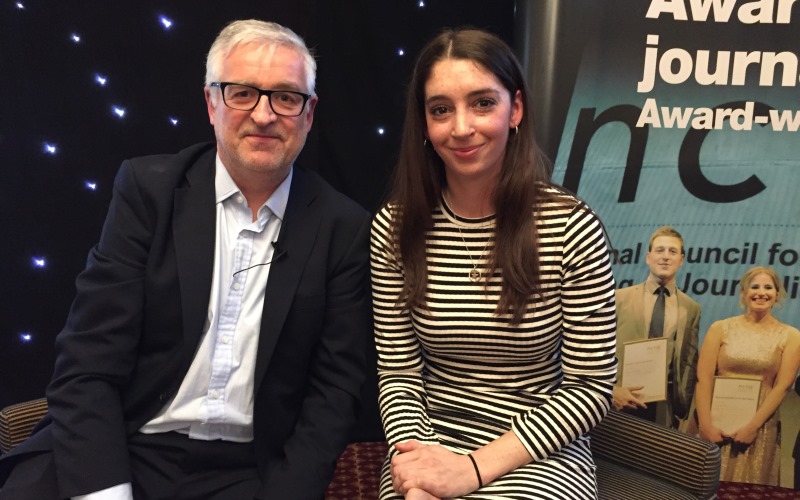 Officially an accounting and tax correspondent, Marriage is now more commonly known for exposing the Presidents Club scandal.
How @miss_marriage pitched the Presidents Club story to her editor.

1️⃣ I'm sick to death of this kind of thing happening.

2️⃣ I think it will be a really good story.#JournoFest pic.twitter.com/Oc9kOY6xTV

— News Associates (@NewsAssociates) March 10, 2018
On our final panel of 2018 discussing politics and dealing with fake news was Business Insider political reporter Adam Payne, Guido Fawkes chief reporter Ross Kempsell and Sky News political correspondent Lewis Goodall. 
Our panel agreed that fake news isn't a new concept, the problem is the platform it now has to spread.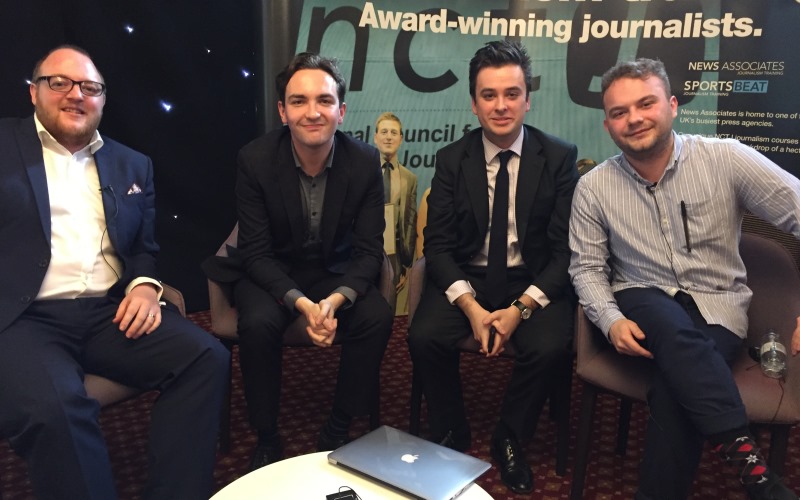 See what else our panellists had to say (including a Mark Twain quote) by clicking here. 
But that's not all, our JournoFest speakers all shared their top tips for making it in such a competitive industry. Click below to hear their wisdom!
JournoFest 2017
Veteran BBC News anchor Maxine Mawhinney got the event underway in 2017. An NCTJ-trained journalist herself, our keynote speaker imparted knowledge from her 35-year career in news broadcasting before answering questions from our inquisitive trainees.
Then it was the turn of BBC sports editor Dan Roan to provide his insight into journalism with our trainees, followed by a Q&A.
Dan discussed his coverage of the alleged scandals at British Cycling, the International Olympic Committee and FIFA.
'Are there people out there you'd like to see get their comeuppance?' #JournoFest pic.twitter.com/wl3OUuVF1a

— News Associates (@NewsAssociates) 13 May 2017
The rest of the day saw journalists who are experts in their fields sitting on four panels discussing investigative journalism, breaking news journalism, political journalism and social media and the digital age.
Examining why slow news matters on our investigative journalism panel we had BuzzFeed News investigations correspondent Jane Bradley, Matt Burgess of Wired and the FOI Directory and Bureau of Investigative Journalism investigations editor Meirion Jones.
To find out more about what our investigative journalism panel said, click here.
Moving from slow news to breaking news, discussing the anatomy of a news story when terrorists strike on our breaking news panel we had Guardian homepage editor Claire Daly, ITV Evening News editor Richard Frediani and national newspaper freelance photographer Jamie Lorriman.
To find out more about what our breaking news panel discussed, click here.
With news and sport ticked off we moved onto politics with The Observer columnist Nick Cohen, Guido Fawkes news editor Alex Wickham, The Spectator associate editor Toby Young and Lord Stewart Wood, former advisor to Gordon Brown and Ed Miliband.
To find out more about what our political journalism panel said, click here.
And to end the day we spoke about social media in the digital age. Discussing all things Facebook and SnapChat we had UNILAD editorial manager Ben Hayward, Channel 4 head of digital Jon Laurence, VICE head of social for Europe Olly Osborne and Mike Wright, a freelance social media consultant.
Before they went back to their busy jobs, our JournoFest speakers took the time to share their top tips for getting into journalism. Watch below to see what they said.