News Associates presents JournoFest 2020: In conversation with BBC royal correspondent Sarah Campbell
From #Megxit to THAT Newsnight interview, Sarah Campbell, BBC royal correspondent, told JournoFest why the Royal Family dominated 2019's headlines, writes News Associates part-time trainee Alex Diggins.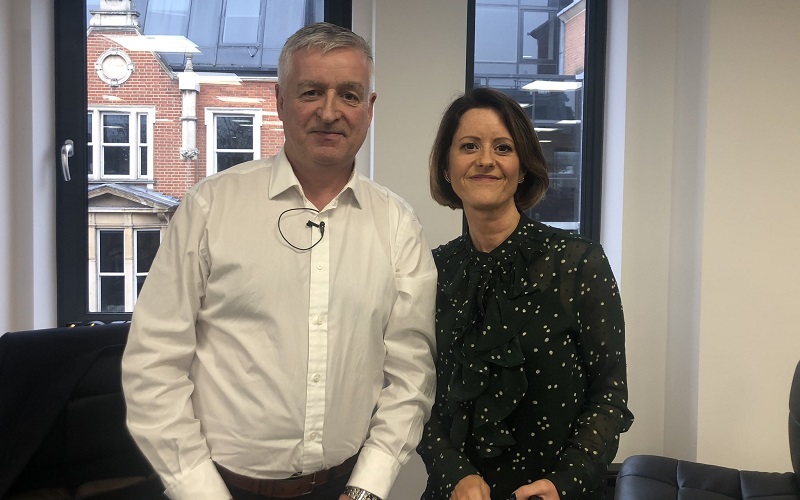 "It's going to be the biggest story we will ever work on," said Sarah (pictured above right, with News Associates deputy managing editor Graham Dudman).
"The amount of responsibility on us as press not to get it wrong is going to be immense."
Sarah was, of course, talking about the death of Queen Elizabeth II, the longest-serving British monarch and the fifth longest-serving monarch ever.
But despite its nickname – the Firm – the Royal Family she heads up has been anything other than strong and stable over the years.
Gasps as an audience member asks @SarahCam3 how you prepare for the death of the Queen.

"The pressure on us not to screw it up is enormous," she said.

"Get the tone right. That's what we're told."#JournoFest pic.twitter.com/b4lCd4YvN9

— News Associates (@NewsAssociates) January 25, 2020
It's been rocked by numerous divorces, deaths and scandals – but few years have as tumultuous as 2019.
It was the year that saw Prince Andrew step back from his duties after a disastrous interview with the BBC's Emily Maitlis.
A few weeks later, Prince Harry and Meghan Markle announced they would renounce their royal titles and spend much of their time in Canada, citing press bullying and institutional racism.
As a professional royal watcher, what did Sarah make of it all?
"Nothing's going to come close to those stories in the next six months," the royal correspondent predicted.
"They've captured people who usually have no interest in the Royals."
Harry and Meghan or Prince Andrew – @1dudders asks @SarahCam3 what's the biggest story. #JournoFest pic.twitter.com/nI6YiJ5nda

— News Associates (@NewsAssociates) January 25, 2020
Sarah became a royal correspondent in 2013 after a long career with the BBC.
She caught the journalism bug after spending a year in hospital radio when she finished her degree in geography and politics.
She then studied broadcast journalism at Cardiff University, joining the BBC soon after.
She helped launch The Seven O'Clock News on BBC Three, before spending five years as a reporter for BBC Breakfast fronting their flagship education programme, Future School.
But nothing prepares you for the 'weird brief' of royal reporting, she said.
"You're reading the runes, trying to decode signals from the Palace. You can't exactly phone Prince Charles up for comment on a breaking story," Sarah added.
The bungling of the Newsnight interview still took her aback, though.
She explained: "[Prince Andrew] just hadn't prepared. It took me by surprise. The Palace's usual motto is: 'Never explain, never complain, never give interviews.' This breached all of those."
'Oh my gosh, wow!' was @SarahCam3's reaction to the Prince Andrew interview. #JournoFest pic.twitter.com/7HOqL2ml2E

— News Associates (@NewsAssociates) January 25, 2020
While the Prince Andrew interview caused a stir, she predicted the way Prince Harry and Meghan have tried to 'control their narrative' will spark more trouble in the long term.
"It causes huge problems because, as journalists, we like to get our own footage and ask our own questions – you have to be critical, sceptical," Sarah said.
Despite this extraordinary year though, Sarah's time in close proximity to the Royals has made her 'less of a republican'.
She said: "You have to respect people like the Duke of Edinburgh. For a lot of people, the royals are very important. The Queen is a figure of stability."
That is perhaps, until that much anticipated story breaks.
Did you miss JournoFest 2020? Check out our round up video below! And learn more here.