Apply Now  To express interest in the accredited National Council for the Training of Journalists qualifications run by News Associates.
We've been ranked the UK's number one NCTJ journalism school for seven straight years

No other journalism school wins more prizes at annual NCTJ Awards for Excellence

Unrivalled record at getting our trainees into a wide-range of journalism and media jobs

Officially the UK's top ranked fast-track NCTJ journalism course in 2013, 2014, 2015, 2016, 2017, 2018, 2019, 2020 and 2021.

London's top-rated NCTJ journalism school for the last 13 years
Award-Winning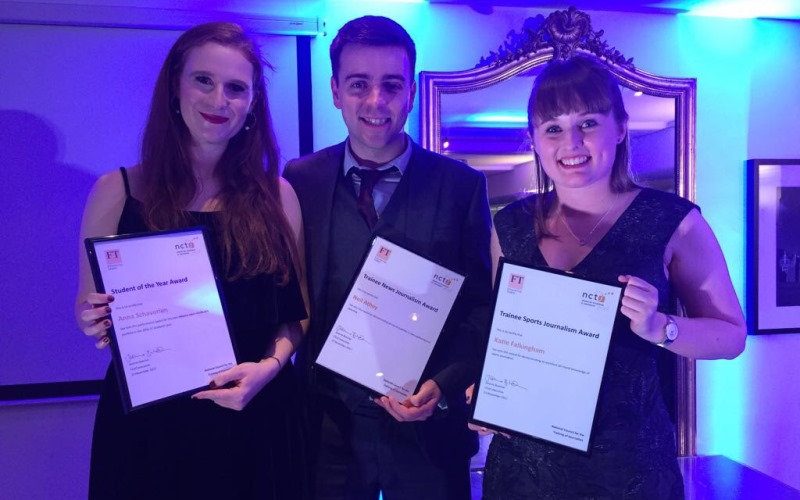 News Associates trainees regularly dominate the NCTJ Awards for Excellence. Pictured are Anna Schaverien (The New York Times), Neil Athey (Lancashire Telegraph) and Katie Falkingham (BBC Sport).
View our success
Our Trainees
"News Associates courses offer invaluable opportunities to get practical experience reporting on a wide range of events while you train."

Pete Thompson, Twitter 

"The course was intense but it was the best decision I could have made to get into sports journalism."

Chris Reidy, Sky Sports News

"This course is all about attitude. You've got to work really hard, seize your chances because you are studying at the best place there is."

Hardeep Martharu, The Independent

"Be prepared to work hard but I know first hand that enrolling on a News Associates course could be the best choice you've ever made."

Tom MacLeod, Sky News

"News Associates was a great experiemce that taught me a lot of essential skills that I use every day. I would recommend their courses for a speedy and effective entry into journalism."

Helen Reid, Reuters

"Choosing News Associates was the best first career move. The tutors were first class and their contacts invaluable."

Daniella Matar, Associated Press

"The contacts you make at News Associates provide a wealth of knowledge and expertise."

Dan Zeqiri, The Daily Telegraph 

"I find myself constantly telling people that NCTJ training with News Associates is the best thing I've ever done. The tutors care so much that everyone does well."

Hannah Scott, The Sunday Times

"News Associates is an intense and exhilarating experience. It's without a doubt the best possible start I could have had to my career in journalism."

Elise Chamberlain, BBC

"The News Associates course equipped me with the vital tools I need to do my job and I use them everyday."

Gabriella Swerling, The Times

"The tutors push you to achieve your own potential, they genuinely care and I don't think I would have done as well as I did if I had taken my NCTJ anywhere else."

Sara Oldfield, NCTJ Student Journalist of the Year 2016

"The course is demanding but rewarding and the skills you are taught by the dedicated staff are invaluable."

Jack Skelton, BBC Sport

"The work is hard and the hours are tough but studying at News Associates is worth it in the end when you know you've finally got to where you want to be."

Kat Lay, The Times

"If I had done my NCTJ course somewhere else, I really don't think I would have won this award."

George Gigney, NCTJ Student Journalist of the Year 2015
Latest From Our Journalism Schools
Covering Wimbledon is a fantastic gig for any early-career sports journalist, but for a lifelong tennis fan, it's a dream come true.
News Associates has launched a remote part-time course offering the chance to experience the UK's top journalism teaching from home.