So you want to become a sports journalist? News Associates runs a 35-week full-time NCTJ-accredited Diploma in Multimedia Sports Journalism. This is delivered in association with Britain's leading sports press agency Sportsbeat – perfect for anyone wanting to study sports journalism.
In 2014/2015 and 2015/2016, our sports journalism course was named the number one in the UK by the National Council for the Training of Journalists, with an unprecedented 100% gold standard pass rate – compared to a national average of 22%.
The course has one intake a year (September) in London and Manchester. Click here to download the course brochure and prospectus.
Study sports journalism with us and follow in the footsteps of our other trainees who are making their mark in the world of media.
You can find them on the back pages of our national newspapers, presenting and reporting on Sky Sports News, or working internationally for some of the most respected names in journalism from Reuters to Agence France Presse. They have also made their way to the media departments of Premier League football clubs and national governing bodies, from the British Olympic Association to the MCC.
Great to see #TeamNA grad @riksharma_ with the back page splash on today's @DailyMirror – we bet that took a lot of re-writing! #StartedHere pic.twitter.com/tvoQoOi6FU

— News Associates (@NewsAssociates) March 9, 2017
Another double-page spread from #TeamNA @willgkelleher goes behind the scenes with England ahead of the Six Nations finale. #StartedHere pic.twitter.com/xLagaQhMhG

— News Associates (@NewsAssociates) March 15, 2017
Sportsbeat are one of the UK's most trusted suppliers of sports content – you'll find and see their words and broadcast packages in every major media outlet. They are the official content providers for some of the biggest names in sport, including the Football Association, British Olympic Association, British and Irish Lions, Six Nations Rugby, Aviva Premiership, Guinness PRO12 and the FA Women's Super League.
If you want to study sports journalism and are thinking about applying for our 35-week NCTJ-accredited sports journalism course, read some words of advice from former trainees here. 
Also, here are some frequently asked questions:
What's the best sports journalism course in the UK? 
There are lots of sports journalism courses out there, offered at undergraduate or post-graduate level. This News Associates sports journalism course is different and here's why:
We are proud it's the number one journalism course of any kind in the UK – click here to see the results tables on the NCTJ website.
It's practical, as you would expect from a course delivered alongside one of the UK's biggest providers of sports content. You can't become a sports journalist from a textbook. From week one there will be opportunities to attend matches, press conferences and interviews to develop your multimedia portfolio.
It's award-winning. At the 2016 NCTJ Awards for Excellence both sports journalism prizes were won by News Associates graduates. Ross Lawson, who now works at Sportsbeat, edged out News Associates colleague Will Kelleher, who now works at the Daily Mail, to win trainee sports journalist of the year. Richard Amofa, now at the Daily Telegraph, was named student sports journalist of the year. The year before Nemesha Balasundaram, now Sky Sports News, won the award.
We have an unrivalled job success. We have graduates working in a range of sports media jobs, from national newspapers to magazines and football clubs. Both successful candidates for the last Sky Sports News graduate scheme were trained by News Associates on this course.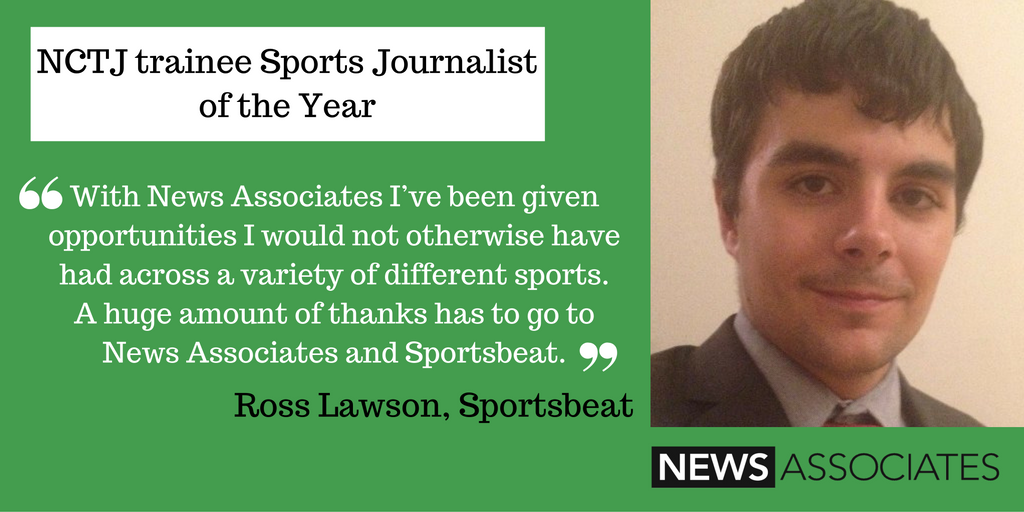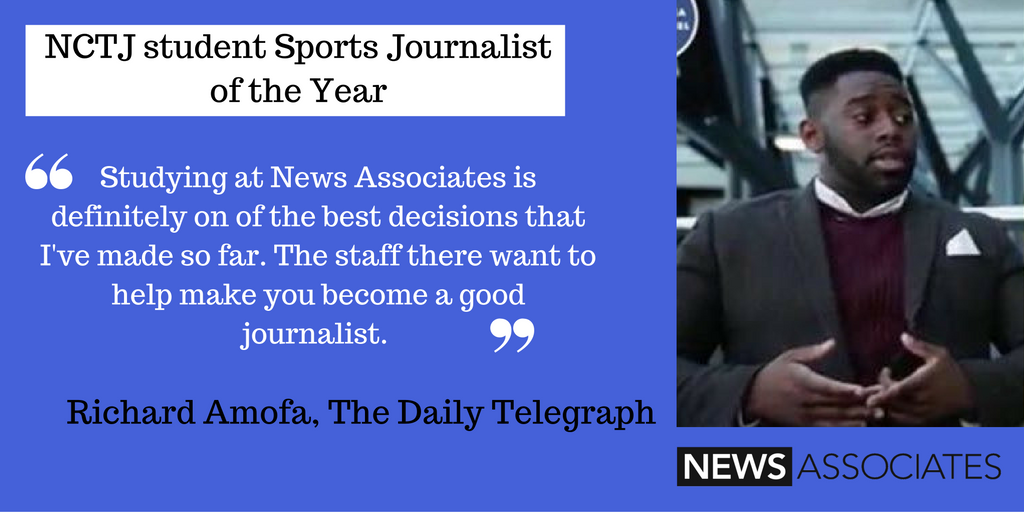 "Sportsbeat and News Associates gave me the best possible training, coupled with great opportunities to work in radio and TV. They set me up for my current job."
Tom MacLeod, Sky Sports News
"Sports journalism taught by sports journalists, I wouldn't look anywhere else to do your training."
Daniel Schofield, The Daily Telegraph
I want to study sports journalism but what's the difference between this 35-week NCTJ Diploma in Journalism and the 22-week fast-track qualification at News Associates?
You will study nine NCTJ modules instead of seven, including communications and public relations, which is important due to the number of sports journalism jobs available at national governing bodies or sports teams. You will also receive much more detailed tuition in sports journalism but – importantly – we will prepare you to be a journalist capable of working in any department, so expect a mix of breaking news, politics, feature writing and live blogging too.
Here's Ed Higgs, now Sky Sports News, on what makes this course different:
Study sports journalism and become part of our success story – apply for our sports journalism course here.