Those interested in a career in newspapers, magazines, online and broadcast are encouraged to enrol on one of our FREE journalism workshops.
Our three-hour seminars provide a practical insight into journalism and NCTJ training.
We will get you tackling a breaking news exercise and feedback will be sent to every attendee at the conclusion of the workshop.
There will be a chance to meet our tutors, reporters and editors and time will also be set aside for career advice.
But don't just take our word for it – click the video to the right to gauge the opinion of former attendees.
Going to university in 2016? Why not attend our dedicated workshops for school leavers?
London Workshop Dates
247 The Broadway, London, SW19 1SD (10.30am-1.30pm, unless stated)
Tuesday November 22nd 2016 (evening workshop from 7:30pm)
Tuesday January 10th 2017 (evening workshop from 7:30pm)
Friday January 20th 2017 
Friday February 10th 2017 
Tuesday March 21st 2017  (evening workshop from 7:30pm)
Find our London Centre on Google Maps
Apply Now
Manchester Workshop Dates
Barclay House, 35 Whitworth Street West, Manchester, M1 5NG (10.30am-1.30pm, unless stated)
Tuesday December 13th 2016 (evening workshop from 7:30pm)
Friday January 20th 2017 
Friday February 10th  2017
Find our Manchester Centre on Google Maps
Apply Now
"The News Associates journalism workshop gave me an amazing insight into writing a breaking news story as it developed. The simulation makes you feel like you are actually there in the news room, working under pressure to finish your article before the deadline. The afternoon taught me loads about the NCTJ certificate and the feedback I received afterwards on my story was really useful. The workshop was so good and such fun that I have already booked an exam and interview for their 20-week 'Fast Track' course!"
"I would recommend this workshop to anyone. I was dreading seeing just another powerpoint presentation but it was really practical." 
"Exhausting, the three hours just flew by. The breaking news exercise was totally absorbing. It felt like I was right in the middle of reporting a massive story. A really practical and entertaining seminar."
"Thanks for providing a fantastic practical insight into life as a journalist – it was well worth the time and effort to attend. It was also great to speak with some of your reporters afterwards. They gave me some really useful advice and I left buzzing."
Apply Now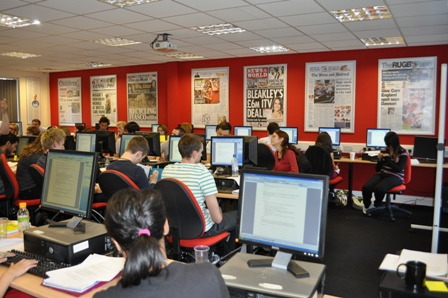 PRACTICAL: Our workshops are designed to give you a glimpse of life as a reporter – working on a breaking news story.
Introduction to Sports Journalism Workshops
This popular one-day course is run by the full-time reporters from our affiliated press agency, Sportsbeat – the UK's leading sports news agency providing over 20,000 stories per year to 200 newspapers and 300 websites.
The course covers all of the basics of sports journalism including reporting from a live sporting event to covering a press conference as well as everything in between.
ISJs run once a month in London and Manchester on Fridays. They take place in our agency offices.
For further information please click here
Sports Journalism Apply Now