Want to study with us at News Associates? Here are some of the questions we get asked regularly about our 18-month remote part-time journalism course.
We thought you might like to read how our trainees have found studying on the remote course so far: https://www.journoresources.org.uk/part-time-remote-study-nctj-course-qualification/
What is the NCTJ?
The National Council for the Training of Journalists administers the industry's qualification for aspiring reporters in the UK. Most journalism jobs require the NCTJ qualification. It is a charity which provides a world-class education and training system for aspiring journalists, meeting the demands of a fast-changing multimedia industry.
NCTJ accreditation is widely viewed in the industry as the benchmark of excellence for journalists.
Read about what the NCTJ is and why it is important here.
What is the difference between the 40-week part-time course and the 18-month remote part-time course?
Our 18-month remote part-time course gives you the opportunity to join our flexible and award-winning NCTJ journalism training from anywhere in the world without the need to travel.
Lessons will take place on Zoom every Tuesday and every other Thursday evening, totalling nine hours a fortnight.
Whereas on our 40-week part-time course you'll study on Wednesday evenings 6:30pm-9:30pm (in person or remote) and all day on Saturdays 10am-5:30pm in person. In-person attendance is compulsory on Saturday.
The modules are the same on both part-time courses except you have the option to study shorthand on our 40-week part-time course but not on the remote-only course. See more below.
Read about our in-person 40-week part-time course here.
What modules do I study on the remote part-time course?
Trainees on our 18-month part-time course will study eight mandatory modules – enough credits to gain the all-important Level 5 NCTJ Diploma in Multimedia Journalism – and you will be taught by our very experienced journalism tutors.
Modules include: data journalism, essential journalism, essential journalism e-portfolio, essential journalism ethics and regulation, essential media law and regulation, journalism for a digital audience, PR and communications for journalists and public affairs for journalists.  
Please note, while you can study this course from anywhere in the world, the syllabus prepares you to work as a journalist in the UK.
You can read more about the modules here: https://newsassociates.co.uk/nctj-course-elements/
 

 

View this post on Instagram

 
Are the modules the same across the courses? 
We deliver a variety of NCTJ modules across all of our courses. Our courses are all slightly different so we hope there's a course out there for you. 
You can still achieve the highly sought-after gold-standard NCTJ Diploma on all of our courses. 
Read about the modules here: https://newsassociates.co.uk/nctj-course-elements/
What about finding a job – am I at a disadvantage studying part-time?
We frequently speak to employers who say they're always impressed when a candidate has completed their NCTJ Diploma part-time – it illustrates hard word and commitment.
We're passionate about the fact our job isn't over until we've found you one. We have an unrivalled network of alumni contacts who frequently send us jobs to circulate to trainees.
All of our trainees have access to a jobs board where we frequently post job listings sent to us from employers and industry connections.
We also host guest speakers and networking sessions and run classes on CVs, cover letters, interviewing skills and more.
You can also attend our annual Journalism conference JournoFest.
Are remote lessons recorded?
No, every lesson will be taught live with a tutor, nothing is pre-recorded or recorded. 
How are lessons delivered?
Lessons are delivered on Zoom. Tutors use teaching techniques developed during the lockdown of 2020 – when all courses were delivered via Zoom – which led to News Associates winning the Innovation of the Year 2020 award at the NCTJ's Awards for Excellence.
See more here: https://newsassociates.co.uk/innovation-of-the-year-news-associates-nctj-awards-for-excellence/
Lessons are interactive and involve lots of practical exercises.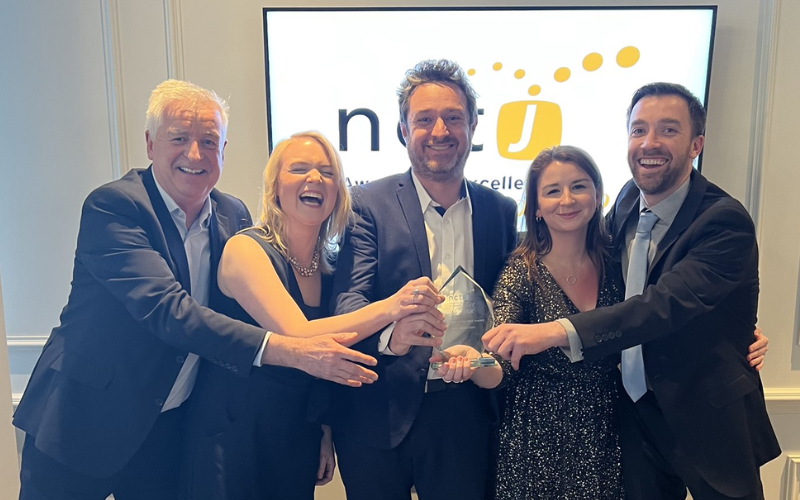 Will there be lots of homework?
On all of our courses, you won't pass just through attending lessons – you will need to do some revision and coursework in your own time.
You'll also be working on your portfolio – but that shouldn't feel like homework! For most subjects, the vast majority of work will be completed in lessons, unless you're revising ahead of an exam.
Trainees must be aware self-study is required on all of our courses – on this 18-month course we recommend an average of 45 minutes a day – to achieve the highly sought-after gold-standard qualification (A-C in all modules).
How does placement work on the remote part-time course? 
Building up an impressive portfolio of work is vital while you're studying with us, and we try to be as flexible as possible in how you undertake your work experience.
The remote part-time course is designed to be flexible so you can arrange any work placements when is most convenient for you. Many part-time trainees choose to use their holiday allowance to spend a week or two in a newsroom, or you can arrange for a day a week if you are working part-time.
There's also the option to contribute to our sister publications The Londoners and Mancunian Matters. You will write for these publications loads as part of your course anyway. You can pitch to us whenever you like and join our Wednesday placement days too – in person or remotely.
There will also be plenty of opportunities to cover breaking news and get stuck in with reporting. Just recently our trainees have covered the death and funeral of Queen Elizabeth II and King Charles III's coronation and the Manchester local elections.
Reporting on the #coronation from the Philippines for @NewsAssociates. The British Embassy @ukinphilippines is hosting a livestream picnic at Quezon Memorial Circle with different booths. pic.twitter.com/KSzU7RtrvF

— Ysabel (@ysabelwithawhy_) May 6, 2023
What are your entry requirements? Do I need a degree?
The course is postgraduate – so you need to have a degree, in any subject – unless this is outweighed by significant experience in the industry.
We are looking for a clear passion and commitment to the industry, such as through student media or relevant work experience.
We sometimes accept applications from mature applicants without formal qualifications. It is highly desirable that you have some relevant work experience in journalism, this may be paid work, an internship, student journalism at your university/college, freelance work, or a combination of these.
If English is not your first language, you must get a minimum overall score of 7.0 in the IELTS English language test, including at least 7.0 in the writing component of the test. You will be required to take this test at your own expense.
How does the application process work?
Our application process has three phases. The first stage is this short form online.
After your initial online application is assessed by our training team you will be emailed a longer admissions form which you will need to fill out and email back.
If successful, the final stage is an interview remotely. 
Subject to passing the exam and impressing in the interview you will be offered a place to study with us.
We regret that due to the high number of applications we are not able to give individual feedback on the process.
Please note that part of the application process will include checking you have the right technology to complete the course fully remotely.
Can I apply if I am based internationally?
Absolutely. Our course is designed to enable aspiring journalists to access our award-winning training and get their NCTJ Diploma from home. 
Please note that teaching hours and exams will be taught on UK time and while you can study this course from anywhere in the world, the syllabus prepares you to work as a journalist in the UK.
How much does the course cost?
The course fees are £4,750. You can see more and bursaries and paying in installments here: https://newsassociates.co.uk/fees-funding/ 
Can I talk to someone or come and have a look round before I make my decision?
Many of our trainees came to one of our free workshops first to meet the team, but we're also more than happy to book a time for you to come and ask us your questions. Please email us at training@newsassociates.co.uk or call us on 0203 026 3781.
Got a question about our part-time journalism courses? Contact us on training@newsassociates.co.uk or 0203 026 3781.
Sign up for a free journalism workshop here.
Apply for our remote part-time journalism course here.