The NCTJ-accredited 22-week fast-track course has two intakes a year, in September and late February (our next courses start on September 4, 2017). Trainees attend full-time Monday to Thursday* (9.30am-5.30pm) and are expected to work Fridays at a work placement on a newspaper or news outlet. These courses run at both our London and Manchester centres. * Monday-Friday for first two weeks of study.
News Associates has been named the top fast-track journalism course in the UK by the National Council for the Training of Journalists for the last five years and it's been ranked the number one journalism course in London for nine straight years. Click here to see the NCTJ results tables.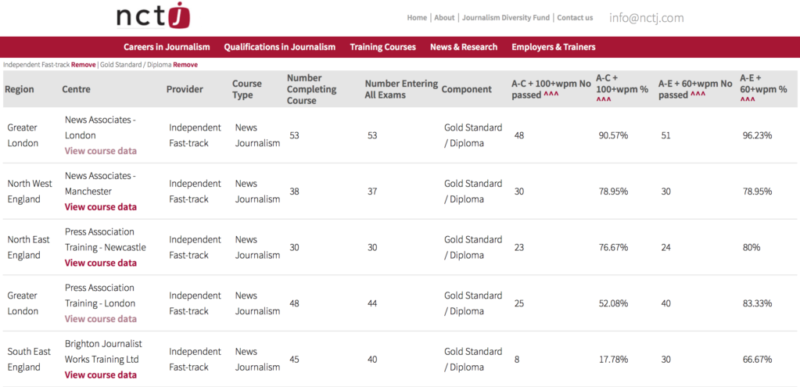 You will study core modules – see left for course elements – and have the chance to choose a specialist module in either sports journalism or production journalism at the start of your programme.
Click here to download the course brochure and prospectus.
This fast-track programme is designed for graduates but we do run an undergraduate BA (Hons) in Journalism programme, which includes NCTJ examinations, at our Manchester office, in conjunction with Marjon University. See here for more details.
"The encouragement I got at News Associates gave me confidence which I've built on since then. Ask as many questions as you can while you are there as it'll set you up for life in your first newsroom."
– Keri Sutherland, Daily Mirror
"The encouragement I got from News Associates made the difference. It's the best course in the country – their exam results speak for themselves and then you see how good their graduates are and the stories they break for the biggest news organisations every day."
– Richard Amofa, Daily Telegraph
CLICK HERE FOR NCTJ DIPLOMA IN JOURNALISM COURSE ELEMENTS