JournoFest 2023: What makes great journalism panel
This year's second JournoFest panel focussed on 'What makes great journalism?', and discussed the core elements of compelling journalism as it catapults through the digital age.
Our trainees heard from Kamal Ahmed (News Movement co-founder and editor-in-chief), Jane Moore (ITV Loose Women panellist and The Sun columnist), Samantha Washington (Sky News presenter) and David Woode (The Times crime correspondent).
Here, fast-track trainees Freya Gascoigne and Kristina Wemyss share what they learnt.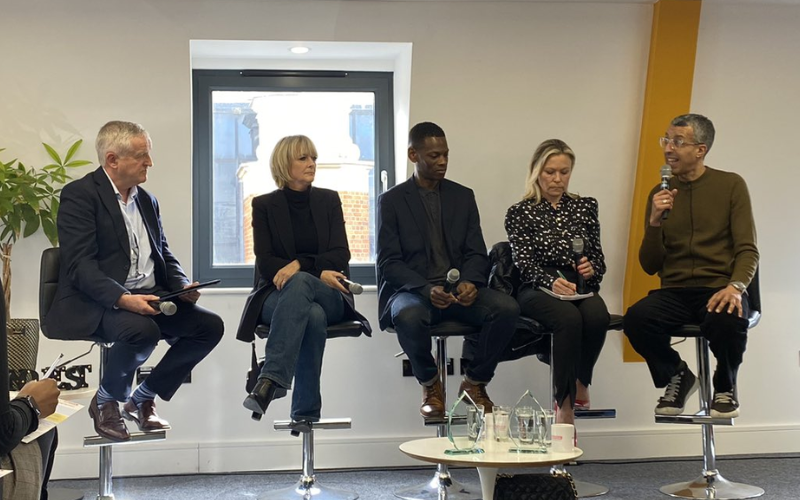 Our JournoFest host Graham Dudman asked the panellists about the fundamentals in their respective areas, and Ahmed referenced a Reuters survey which showed that many young audiences avoid the news.
Ahmed said he had observed the disconnect between young people and traditional forms of news through his own children.
The News Movement's content looks at the next generation of consumers, who access news through social platforms.
He said: "You have to go where the audience is – this is vital news ecology. If you understand TikTok, it can be a very powerful vehicle."
Storytelling through social media aims to combine the 'rigour of journalism with the brilliance of digital creation'. Ahmed explained the initial minute of a TikTok should be the punch moment.
Referring to his previous experience at the BBC, Ahmed spoke about how many broadcasters list depressing news stories and then say 'next, the weather', but he believes news should spark onward movement.
News needs to shift to suit an audience that wants quick and digitally digestible information, and Ahmed argued journalists need to remember their audience.
Moore agreed, saying: "Never lose sight of your reader – it's about them, not about you."
Moore explained audiences are drawn to unbelievable stories with relatable elements, and referenced the disappearance of Nicola Bulley.
She said: "It's something that could have happened to any family – a mother or wife suddenly disappearing on a normal day.
"Some stories just punch through the ages."
She compared public response to Nicola Bulley with the disappearance of Madeleine McCann.
Washington said in her work, pictures tell the story. She explained broadcast journalism requires striking footage and photographs to capture its audience and keep them engaged with news.
Even the most mundane weather stories can be told in a compelling way through visual illustration.
For Woode, exclusivity of sources is what makes his journalism effective.
Crime journalists have the power to change public conversation, and provide a mouthpiece for victims.
He described getting in touch with a victim of David Carrick by writing them a letter, highlighting how a sensitive approach is the first step in fostering a trusting relationship.
Woode said: "We have to put people before ourselves, and building a trusting, exclusive relationship with sources allows them to feel they can unburden themselves."
He described his own journey, starting with The Sun graduate scheme with subsequent roles at the Press Association and The Sunday Mirror, before moving to Ghana to reconnect with family roots and work freelance.
Upon moving back to the UK, Woode focused on criminal stories from an investigative route before interviewing at The Times for his current position.
When visiting people who have been through a loss or a similarly difficult situation, Woode advised a journalist should 'always drink the tea'.
He explained putting the effort into sitting down with people and really listening is the best way to get authentic stories.
Reflecting on her broadcast career, Washington described the moment she broke the news of the death of Prince Phillip.
While on air she was approached by her producer with the 'fourth bridge alert' and was told she was the presenter who would break the news on Sky.
Sky News was the first UK broadcaster to announce the news.
"Broadcast is all about staying calm", Washington said.
In answer to the question of what makes great journalism, the clearest answer was flexibility.
Whether that be through adapting to new formats and audiences, changing your approach to deal with interviews sensitively, or thinking on your feet when something goes wrong.
You can read all the highlights and top tips from JournoFest 2017, 2018, 2019, 2020, 2021 and 2022 here.