20 great things that happened at News Associates in 2020
At News Associates we're all about celebrating the good things in journalism. And while there's no denying this year hasn't played out how we expected, one thing has stayed the same – the amazing achievements of our News Associates trainees, alumni and staff.
So, to celebrate, here is our list of 20 great things that happened in 2020!
1. We kicked off the year with our biggest ever JournoFest!
Our free annual journalism conference for News Associates trainees, grads and guests took place in January with 17 amazing guest speakers and more than 100 people in the audience.
Sky News presenter Dermot Murnaghan, BBC broadcaster Christian Fraser and Times deputy home editor Lindsay McIntosh were among our stellar line-up.
2. Across the year 32 trainees were offered funding from the Journalism Diversity Fund to enable them to study with us in 2020.
This helped us in our commitment to making journalism more diverse.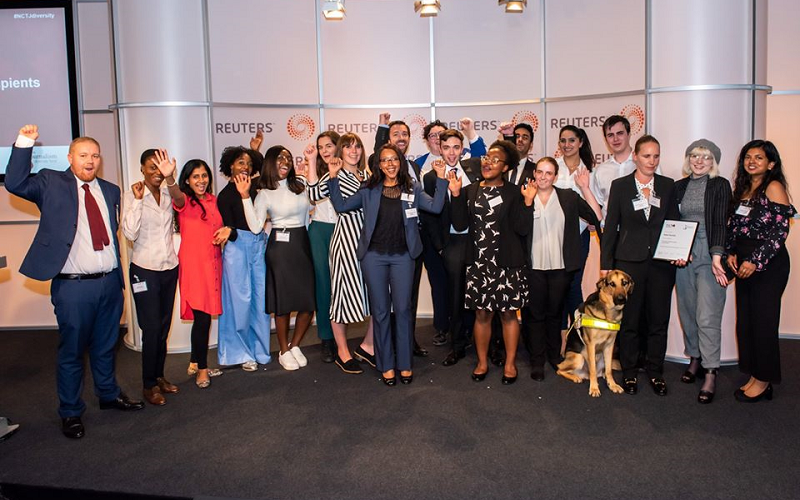 3. On January 31, five fabulous News Associates graduates were recognised for their top exam results at the NCTJ Diploma Awards.
Ella Jerman, Jen Tombs and Marthe de Ferrer were all awarded for their performance in shorthand exams while Kishan Vaghela and Sam France achieved the highest results in public affairs and sports journalism respectively.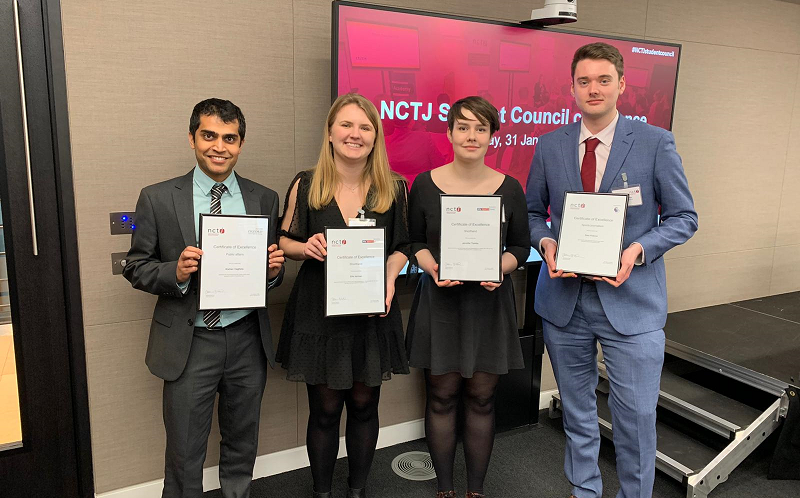 4. In March we attended the Women in Media Conference in Manchester.
Our editorial development manager Lucy Dyer hosted a news journalism session and spoke on a panel alongside BBC camerawoman Emma Bentley and multimedia journalist Laura Garcia – who we have continued to work with!
News Associates alumni Isobel Lewis (The Independent) and Kirstie O'Mahony (BBC Bitesize) also spoke at the event.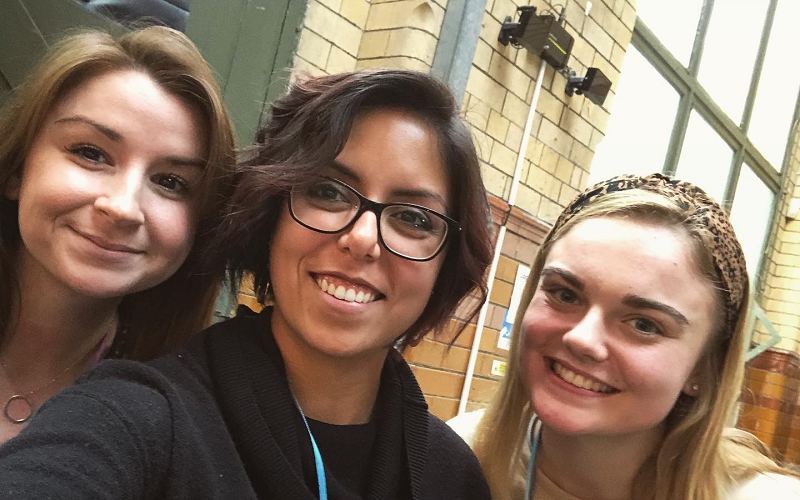 5. On March 23 we started our #WorkingFromHomeTogether series on Twitter.
We got a whole host of amazing journalists – including Telegraph women's sport reporter Fiona Tomas, Independent social affairs correspondent May Bulman and Spectator US managing editor Matt McDonald – to share their tips for working from home as many of us were adapting to a new, temporary, lifestyle.
We're getting journalists from all stages in their careers to share their top tips for working from home as we all learn to cope in these unprecedented times. #WorkingFromHomeTogether ✨

First up is @BeatMediaGroup managing editor @jtoneysbeat. 👇@NCTJ_news #MondayMotivation pic.twitter.com/mRdg8Pn2hV

— News Associates (@NewsAssociates) March 23, 2020
6. Throughout the year we've continued working with our friends at The Times and Sunday Times, Yahoo, the Financial Times, The Sun, the Sports Journalists' Association, Journo Resources and many more.
From running grad assessment days and diversity bursary schemes to hosting workshops and putting journalists through NCTJ courses – our relationships have stayed strong in 2020.
💬 "People help each other in this industry. We have all been helped by somebody, you should not be afraid to ask for help."

Our vice-chair @Leon_Mann at last night's Q&A for aspiring and student sports journalists.

Read some of our panel's advice 👇https://t.co/R3fzFOO0in pic.twitter.com/yjJwqYjFlj

— Sports Journalists (@SportSJA) November 27, 2020
7. 2020 pushed us to offer something we have always dreamed of doing – yoga sessions for our trainees!
Throughout lockdown and since our autumn courses started we have been lucky enough to offer our trainees free weekly remote yoga sessions with professional instructor Emma Lindsay.
Emma said: "The physical benefits of yoga are well known, and I know that moving and challenging your body after long days of studying will feel great.

"But it's the mental clarity and focus that comes as a result of yoga that will get you to 100wpm."
8. In June, our brilliant part-time trainee Kate Pounds (now a journalist at South West News Service) passed 100wpm Braille shorthand.
Kate, who has been blind all of her life, was awarded the Thomas Read bursary, associated with the Journalism Diversity Fund and the NCTJ.
She used a Braille shorthand code from 1959 – kindly re-printed by the RNIB – combined with her Teeline lessons and a Braille note-taking device to learn the skill.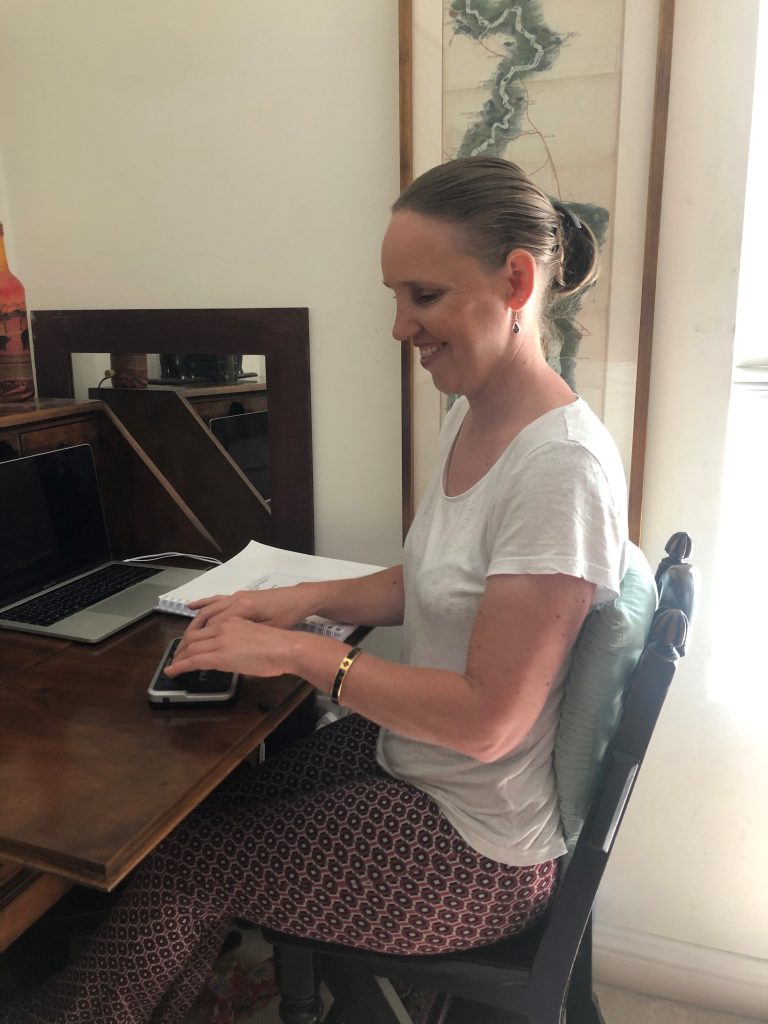 Kate said: "My tutors at News Associates have been really supportive. They have been very good about sorting accessible documents.
"It's a thorough and demanding course, and we have worked through it together. There has been chaos at times from both parties, which is normal.
"It doesn't feel like my visual impairment has been a big deal.
"We have worked together with understanding and encouragement on both sides.
"It's been a learning curve for all of us. One I feel we have enjoyed. Really, really enjoyed.
"I hope my colleagues on the course would say that working with me has been informative, and they will carry that knowledge of working with me forward. They're a fantastic group.
"I'd like to say a big thank you to everyone at News Associates. I feel really fortunate that the team is so open-minded. No one has ever said 'that's too difficult'."
9. Throughout lockdown more than 2,500 people attended our free remote lecture series online.
Over the summer we hosted some of the biggest names in journalism – including Times Sport chief football writer Henry Winter, investigative journalist Meirion Jones and HuffPost opinion editor Lucy Pasha-Robinson – for a Q&A with you!
We also virtually delivered breaking news workshops for 12 different student media teams.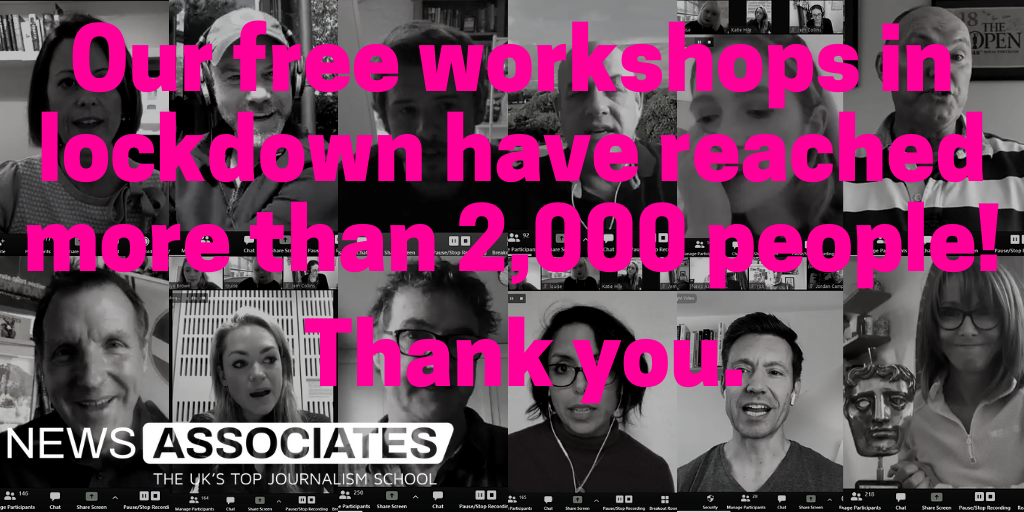 10. Our trainees got creative to showcase how much they #LoveShorthand!
Current speed: 12 words per hour pic.twitter.com/g7zPjqtctL

— Zoe Osterloh (@zoe_osterloh) June 20, 2020
11. We hosted our biggest ever journalism summer school safely in our Twickenham office.
Seventeen trainees joined us for two weeks of mobile journalism, data stories, FOIs, news reporting, entertainment writing and much, much more.
Read Noah's blog about his time with us.
New blog from me – My Review of the News Associates (@NewsAssociates) Summer School in 2020: https://t.co/6mBHOpDw0N Strap yourselves in folks, the review is nearly 2,000 words. Not sure whether even a broadsheet double page spread would cover that, but hey, we're online. Enjoy!

— Noah Keate (@NoahKeate) August 16, 2020
12. The industry-standard NCTJ diploma was upgraded to a level 5 qualification.
The change came into play from September 1, 2020 to reflect the complex multimedia skills delivered on accredited courses.
After consultation with NCTJ-accredited courses, it was agreed the standards and rigor of the qualification match the higher level 5.
Our @NCTJ_news trainees spent the day broadcasting live news updates on the hour for @SW_Londoner. 🤩 #TeamNA #StartedHere pic.twitter.com/gbJWau8T9q

— News Associates (@NewsAssociates) July 2, 2020
13. We gave our in-house publications, South West Londoner and Mancunian Matters, fresh new looks for the start of the academic year.
The revamped websites have enhanced our trainee experience even further, ensuring our reporters have access to outstanding platforms for their work.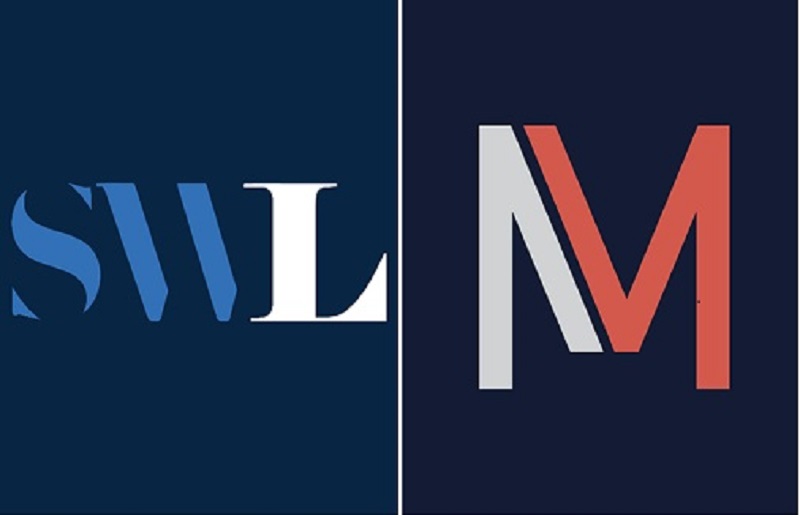 14. We worked tirelessly to ensure we could start our September journalism courses with some in-person elements to enable our trainees to get the most out of their NCTJ studies, while also keeping everyone safe.
London trainee Jess Broadbent said: "In terms of Covid I feel like they couldn't do any more – the office is kept super clean and we're all well-spaced out.
"I don't want to get too cheesy but even if I quit the course tomorrow, it has quite literally changed my life. The way I think about the world, the media, the news has shifted in a few short months. The tutors have a wealth of knowledge and passion and experience and there are so many nuggets of wisdom to take away outside of the curriculum of the NCTJ. It's tough and there have already been a fair amount of tears, but the workload also ebbs and flows so it's manageable and you've always got Lucy there for a socially-distanced cup of tea when it gets too much!"
London trainee Olive Enokido-Lineham said: "Despite the changes to restrictions over the last few months, NA has done an amazing job to adapt in order to keep us in the office – something which I know I've really valued and appreciated. Being in the office has been so great and important as it's helped us build relationships with our peers and tutors and as the course is so hands-on, it's provided us with the opportunity to continue our training with some form of normalcy. The in-person teaching has also allowed me to learn so much from my peers, we've all become really good friends and support each other when things get hard."
Manchester trainee Sam Ormiston said: "The team at News Associates have done a brilliant job of ensuring that we are receiving the best possible experience under the circumstances while also keeping us safe."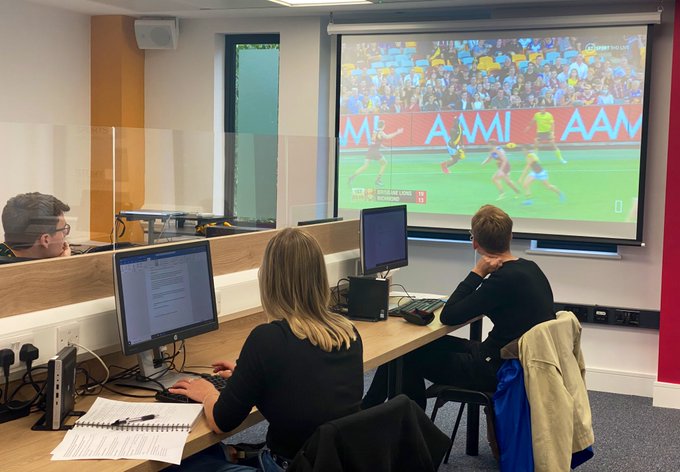 15. In October, it was official that 100% of our first-ever undergraduate class achieved a gold-standard NCTJ diploma.
On top of that, an incredible 71% also achieved a first in their journalism degree, with 29% achieving a 2.1.
I've been dreaming about writing this article for three years. 🧡 #StartedHere https://t.co/sPNuPtu4mZ

— Lucy Dyer (@Lucyedyer) October 11, 2020
16. On November 5 we hosted our first ever journalism ethics workshop for student journalists on Zoom.
More than 100 university paper writers and editors signed up to the free event which saw News Associates managing editor James Toney and deputy managing editor Graham Dudman talk through made-up scenarios and real-life stories with aspiring journalists.
Thank you to everyone who came to our student journalism ethics workshop! My no1 tip – remember you don't have to struggle alone, you're in a team. Share what you're working on with others and talk things through, you'll be surprised how much you can learn from each other 🥰 https://t.co/lecgvVt2Kj

— Zoë Crowther (@zoenora6) November 5, 2020
17. In November, our incredible alumna Nadine White was on the front page of the NCTJ careers guide.
There isn't a listicle long enough to showcase all of Nadine's achievements so give her a follow on Twitter to stay up to date!
We're thrilled to unveil the new edition of our careers guide sponsored by @FT

Sent to schools and colleges, it is packed with information on how to get into one of the most exciting careers around

This year's cover star is the brilliant @Nadine_Writes!https://t.co/sCAdFoXV5O pic.twitter.com/BdDgVmq9i9

— NCTJ (@NCTJ_news) November 11, 2020
18. In true #TeamNA style our trainees have done some really cool things this year!
They've covered the ICC Women's T20 World Cup, interviewed Captain Sir Tom Moore, been in the I'm a Celebrity castle and tested a £340,000 jet suit… to name a few!
I was lucky enough to try out @takeonGravity's mind-blowing £340K jet suit that's capable of 200MPH speeds this week. The Ironman-like device could soon be used by ambulance crews so they can flit across treacherous terrain in minutes 🤩 Full article here https://t.co/nBYQNMFRvN pic.twitter.com/gUkvqV1prg

— Lucy Jones (@ByLucyJones) October 25, 2020
19. Our alumni have continued to land their dream jobs after studying with us.
From The Independent to Times Radio, ITV to CNN Sport, The Athletic to The Telegraph grad scheme and My London to The Spectator – we're so chuffed they #StartedHere.
Now that i've had a month for it to actually sink in, I'm excited to announce that i'll be the new @itvnews trainee for @granadareports 🙌🏾. My dream has come true! Bring on 2021✨

— Lucille. (@LucilleEva) December 14, 2020
The cat's out the bag! Been sitting on this one for a while. Absolutely delighted to be covering Bournemouth for @TheAthleticUK!

Here's my first piece on Dominic Solanke and his fine start to the season. https://t.co/f7juDE5wUC

— Ahmed Shooble (@AhmedShooble) December 11, 2020
20. With 11 nominations across seven categories News Associates once again dominated the NCTJ Awards for Excellence shortlist.
Our nine alumni feature across the student and trainee news journalism, sports journalism, top scoop, features and podcast journalism categories.
News Associates are also nominated in the innovation of the year category.
Graduate Rachel Steinberg said: "I'm so incredibly honoured to be included in this list, especially alongside my classmate Josh.
"I'm forever grateful to News Associates and Sportsbeat for really challenging me to find my voice this year, and for genuinely championing diversity in sports media – both in the stories being told and the people telling them.
"I couldn't have picked a stranger year to become a sports journalist, but I'm so glad I did."
A fifth of all nominations from @NewsAssociates – remarkable return for some remarkable journalism. Congrats to all those shortlisted. https://t.co/lI3Ts2nG53

— James Toney (@jtoneysbeat) December 14, 2020