Five fabulous News Associates graduates recognised for top exam results at NCTJ Diploma Awards 2020
Five high-flying News Associates graduates were awarded for achieving the best exam results in the UK at the NCTJ Diploma Awards 2020.
News Associates graduates dominated the awards presented to those who received the highest marks in the NCTJ Diploma in Journalism exams during the 2018-19 academic year – with five of the 12 winners studying at News Associates.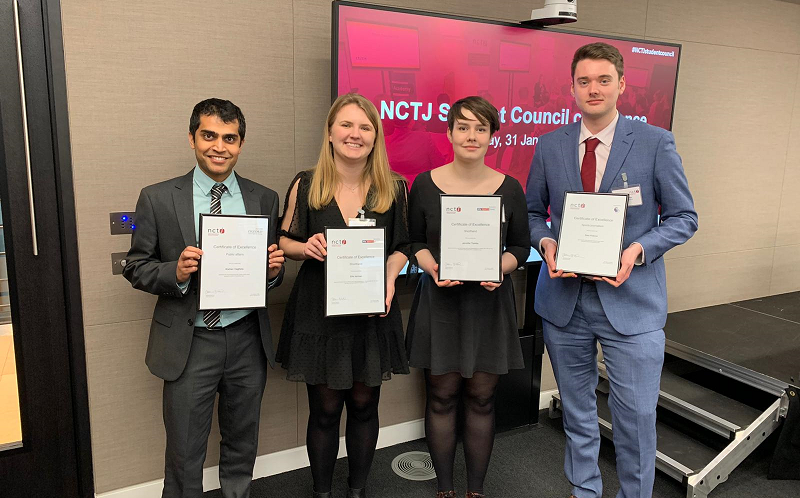 L-R: News Associates graduates Kishan Vaghela, Ella Jerman, Jen Tombs and Sam France
News Associates alumni across a variety of courses achieved the best grades in public affairs, sports journalism and shorthand.
Financial Times deputy editor Patrick Jenkins presented the awards – with all winners receiving a certificate and a £250 cheque – at the annual NCTJ Student Council meeting hosted by the Financial Times on Friday, January 31.
London sports journalism graduate Kishan Vaghela, now at the MailOnline sports desk, achieved an incredible 96% in public affairs – the fourth year in a row a News Associates trainee has won the prize!
Click here to see how we did in 2017, 2018 and 2019.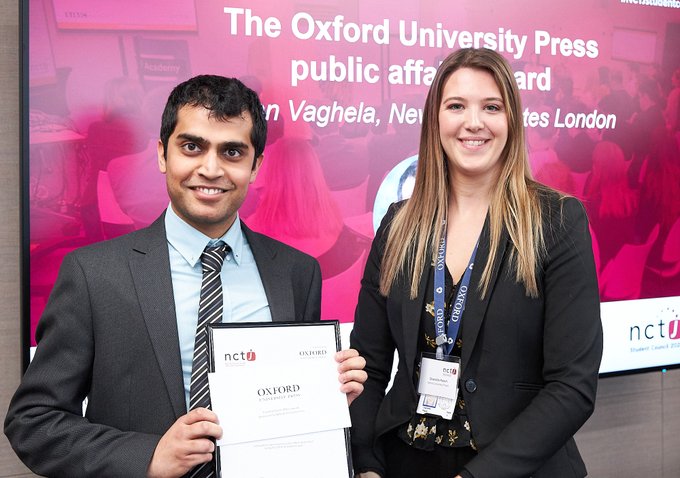 Kishan Vaghela accepting the Oxford University Press public affairs award
Kishan said: "I'm very proud to have won this prestigious award and I believe it shows the continuous hard work put in by News Associates to allow trainees to achieve their potential with the highest mark possible."
Congratulations to Kishan Vaghela for winning the award for the best result in public affairs, sponsored by the @OUPAcademic. He achieved his gold standard diploma at @NewsAssociates London and is now a freelance sports writer for @MailOnline and @Independent #NCTJStudentCouncil

— NCTJ (@NCTJ_news) January 31, 2020
Manchester sports journalism trainee Sam France, now a sports journalist at Goal, scored 88% in his sports journalism exam.
No wonder our NCTJ sports journalism courses consistently top the NCTJ league tables!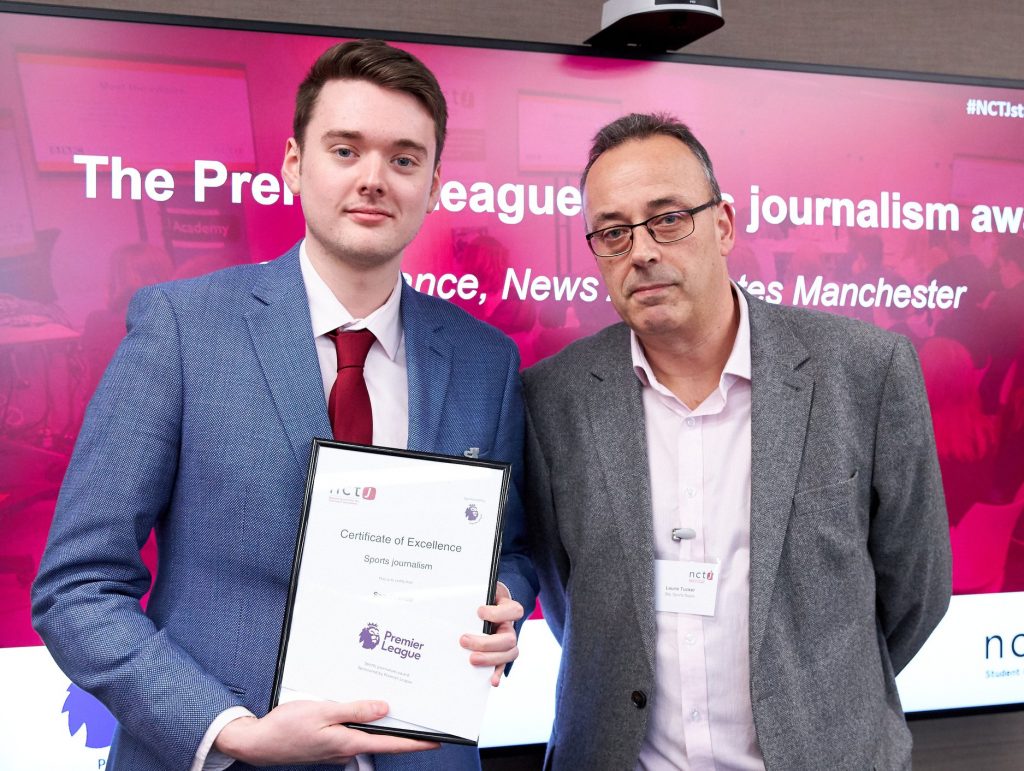 Sam France accepting the Premier League sports journalism award
Sam said: "Receiving this award has been a welcome boost and a reminder of how much I enjoyed my time at News Associates.
"Recognition of hard work is always appreciated, so credit has to go to my tutors in Manchester for their effort and encouragement in helping me develop as a journalist and start a career I'm hugely enjoying."
Chuffed with this, and obviously lots of credit has to go to everyone at @NewsAssociates. Their excellence and encouragement mixed with my natural flair, good looks and charisma were an unstoppable combination 🤙 https://t.co/JzNhCGS1Km

— Sam France (@samjfrance) January 31, 2020
While Ella Jerman, Jen Tombs and Marthe de Ferrer all took home awards for shorthand.
Delighted to win this alongside the legend that is #110Jen @jentombs!

Big up @NewsAssociates and @teeline 🙌 https://t.co/hK3o1decOP

— Ella Jerman (@EllaJerman) January 31, 2020
London trainees Ella and Jen shared the award for the highest quality shorthand in the 110wpm exam and Manchester trainee Marthe was recognised for the quality of her shorthand in the 100wpm exam.
It was fab to win this with @EllaJerman!! Sometimes shorthand brings nice things to make up for the pain https://t.co/EGOjWIStwH

— Jen Tombs (@jentombs) February 1, 2020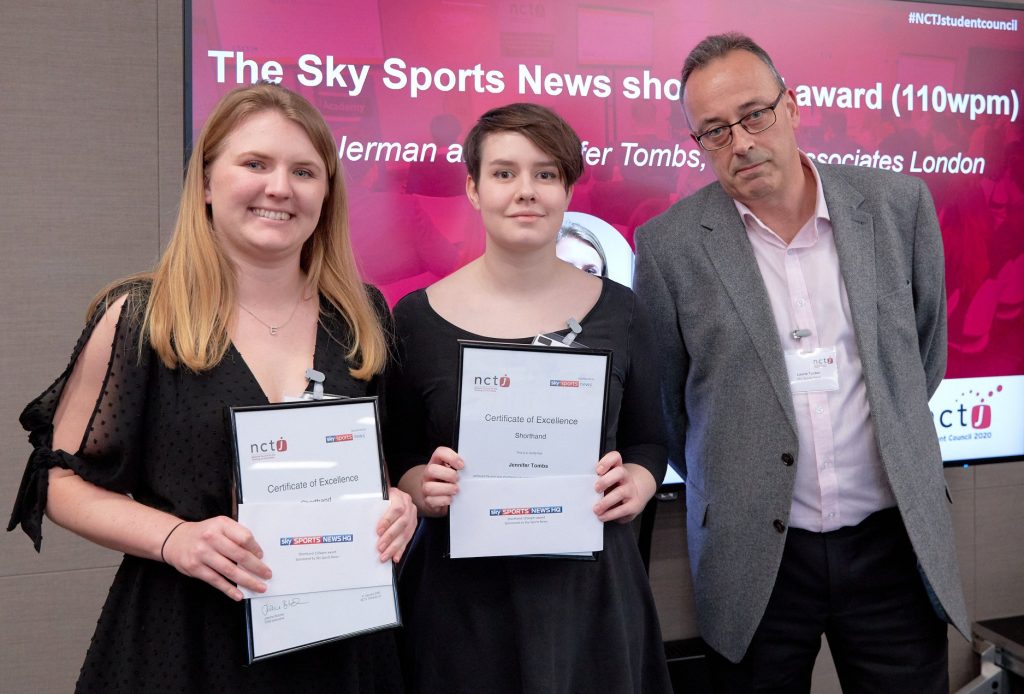 Ella and Jen accepting the Sky Sports News shorthand award (110 wpm)
Sports journalism graduate Ella, who works at Sportsbeat, said: "I'm thrilled to have won this award and I think the shorthand categories being dominated by News Associates graduates proves just how brilliant the teaching is!
"Without their tireless work I would have never reached 110wpm.
"With shorthand still such a sought-after skill in a highly-competitive industry, there's no better place to go than News Associates to get the qualifications you need to stand out."
Jen, who studied on our fast-track course in London and now works at the Metro, said: "I'm incredibly proud to win this award — especially shared with another News Associates alumna.
"Learning shorthand is hard work but it's a really valuable skill and has definitely saved my skin a few times!
"I'm so glad I was on a course that really supported me and pushed me to put in the hours."
And Marthe, who studied on a fast-track course in Manchester and now works at BBC Sport, said: "I'm still mystified as to how I won this, but it goes to show how brilliant my shorthand teaching was at News Associates.
"I was absolutely certain I would never get faster than 40wpm, let alone winning a prize for 100wpm!
"I'm still so grateful for my time at News Associates, as it equipped me with skills I use each and every day."
Ella and Jen were also commended at the NCTJ Awards for Excellence last year – Ella for student sports journalist of the year and Jen was shortlisted for NCTJ student of the year.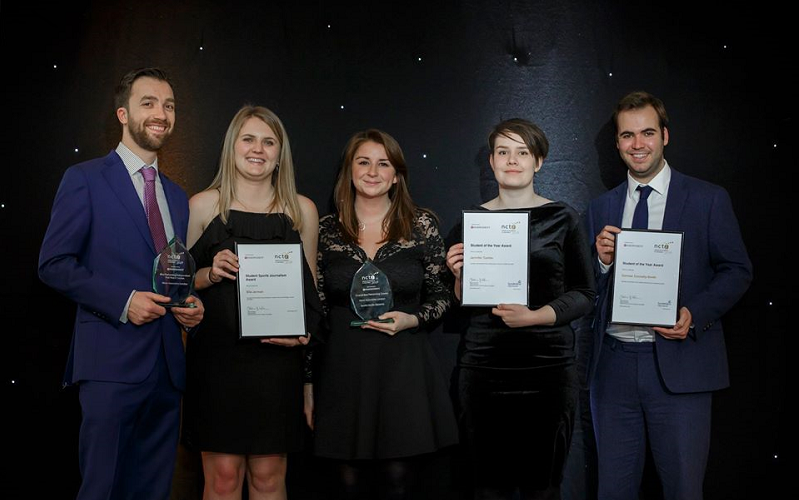 L-R: News Associates head of journalism London Graham Moody, Ella Jerman, Jen Tombs, News Associates editorial development manager Lucy Dyer and Cormac Connelly-Smith
News Associates editorial development manager Lucy Dyer said: "It's great to see our graduates consistently recognised for their hard work in the classroom and the newsroom.
"We always say we'll work as hard for our trainees as they work for us and they never let us down!"
Why study anywhere else? Click here to apply for one of our award-winning fast-track, part-time or sports journalism courses in London or Manchester.
To get a glimpse into the journalism industry and our hands-on training come along to a free workshop – book here.