News Associates commits to in-person delivery for NCTJ courses
*Please note this article was published in autumn 2020 when News Associates was delivering in-person journalism training, while many were not, from September to December. The government regulations announced on January 4 meant we had to revert to remote teaching during lockdown but we have no doubt our trainees will continue to thrive – had a read of this from last year – and we will get them back in our offices as soon as we can safely!*
At News Associates we are committed to delivering our highly-practical multimedia journalism courses – aiming everyone for the gold-standard NCTJ qualification – while also keeping our trainees and staff safe.
That is why we have invested heavily in time and money to enable us to keep our courses running in person as much as possible, while following government guidance for education providers.
We are operating our larger courses in teams to allow our trainees to reap the benefits of coming into the office, while also maintaining social distancing.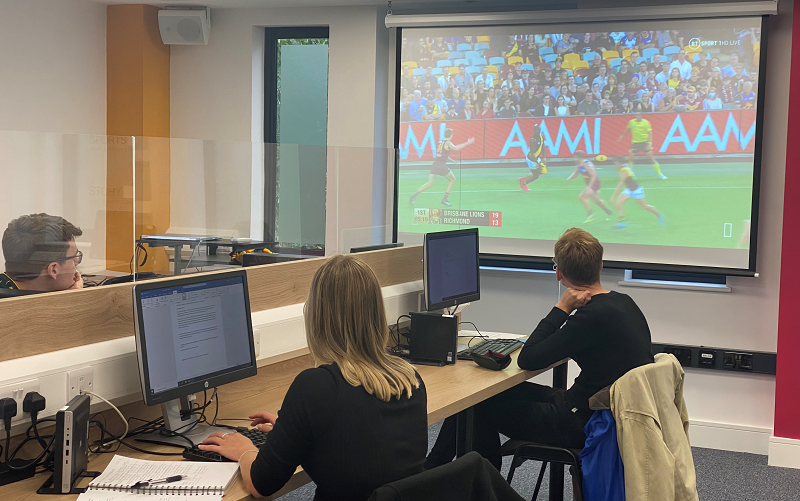 In this blended approach, trainees are split into two teams and take turns coming into the office two days and studying remotely for two days a week. While at home, they live-stream the sessions going on in the office and are expected to interact just as much as our trainees in centre – aided with speakers and microphones throughout our classrooms.
Our incredible team of tutors in London and Manchester have adapted to this style of teaching while continuing to deliver a highly-practical course.
The vast majority of our trainees are spending one day a week on external work placements, while the rest are bolstering their portfolios by writing for our publications South West Londoner and Mancunian Matters.
4 of my articles in this month's @EnfieldDispatch !🌟 particularly enjoyed the local business article #shoplocal Thank you to @JollyJourno for being a lovely editor and always listening to my ideas even when they're crazy! https://t.co/T62GZaRf5I pic.twitter.com/IrZGlWAgrv

— Olivia Devereux-Evans (@oliviadevjourno) December 1, 2020
We're also continuing to run our impressive guest lecturer and speaker series. Our trainees have already had sessions and feedback with Times assistant editor Ian Brunskill and Metro senior newsroom executive Paul Hudson, talks with Times Radio special correspondent Ross Kempsell, freelance broadcast journalist Jacqueline Shepherd, Times Sport sub-editor Willis Bennett and many more. Trainees have also attended virtual events with the Society of Editors and the Sports Journalists' Association.
Thank you so much to our alumni @JaxxSheps, @ldenty2, @Maighna_N and @willisbennett11 for talking to our trainees. They shared loads of inspirational advice on everything from broadcast and sports journalism to freelancing and pitching articles. #TeamNA #StartedHere pic.twitter.com/FVcVe1XagN

— News Associates (@NewsAssociates) November 5, 2020
To ensure our classes were able to return after the summer, we invested in a new floor in our building and built a huge socially-distanced classroom. We also kitted the whole building out with automatic hand sanitiser dispensers and Perspex dividers, and we deep clean regularly.
Our trainees start and finish the day and go for lunch at different times to other groups to ensure social distancing and wear masks while moving around the building but not while seated for lessons.
Due to our investments in hardware and software our trainees are also welcome to study entirely remotely if they feel more comfortable doing so, and they don't miss out on lessons if they have to stay home for any reason. The NCTJ are also extremely accommodating at allowing trainees to sit exams remotely if needed.
And to top it off we're offering a free remote yoga course to all of our trainees!
We have quickly adapted and kept our trainees regularly informed as new government guidance is released. And here's what a few of them had to say about their course.
London trainee Jess Broadbent said: "The fast-track course is, like they warn you, very intense. Studying during lockdown is tricky but going into the office two days a week is keeping me sane.
"In terms of Covid I feel like they couldn't do any more – the office is kept super clean and we're all well-spaced out.
"We are still getting tons of writing experience for our portfolios and to be honest sometimes the limitations with lockdown also reduce the pressures to be doing lots of other things. What else could we possibly want to be doing other than shorthand anyway?!
"Being split into two groups is fine, it's maybe made the two separate teams even closer than if we were all together. Despite a healthy bit of competition with our Zoom friends (Team A) we're also getting to know them better now too.
"I don't want to get too cheesy but even if I quit the course tomorrow, it has quite literally changed my life. The way I think about the world, the media, the news has shifted in a few short months. The tutors have a wealth of knowledge and passion and experience and there are so many nuggets of wisdom to take away outside of the curriculum of the NCTJ. It's tough and there have already been a fair amount of tears, but the workload also ebbs and flows so it's manageable and you've always got Lucy there for a socially-distanced cup of tea when it gets too much!"
Manchester trainee Tasnim Chowdhury said: "On the fast-track course, you get to work straight away. You are writing stories and learning shorthand from the get-go. That is what I like about it, that you get to write and apply what you learn from the first day.
"It is a little intense but working in smaller teams is so helpful, you get to know the people in your team well and share ideas and thoughts (and have a laugh when shorthand gets a bit too much!).
"Coming into the office two days a week is great. It is nice to get out of the house and see everyone's faces! Equally, the Zoom classes are great too, the tutors have worked hard to make sure everything runs smoothly.
"It is an amazing course – I've learnt so much in a short space of time and it is flying by so fast!"
London trainee Olive Enokido-Lineham said: "I started the fast-track course at the beginning of September. The course itself has been really great both in terms of the teaching and my fellow peers. It's constantly challenging and opening my eyes to new ways of thinking about journalism and the industry.
"Despite the changes to restrictions over the last few months, NA has done an amazing job to adapt in order to keep us in the office – something which I know I've really valued and appreciated. We do two days at home and two days in the office. Being in the office has been so great and important as it's helped us build relationships with our peers and tutors and as the course is so hands-on, it's provided us with the opportunity to continue our training with some form of normalcy. The in-person teaching has also allowed me to learn so much from my peers, we've all become really good friends and support each other when things get hard."
A year on from London Bridge attack @rosca_ninizullu dedicates his heartfelt single 'Jack' to close friend Jack Merritt who was killed alongside Saskia Jones. We spoke about their friendship and the incredible impact that Jack had on his life @SW_Londoner https://t.co/TvQkY3qnJ2

— Olive Enokido-Lineham (@OliveLineham) November 27, 2020
Manchester trainee Sam Ormiston, who passed 100wpm shorthand in week nine (!), said: "I'm really enjoying the blended learning and having moved to Manchester from Scotland, I feel very fortunate not to be working entirely from home. Although the groups are smaller than they would normally be due to the need for social distancing, I think this has made us more tight-knit and everyone is really supportive of each other. The team at News Associates have done a brilliant job of ensuring that we are receiving the best possible experience under the circumstances while also keeping us safe."
Just found out I've passed my 100wpm shorthand, after two months on the @NewsAssociates @NCTJ_news fast track course. Special mention to @TWMcCooey for being a brilliantly patient tutor. Next stop, 120? #TeamNA

— Sam Ormiston (@s_ormiston) November 30, 2020
Our full-time sports journalism courses and part-time journalism courses are also being delivered partially remotely for the time being to create as safe an environment as possible.
News Associates managing editor James Toney said: "A huge credit must go to the staff at News Associates who have worked hard to ensure this approach has been successful, and the trainees who have adapted brilliantly to the blended learning approach for our journalism courses.
"We always knew the huge benefits of peer-to-peer learning and wanted to be able to deliver a blended approach, as soon as government guidelines allowed. The feedback makes all the efforts worthwhile."
If you have any questions about our journalism courses please contact editorial development manager Lucy Dyer on ldyer@newsassociates.co.uk or 0203 026 3781.
Click here to apply for one of our journalism courses or sign up for a free journalism workshop on Zoom.