The Times chooses News Associates to deliver bespoke training
The Times has chosen News Associates to help deliver bespoke training for its next intake of graduate trainees.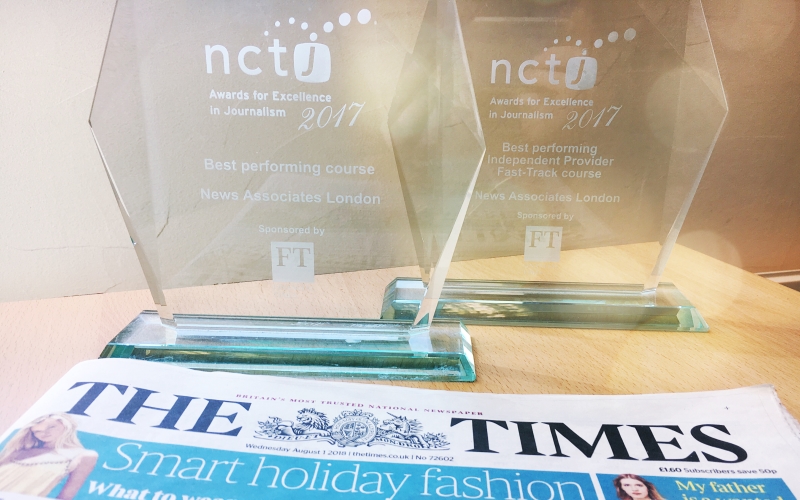 Two trainee reporters start at The Times next month with an intensive three-week training 'boot camp' at News Associates followed by regular refresher courses during their two-year programme.
Emma Yeomans and Elizabeth Burden will be given practical lessons at News Associates' offices to help prepare them for life in one of the world's most famous newsrooms.
The bespoke training has been designed by News Associates who will work with The Times assistant editor Ian Brunskill during the trainees' two-year rotation around different departments.
News Associates deputy managing editor Graham Dudman will run the training programme with other tutors at the journalism school's London offices including head of journalism Graham Moody.
Dudman said: "We are delighted to have been chosen by The Times to help their graduate training programme.
"We'll be able to provide support, guidance and training on dealing with practical issues reporters face every day in a busy newsroom.
"The boot camp will sharpen their skills and expose them to scenarios they'll come across when reporting for The Times.
"Once the trainees start work we'll be holding regular refresher courses offering support on any issues that crop up."
News Associates, the top-performing NCTJ journalism school in the country, runs two 22-week full-time journalism courses each year at its offices in London and Manchester. It also runs a 35-week sports journalism course in both centres and three 40-week part-time courses each year across both centres.
News Associates course director Rachel Bull said: "We pride ourselves on providing the best journalism training in the country.
"The decision by The Times to select News Associates is a fantastic endorsement of our work."
The Times managing editor Craig Tregurtha said: "We were impressed with the quality of training at News Associates and the enthusiasm with which it is delivered.
"It's important our trainees are prepared for life in the newsroom where they will be frequently working under pressure.
"The training at News Associates will provide them with the tools they need to make the most of their time as trainees at The Times."