Blind News Associates trainee passes 100wpm Braille shorthand
An inspirational blind NCTJ trainee journalist has passed her 100 words-per-minute Braille shorthand exam at News Associates.
Kate Pounds started on our part-time NCTJ course in October 2019 and has passed all exams to date on her first attempt and is on track to achieve the gold-standard qualification.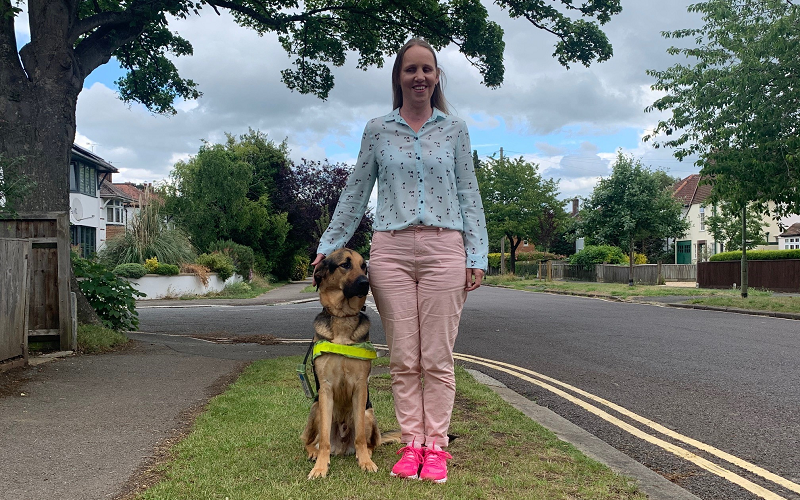 Kate, who has been blind all of her life, was awarded the Thomas Read bursary, associated with the Journalism Diversity Fund and the NCTJ, last year.
She said: "I am tremendously proud and relieved to have passed my 100wpm exam.
"When I joined the course, we weren't even sure it would be possible for me to take the shorthand module.
"I feel great about it, it's a ground-breaking achievement.
"I hope that other visually-impaired journalists will be inspired."
Kate used a Braille shorthand code from 1959 – kindly re-printed by the RNIB – combined with her Teeline lessons to learn the skill.
She also purchased a Braille note-taking device using bursary money from the JDF. But it came with some challenges.
At first, she didn't think it was going to work fast enough. Then she realised it didn't recognise her shorthand code and it kept trying to convert it into standard Braille, and every time she switched it off her shorthand became unreadable. After playing around with the settings, Kate discovered that the Arabic Braille code worked well alongside her shorthand!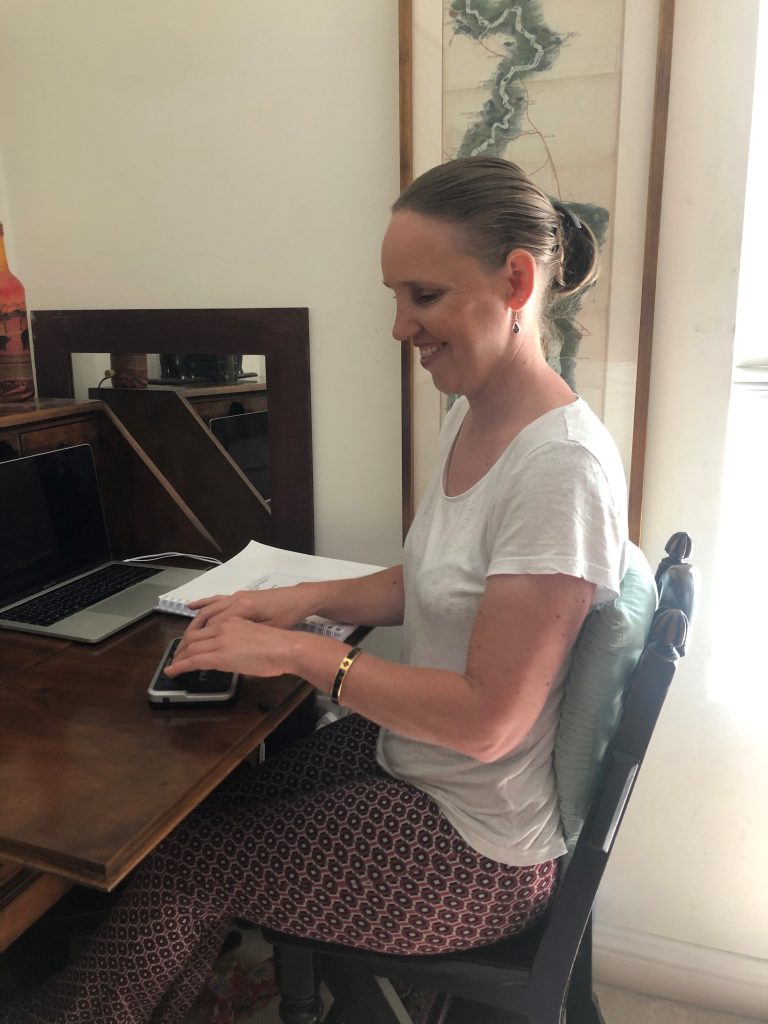 Six keys on Kate's portable notetaker each correspond to a dot in the six-dot Braille cell, and combinations of these dots form letters and symbols.
She uses the letters of the alphabet to stand for short-form words, and symbols for common letter combinations within words, such as -tion and -less, and also for prefixes such as auto and tele.
"I've modified the code really. As an example, the same symbol stands for -less, -ness, -press, and -ess, and I use the context to work out which it is each time," she explained.
"It's complicated, but I love codes."
While studying with us Kate has also interviewed Annemarie Plas, the mum who started #ClapForOurCarers in the UK, wrote an article for the BBC about being blind in a pandemic, covered the Putney count in the General Election and attended the Society of Editors' conference.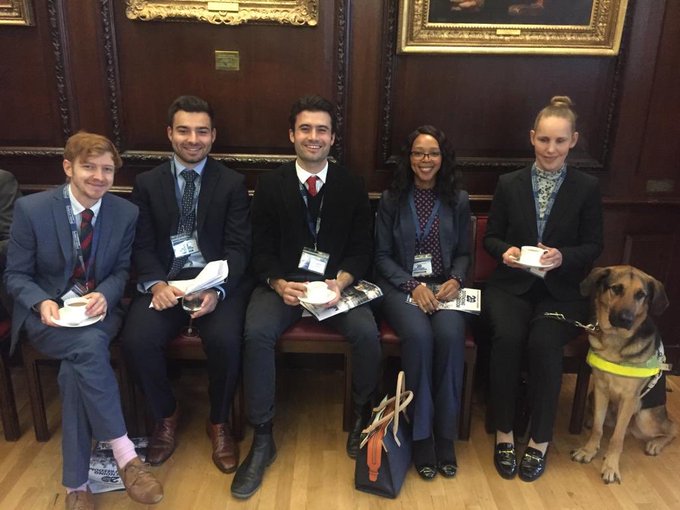 Kate has nearly finished her NCTJ course with us now, and, despite having to move to remote learning because of COVID-19, she has loved it.
"I'm going to miss it. As it gets closer to the end, I feel more deeply sad," she said.
"My tutors at News Associates have been really supportive. They have been very good about sorting accessible documents.
"It's a thorough and demanding course, and we have worked through it together. There has been chaos at times from both parties, which is normal.
"It doesn't feel like my visual impairment has been a big deal.
"We have worked together with understanding and encouragement on both sides.
"It's been a learning curve for all of us. One I feel we have enjoyed. Really, really enjoyed.
"I hope my colleagues on the course would say that working with me has been informative, and they will carry that knowledge of working with me forward. They're a fantastic group.
"I'd like to say a big thank you to everyone at News Associates. I feel really fortunate that the team is so open-minded. No one has ever said 'that's too difficult'.
"All I need is someone to give me opportunities and to understand that I can achieve as highly as a sighted person. Just I might sometimes approach things differently but that can be a real positive as I am a good problem solver.
"I need someone to trust that I will find my way and that I will ask for help if I need it.
"And that's what I've had at News Associates."
Kate's next step is to land her dream job in journalism.
"I want to work in a big newsroom. What I need is someone to recognise I am a good journalist," she said.
"I am really pleased to have got good grades in my exams so far and getting my gold-standard qualification would be a big deal.
"Being blind, I always fear I won't get the employment to match the qualification I have. That's often the reality for disabled people, but I think it can change.
"I would like to have the freedom to explore.
"You don't know until you try."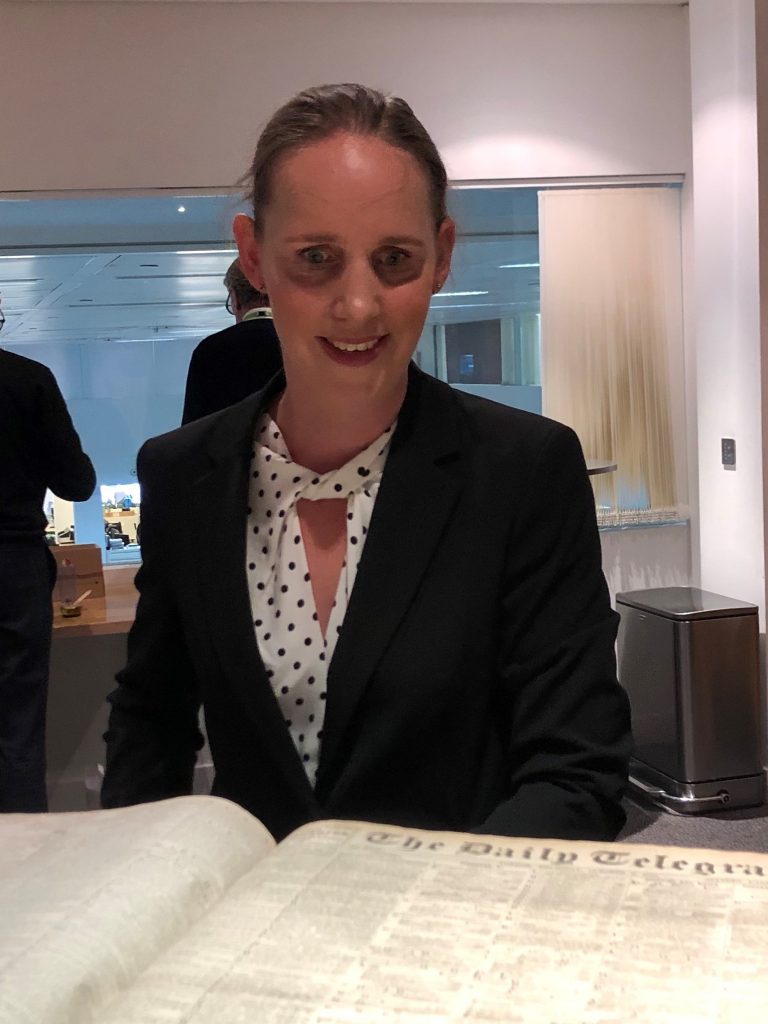 One of Kate's coursemates, Matthew Trinder, said: "It's been an absolute pleasure studying with Kate this year, and I'm thrilled to hear about her stunning shorthand result.
"It's so difficult to reach 60wpm, let alone pass 100wpm first time in Braille!
"With people like Kate coming through, the future of journalism looks bright."
Naomi Curston, who is also on our part-time NCTJ course with Kate, said: "Kate is an amazing classmate!
"She always works super hard, which helps motivate me to do the same. She's also just a lovely person.
"I ended up on the phone to her past midnight recently – what started out as a chat about coursework descended into one about board games and pets and life in general.
"I'm sure she'll do great at whatever she sets her mind to next, and she deserves to."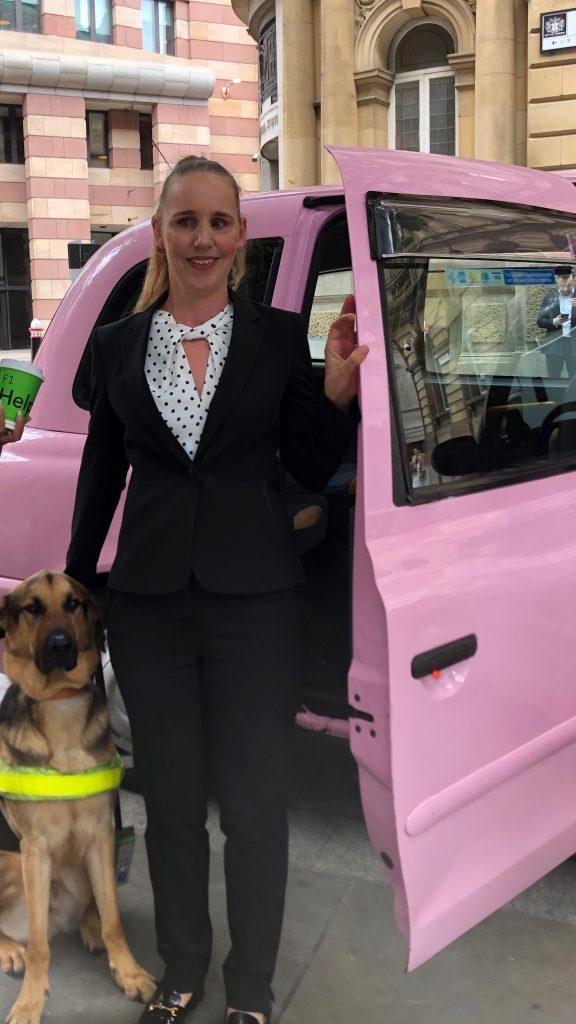 News Associates editorial development manager Lucy Dyer said: "Kate is extremely hard working and never takes no for an answer.
"From the moment I interviewed her I knew she was going to grab the course with both hands. And she hasn't disappointed!
"She refuses to take the easy option and her enthusiasm is contagious.
"As much as I am going to miss Kate (and Bertie) being on the course, I know she is going to make a great journalist.
"I am so delighted she chose to study at News Associates."
Kate, the NCTJ, the Read family, and other supporters of the JDF will be participating in various activities to raise money for the Thomas Read bursary on Saturday June 27. Learn more and donate here.
News Associates is officially the number one NCTJ journalism school in the UK – and has been for five straight years. Join us today!
You might also like:
Where are they now? A News Associates graduate turned Stephen Lawrence trainee reporter tells his story
Looking after your mental health during the COVID-19 crisis
Team of 100 News Associates trainees cover General Election in style