Team of 100 News Associates trainees cover General Election in style
News Associates had a team of 100 undergraduate and postgraduate NCTJ trainees on the ground covering the General Election in London and Manchester.
Our fast-track, part-time, sports journalism and degree trainees worked together to produce unrivalled coverage.
They were at counts in south London and Manchester reporting back to their colleagues in the office who were manning a live blog for 24 hours (in shifts!), filming live broadcast packages, writing articles for online and producing bumper editions of South West Londoner and Mancunian Matters.
We thought they did an excellent job. Here's what they thought…
"On election night I got to see how a newsroom operates on such a crucial and busy occasion.
"I had to write under tight deadlines, which is something I now feel more confident in.
"I also saw how the broadcasting side to News Associates works.
"It was an exciting and rewarding event and I felt as if I played my part in the larger team."
Joseph Marshall, first year School of Journalism London trainee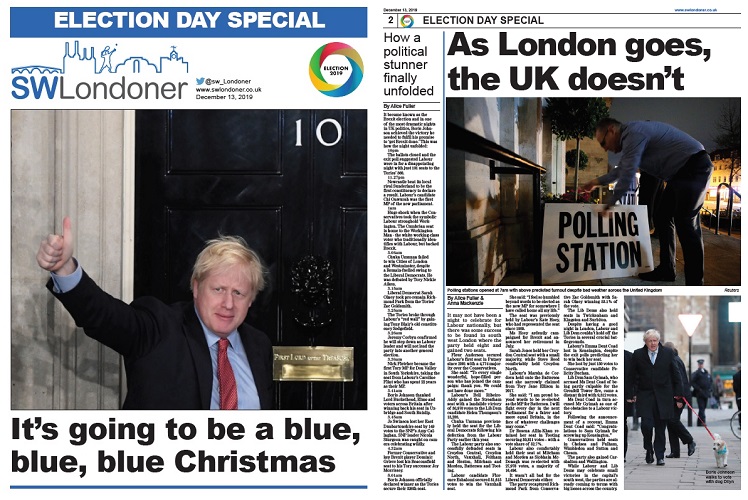 "Working as a new journalist in the run up to the General Election, and on election night itself, was such a steep learning curve, so beneficial, and such enormous fun, that I wish it wasn't all over.
"I discovered talking to politicians isn't terrifying at all and that I can research and condense large bodies of information for candidate profiling.
"I built my first video piece about candidate recognition in Richmond which is my favourite project so far.
"Consequently, I will explore other opportunities for video and broadcast journalism.
"I feel very fortunate to have been a reporter at the count in Putney.
"I realise that for me, being a journalist on the ground, scouting out interesting information and seeking interviews with relevant people, is one of the things I enjoy the most."
Kate Pounds, News Associates London part-time trainee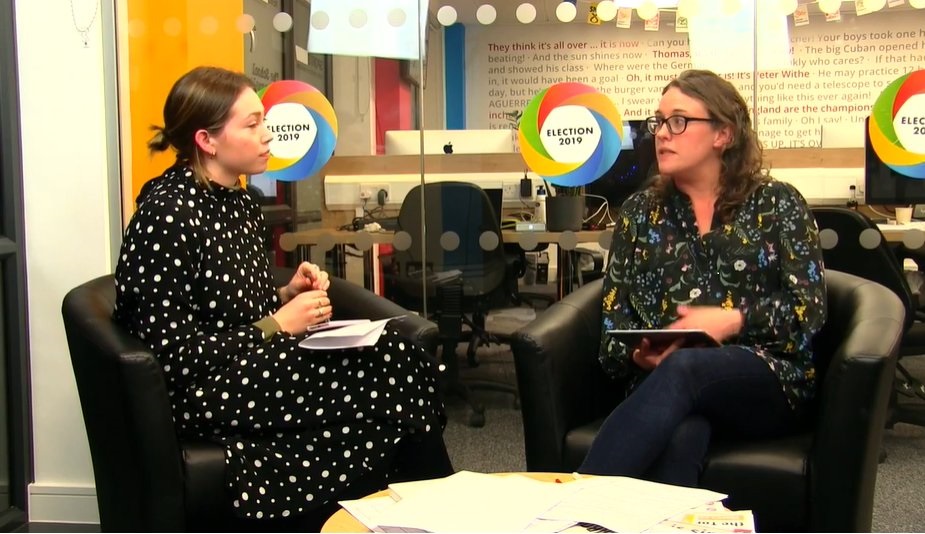 Sophie Donovan interviewing South West Londoner deputy editor Emily Coady-Stemp for their second live broadcast of the night
So proud to be part of such an incredible team! 💕 #TeamNA #GeneralElection2019 https://t.co/cJLucIVGCg

— Abi Cutler (@AbiCutler) December 14, 2019
"Even if you're not interested in politics, the buzz from covering such a huge event with everyone on your course is incredible.
"I covered the Salford and Eccles count and I really enjoyed interviewing the candidates.
"They were all very approachable and nice to talk to, but I learnt that you need to seek the candidates out for yourself if you haven't prearranged any interviews as they won't be formally introduced to you.
"From posting tweets, to interviewing candidates, to writing articles, there was plenty to do independently but it was also great to see everyone's hard work come together.
"Have a look at my work here and here."
Emma Gibbs, News Associates Manchester fast-track trainee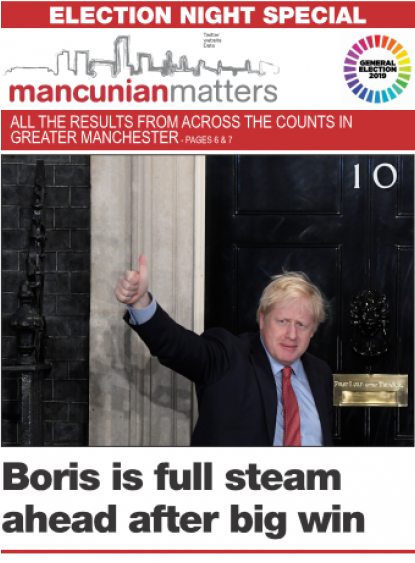 "I got involved in the aftermath of the election and focused on researching people's reactions on social media to create my first political online article.
"I was fascinated with the production side of things and got to look over some pages before publishing.
"Overall it was a really exciting and unique experience to be involved in and it allowed me to see the busy live action of a newsroom."
Emily Hemsley, first year School of Journalism London trainee
"On election night I was at the Mitcham and Morden count gathering quotes from the candidates as well as taking pictures and making videos to send back to the office for live blog content.
"After the result was announced I headed back to the office to help put the online quick and lead stories together with a colleague who had been transcribing the quotes I had collected throughout the evening. My night ended around 8am!
"I really enjoyed the entire experience. It was such a thrill reacting to events as they unfolded and trying to think and act as a true multimedia journalist on the ground.
"The biggest thing I learnt is that it is so important to make connections with the people around you early on as many of the candidates came to find me with further reactions and comments later in the night after I had introduced myself on arrival."
Matthew Trinder, News Associates London part-time trainee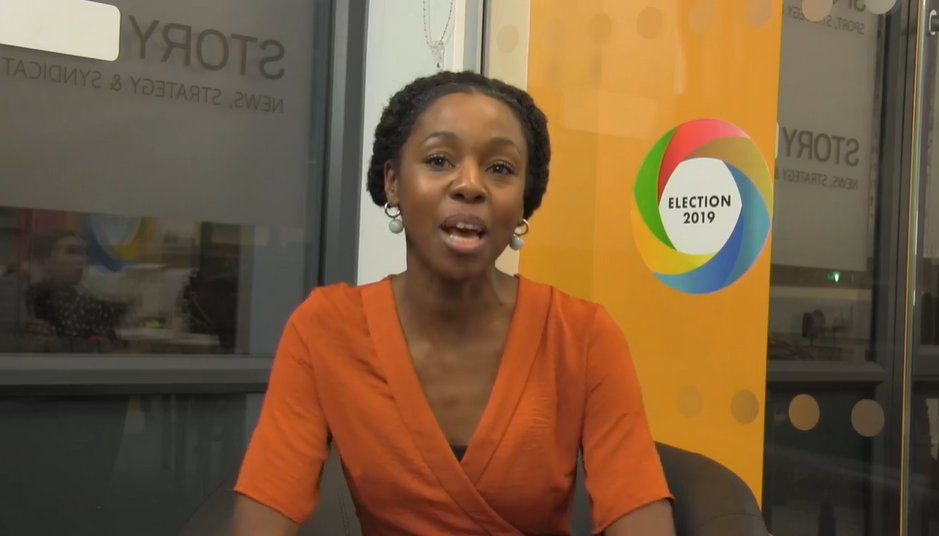 Live broadcast presenter Jacqueline Shepherd
"On election night I covered the Ealing count for the Ealing Times website and social channels. See here, here and here!
"I took photographs, conducted interviews and sent results back to the office.
"It was great fun working in a team with Suzie Tombs and Ronan Barnard – a part-timer, fast-tracker and sports kid coming together to get the job done!
"Afterwards, I went to the office and worked sub-editing the South West Londoner special edition, correcting small things I noticed along the way.
"It was an interesting way of seeing the stories from the night while reading the work of my journalism colleagues.
"The office had every class of reporter from undergrad to experienced staff working separately but also together to make something professional and in a timely manner.
"Thanks to all who made the experience so much fun, especially Ronan and Suzie at the count (and McDonald's afterwards!)."
Samuel Draper, News Associates London sports journalism trainee
"I reported on the count for Vauxhall, providing photos and quotes for both the live feed and final articles. See here and here.
"The count itself was reminiscent of the scene from Charlie and the Chocolate Factory – where rows upon rows of counters searched tirelessly for the golden ticket… or first past the post!
"I learnt to be quick on my feet to get meaningful information from politicians and to push boundaries to get exclusives.
"I loved being a part of the camaraderie between the different parties during a long, emotional night."
Elizabeth Cook, News Associates London part-time trainee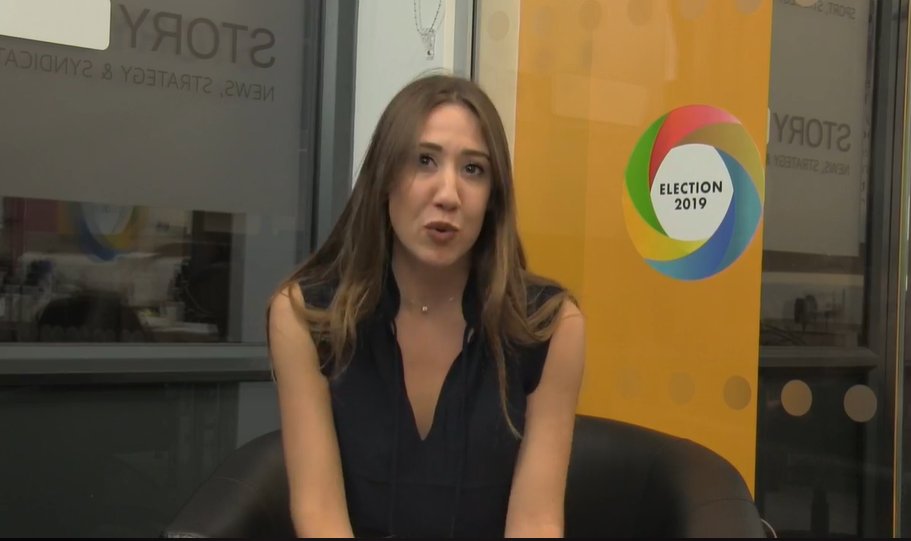 Live broadcast presenter Carolina Herranz-Carr
"Election night was one of the wildest experiences of my life.
"I was covering a count, and the sheer amount of energy and tension ensured that despite working through the night I never felt tired.
"I learned a lot about how people react to you as a journalist in those kinds of situations, and also how not everyone does their best interviews at 4am.
"Read what I wrote here and here."
Tom Holmes, News Associates London sports journalism trainee
"I was at the Central Manchester count, where I covered the Conservative candidates present as well as those from a few different parties.
"This included getting quotes, feelings and predictions from them, and a general responsibility of keeping the News Associates live feed updated with everything going on, along with Izzy and Kit.
"I wrote up the results for two constituencies, both quote-led pieces concerning the winning candidate and some from the runners-up (Have a read here and here!).
"It was eye-opening to see how the backroom of an election works, the intricate processes of it all.
"Being put into an environment where you had to ask difficult questions was a valuable experience in building confidence in that area, and the need to keep posting updates and to produce content at precise times was also something I've taken on board as a lesson.
"I really enjoyed the excitement of the evening and the feel of being so involved in coverage."
Billy Brake, News Associates Manchester sports journalism trainee
"I spent all night churning out graphics and then took over Twitter for a couple of hours, helped settle in new live bloggers and sent them content I saw on social media that I thought could be good to add to it."
Amy Addison-Dunne, News Associates London part-time graduate
"I attended the counts for Feltham and Heston, and Brentford and Isleworth, at Brentford Leisure Centre.
"Although it wasn't until just after 4am that the results were declared, the time prepping for interviews and watching results throughout the country kept us busy.
"I learnt that keeping a cool head and being approachable are key elements in processes like this.
"I loved being part of a team heading in the same direction, no-one was hindering the night's amazing coverage, which continued well into the next day.
"Admittedly I'm in no rush to stay awake for 27 hours again anytime soon and work through the night, but at least if it's with a similar team as NA I know I would enjoy it.
"It largely didn't feel like work, which is the biggest compliment I can pay."
Mark Stillman, News Associates London sports journalism trainee
"I was covering the counts in Wandsworth: Battersea, Putney and Tooting.
"It was an absolutely amazing experience – despite being on the sports journalism course, it was so enjoyable covering an election and the adrenaline was racing throughout the night.
"I loved the responsibility we had – for example, Putney had the only Labour gain of the night and it was surreal how, as a young journalist, I spoke to Fleur Anderson and asked her questions with major media outlets like the BBC there.
"That practical side of actually going out and doing things is what I love about our course."
Will Pickworth, News Associates London sports journalism trainee
Join our award-winning team today – apply now.