Study with News Associates and Sportsbeat to become a sports journalist
If you want to become a sports journalist, be prepared for the tough competition out there – but there's no better place to start than our award-winning NCTJ-accredited sports journalism courses in London and Manchester.
Our 35-week NCTJ Diploma in Multimedia Sports Journalism is not only the best sports journalism course in the country – it's the number one ranked journalism course of any kind.
In 2014/2015 and 2015/2016 News Associates sports journalism courses achieved an unprecedented 100% gold-standard pass rate.

But our trainees aren't just good in the classroom, they also produce award-winning content in the newsroom.
One of reasons our trainees go on to be so successful is because our sports journalism courses are run in conjunction with Sportsbeat – the UK's leading sports news agency.
All our trainees can work for Sportsbeat on Fridays, Saturdays or Sundays – with the chance to cover everything from rugby at Twickenham to Crufts in Birmingham. When you study with News Associates, you become a sports journalist from day one.
Furthermore, every year Sportsbeat runs a graduate scheme open exclusively for News Associates alumni, and in 2016 all graduate trainees were offered full-time roles at the conclusion of the scheme.
NCTJ trainee sports journalist of the year Ross Lawson said: "Getting a place on the Sportsbeat graduate training scheme has opened up a wealth of opportunities for me.
"Within my very first week I was covering events at Lord's, Twickenham and Wembley, and as a sports fan it doesn't get much better than going to places like that.
"Building on the work of News Associates, you learn skills and specialities that you didn't realise you had, and Sportsbeat is the perfect place from which to build a well-rounded and knowledgeable sports journalism career.
"Sportsbeat offers you the chance to work on a range of sports right from day one, straight into the thick of things with interviewing top sporting figures and attending assignments, all while working on newspapers, digital media and social media too."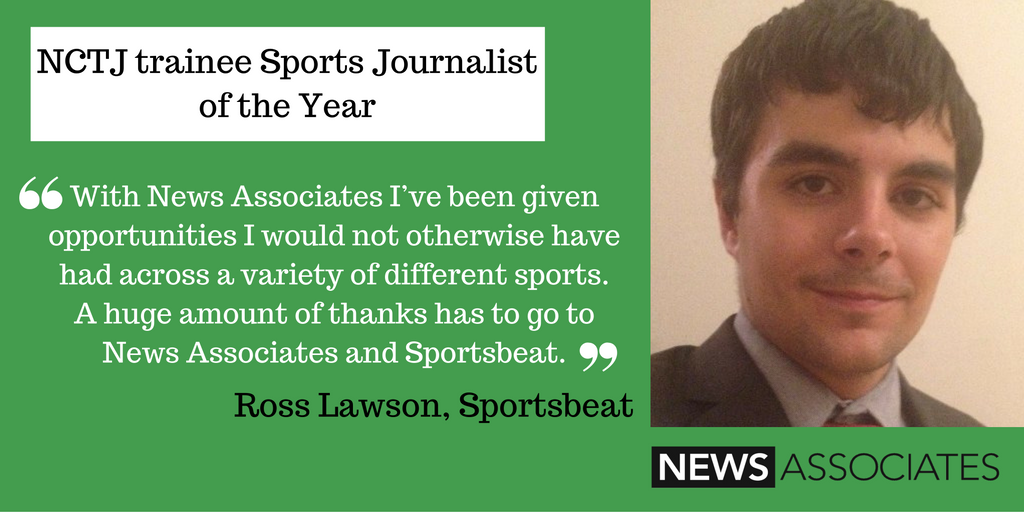 Sportsbeat are one of the UK's most trusted suppliers of sports content – producing more than 70,000 stories a year to a client base of media titles, event organisers and international and national sports associations, including the British Olympic Association, Football Association and British and Irish Lions.
Sportsbeat multimedia reporter Katie Falkingham, who started out on the graduate scheme in 2016, said: "A year on from taking my first steps in the industry, I have already interviewed Olympic champions, Rugby World Cup winners and British sporting heroes.
"I was also heavily involved in the Rio 2016 Olympic Games, blogging all the action live for Team GB."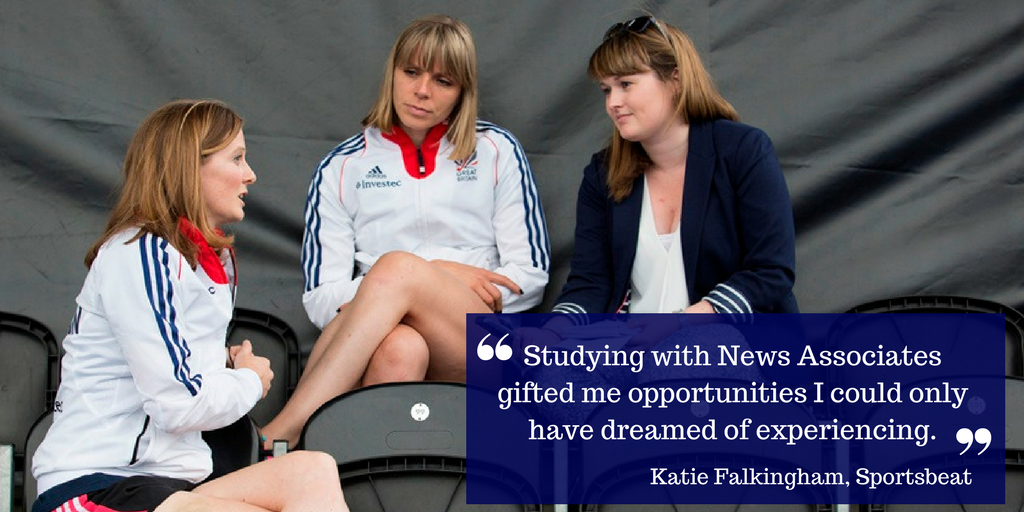 At News Associates we have an unrivalled job success. We have alumni working in a whole host of sports media jobs from national newspapers to Premier League football clubs.
The Times Sport reporter David Bates said: "Thanks to News Associates I won a three-month internship with Sportsbeat, which in turn was integral to securing a phenomenal job at The Times.
"From reporting on the Six Nations to covering the London Marathon, my time with Sportsbeat helped me to develop rapidly, be a part of incredible events and provided me with a wealth of experience that serves me well on a daily basis."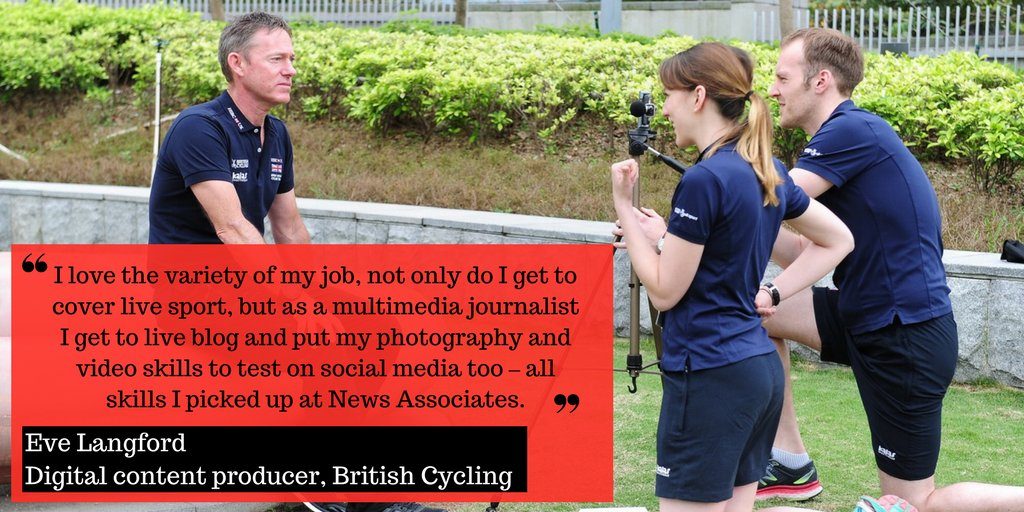 Do you want to become a sports journalist? Read this advice from graduates of our sports journalism courses in London and Manchester.
Sportsbeat editor-in-chief David Parsons said: "Never turn down an assignment down, always put your hand up to attend an event or interview an athlete, be prepared to miss a friend's birthday or family event along the way – sports journalism may be unforgiving at times but it is the next best career to actually running out at the Emirates for Arsenal itself.
"There aren't many professions where you're paid to watch your favourite Premier League football team or get to spend two months in New Zealand with the Lions – it truly is the best career you can aim for."
As you can imagine, our sports journalism courses are extremely practical. From week one there will be opportunities to attend matches, press conferences and interviews to develop your multimedia portfolio.
Sportsbeat multimedia journalist Charlie Bennett, who earned a full-time job after excelling on the graduate scheme, said: "From the News Associates sports journalism course, to the Sportsbeat graduate scheme and now as a full-time reporter, I've covered events and interviewed people I could only have dreamed of in my first year as a journalist.
"The skills I learnt doing my NCTJ Diploma in Multimedia Sports Journalism prepared me perfectly for life as a sports journalist and Sportsbeat really threw me in the deep end.
"Covering matches for Sportsbeat while on the course gave me the real-world experience I needed to become a sports journalist."
Our sports journalism courses run once a year in London and Manchester starting in September – find out more here.
News Associates and Sportsbeat managing editor James Toney said: "At Sportsbeat we are proud of the journalism we produce and proud to work as the official news agency of some of the biggest names in sports from the British Olympic Association to the Football Association, the British Lions to the Six Nations.
"We are even more proud of our award-winning sports journalism courses with News Associates, the UK's number one rated NCTJ journalism school."
Do you want to become a sports journalist? We are now interviewing for our fast-track, part-time and sports journalism courses in London and Manchester – apply here.
You can also follow the success of our trainees and alumni on Facebook and Instagram.