A behind the scenes guide to studying at News Associates: What we've been up to in March
Every month we'll catch up with our journalism students at News Associates as they undertake their Diploma in Multimedia Journalism at the UK's number one NCTJ school.
Click here to join them in September 2017.
It's been a busy month here at News Associates with trainees, alumni and tutors all appearing on the small screen. 
We started off March by showcasing just some of the fabulous female members of Team NA who are ruling the journalism world for International Women's Day.
Our list of inspiring women included Fabulous magazine digital editor Sara Oldfield who was crowned NCTJ Student Journalist of the Year 2016, her fellow NCTJ award-winning journalist Lucy Pasha-Robinson for her front page splash on the Independent and Helen Reid who now has a full-time job at Reuters after landing a spot on the prestigious grad scheme last year.
We're celebrating female members of #TeamNA making their mark a year after graduating #InternationalWomensDay https://t.co/bY7CTnuQQT pic.twitter.com/PiVOhpxWTf

— News Associates (@NewsAssociates) March 8, 2017
Then our week got even better when we spotted our very own gold standard part-time alumnus Meena Alexander on Pointless! In true Team NA style she beat off all competition and made it to the final.
We're glued to watching #TeamNA's very own @meenalexander on @TVsPointless! #StartedHere pic.twitter.com/xgY1pnVXJE

— News Associates (@NewsAssociates) March 10, 2017
But our journalism tutor Graham Moody couldn't let a trainee have the limelight for too long…
But it's been a big month for News Associates in front of the camera as our NCTJ sports journalism trainee Marina Stephens appeared on the Racing Post giving her tips ahead of the Cheltenham Festival too.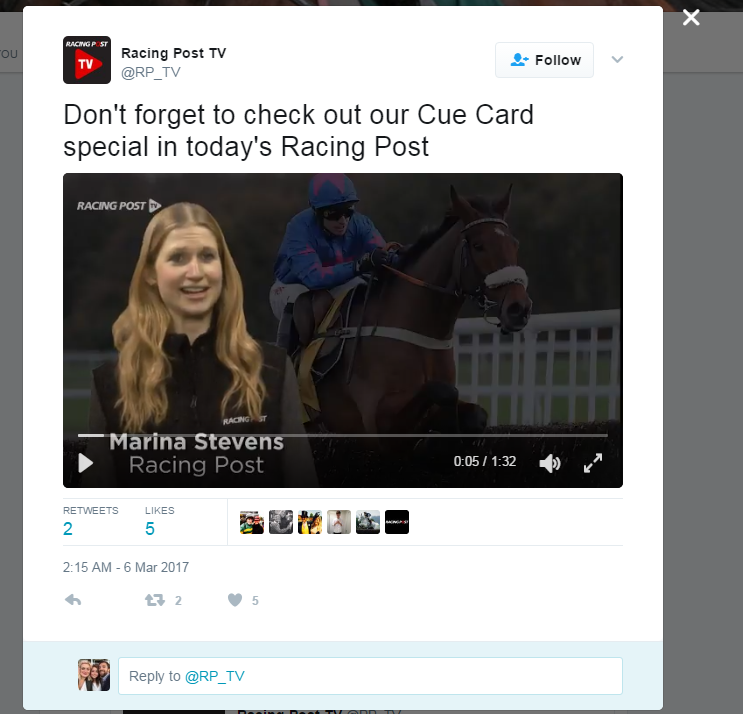 In what was also a big month for guest speakers, our lucky sports journalism trainees presented sports news bulletins to The Sun football league reporter (and Team NA alumnus) Tom Barclay.
Our sports journalism trainees are presenting their news bulletins to @TheSun football league reporter @TomBarclay_ today. 🎥 pic.twitter.com/3lOSiq5ryL

— News Associates (@NewsAssociates) March 15, 2017
And of course they jumped at the opportunity to cover Cheltenham. Here at News Associates we got them writing round-ups one day and live tweeting the next.
Our sports journalism trainees are hooked watching #CheltenhamFestival while writing round-ups and putting them in pages 🏇🏻🗞 pic.twitter.com/G3t6wiokP2

— News Associates (@NewsAssociates) March 15, 2017
But we know you don't always just want to hear what we have to say so we got fast-track trainee Laura Fox to talk about her first month at News Associates for #TeamNAdiaries which you can read here.
At NA Towers we jump at the chance to show off the success of our trainees and graduates and International Day of Happiness was the perfect opportunity to say what makes us smile.
And never one to miss out on a hashtag, we also got involved with World Poetry Day.
And #poemsaboutjournalism virtually went viral.
Seeing as everyone else was doing it, our fast-track trainees also made their on-screen debuts. Each group was tasked with presenting a five-minute paper review on a specific area of the news.
Our fast-track trainees had their first taste in front of the 🎥 presenting 📰 reviews today. 🌟 pic.twitter.com/LCzeWi5phQ

— News Associates (@NewsAssociates) March 21, 2017
In what was quickly becoming a very busy month them, our sports journalism trainees got to pitch their PR and Comms projects to Steve Chisholm of Run Communications, who, after some grilling questions, gave them lots of positive feedback.
On Wednesday, March 22 terror struck London, we all stopped what we were doing and watched the news. At News Associates we decided to cancel the afternoon's lessons and get all our trainees writing rolling news updates.
Thankfully this isn't something that happens very often, but we strive to prepare our trainees for whatever might happen in the news room.
And at the end of the day we re-grouped to discuss how the tragic event was covered across different news platforms – with most publications using Facebook Live as well as updating stories online and tweeting.
One of the biggest discussion points from the day was the sharing of pictures from the attack on social media, followed by Channel 4 naming the wrong man as the terrorist.
In the following days we discussed how newspapers covered the event and what pictures they chose to use and our head of journalism in Manchester Andrew Greaves wrote an article discussing the ethics of the coverage.
Later that week our sports journalism trainees once again excelled themselves with the latest South West Londoner sport e-zine.
And on Red Nose Day our South West Londoner reporters and editors got into the charitable spirit.
Our journalism tutors and trainees are fully embracing #RedNoseDay here at NA Towers #TeamNA pic.twitter.com/2A2BO15oci

— News Associates (@NewsAssociates) March 24, 2017
More success came our way the following week in the form of certificates from the NCTJ confirming all our courses had been re-accredited for the maximum two-year term.
NCTJ accreditation is the hallmark of excellence in journalism training, providing a world-class standard that is recognised throughout the media industry.
News Associates fast-track, part-time and sports journalism courses in London and Manchester all received high praise from the NCTJ.
Read more here.
All News Associates journalism courses have been re-accredited by the @NCTJ_news for the maximum two-year term 🌟🌟🌟https://t.co/WapP8mhnJD pic.twitter.com/6srO5nK18i

— News Associates (@NewsAssociates) March 27, 2017
To top off a very manic March for our sports journalism trainees they were also treated to a talk from Match of the Day's very own Damian Johnson.
And finally, we invited university newspaper sports editors and writers from across the UK to our offices to meet our Sportsbeat staff and experience what it's like to be a sports journalist to end March with a bang.
But the students from Birmingham, Warwick, UEA, Leeds, Durham, Bristol and Oxford didn't stay in NA Towers for long as we got them covering a mock press conference in Chelsea, reporting on the Dubai World Cup and treated them to a very busy day at the Tokyo Olympics.
We're taking our visitors on a trip around the 🌎 today.

⚽️ in Chelsea ✅
Next up: 🏇🏻 in Dubai ✈️ pic.twitter.com/0CN7bSKM5C

— News Associates (@NewsAssociates) March 31, 2017
https://twitter.com/Sportsbeat/status/847863304907304964
And if all that sounds like your cup of tea, we are now interviewing for our fast-track, part-time and sports journalism courses in London and Manchester – apply here.
You can also follow the success of our trainees and alumni on Facebook and Instagram.