News Associates graduates make up quarter of NCTJ Awards for Excellence 2021 shortlist
A quarter of all journalists on the NCTJ Awards for Excellence 2021 shortlist are News Associates graduates.
An incredible 17 out of 66 nominations on the prestigious shortlist – whittled down from a record 481 entries – studied for their NCTJ at News Associates in London or Manchester.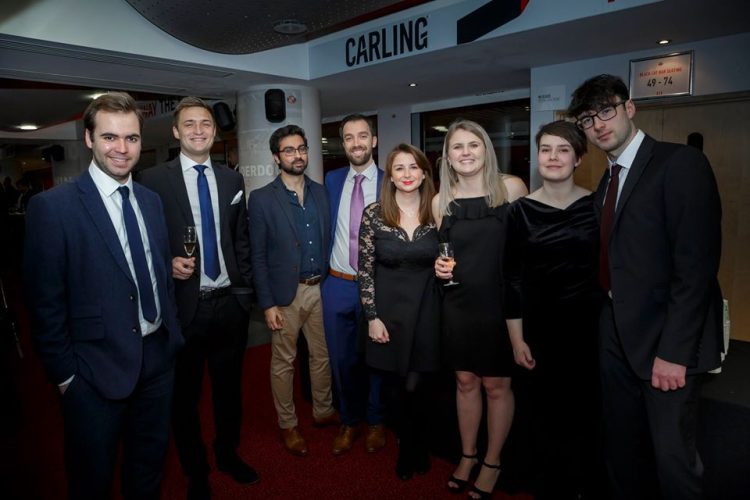 Paul Kilbey (Manchester part-time grad and freelance journalist) and Elaine McCallig (London fast-track grad and journalist at The Independent) make up a third of the student of the year award nominations which recognises the graduate who achieved the best exam results nationally in the diploma in journalism.
Previously News Associates graduates Anna Schaverien (2017), Sara Oldfield (2016) and George Gigney (2015) have taken home this award.
Elaine said: "I'm absolutely over the moon to be shortlisted for such a prestigious award. A massive thank you to the tutors at News Associates for all the support, mentoring, and laughs along the way.
"I made friends for life at News Associates and I learned so much that I now use day-to-day in my job at The Independent."
Paul said: "I'm thrilled to be nominated for the student of the year award, particularly because I received the news about an hour after a job rejection. Doing the diploma course part-time while keeping up my freelance work was really tough, but also rewarding, and I'm very grateful to News Associates Manchester."
Delighted and surprised to be nominated for Student of the Year in the @NCTJ_news awards on account of being a massive journalism nerd 🥳 @NewsAssociates pic.twitter.com/CPIwGHCBKY

— Paul Kilbey (@paulkilbey) December 13, 2021
There is at least one News Associates alumni in each of the six main categories – news, sports, top scoop, features, podcast journalism and data journalism.
London part-time grad David Averre (Mail Online) features twice in the shortlist – once against fast-track grad Neha Gohil (The News Movement) up for student news journalism and once alongside sports journalism grad Tomás Hill Lopez-Menchero (Times Sport) for student sports journalist of the year.
David said: "I've been afforded with some fantastic opportunities in 2021, and to be shortlisted for an NCTJ Award for Excellence in both news and sports journalism really is the icing on the cake.
"I am hugely appreciative of the team at News Associates, who played a major role in helping me achieve this and opened a lot of doors for me!"
Thrilled to be shortlisted for the @NCTJ_news awards for excellence in News and Sports Journalism! Hugely appreciative of everyone at @NewsAssociates, @MailOnline and @SW_Londoner for the support and guidance they've provided. Looking forward to 'Spring 2022' 👀 pic.twitter.com/BzxGnfBECe

— David Averre (@davaverre) December 13, 2021
Tomás said: "I'm really pleased to be shortlisted for the sports journalism award. I had a great time studying for my NCTJ at News Associates and the best thing about the course was meeting so many like-minded people, each with their own unique area of sporting interest.
"I'm grateful to News Associates for having delivered the best possible learning experience during the pandemic and for all the opportunities the course gave me."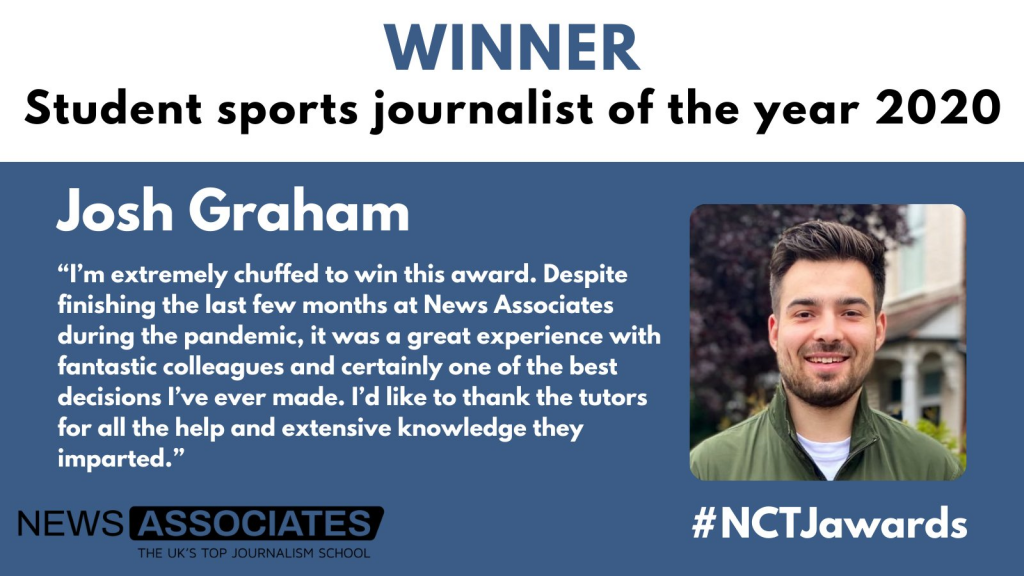 In 2020, student sports journalist of the year was awarded to London sports journalism graduate Josh Graham (Sportsbeat), who pipped course mate Rachel Steinberg (Sportsbeat) to the post – who is now representing in the trainee category!
Rachel said: "Wow! What an honour to be recognised by the NCTJ for the second year in a row. I'm especially proud to have made the shortlist with three stories covering the breadth of women's sport, from football to motorsport and the Paralympics.
"I'm hugely grateful to Sportsbeat for giving me a limitless platform as one of the few people in the UK lucky enough to cover women's sport full time – though I really hope that will soon no longer be such a rare thing to say!"
Pretty cool to land on this list, and proud to do it with three very different pieces about women's sport.

Thanks to @Sportsbeat for giving me a limitless platform, and especially to those who entrusted me to tell their stories. https://t.co/w6ShPbOAEV

— Rachel Steinberg (@rae_steinberg) December 13, 2021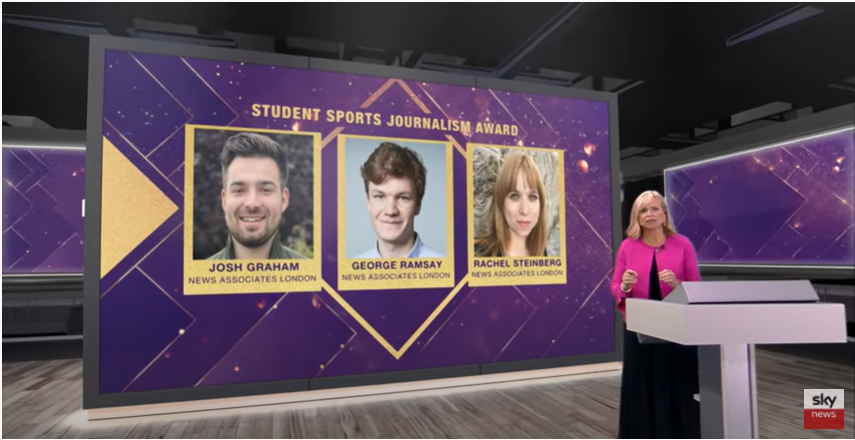 News Associates London fast-track and part-time graduates Phoebe Dampare Osei (Yahoo News UK) and Sophia Alexandra Hall (Classic FM) are up against each other in the student top scoop category – while Sophia is also recognised on the equality, diversity and inclusion award shortlist!
Phoebe said: "I'm thrilled to have been shortlisted for the top scoop award. I want to thank News Associates for giving me the best possible foundation for my career and Yahoo UK for supporting me on my journey."
Sophia said: "I was pretty hesitant when my tutors recommended I apply for the NCTJ awards, so hesitant in fact, that I waited until the final day to apply. But I'm so glad I did, as it's incredibly affirming to have been shortlisted in two separate categories.
"I'm proud to be representing both #TeamNA and the JDF. Both parties have been so important to the start of my journalism career and I'm so grateful for their support. I can't wait for the ceremony next year and I'm looking forward to meeting all the journalists shortlisted as well as the industry leader judges."
Thrilled to have been shortlisted for two awards at the @NCTJ_news Excellence in Journalism Awards 🥺

A huge thanks to @NewsAssociates & @The_JDF for the best training and my brilliant JDF mentor @LukePowell88 for the support & nominations.

Well done to all those shortlisted 🙌 pic.twitter.com/TMKwc3cBYs

— Sophia Alexandra Hall (@sophiassocials) December 13, 2021
It's Manchester versus London with Callum Gaunt (Lancashire Telegraph) and Helen Brown (freelance) both up for student features, alongside Manchester fast-track alumna Dani Cole (Manchester Mill) in the trainee category.
Dani said: "I am absolutely delighted to be shortlisted. It means a lot as I took a leap of faith and changed careers to become a journalist. There's no doubt that doing the fast-track NCTJ course with News Associates has helped me get where I am today.
"The skills I've learned have been invaluable. I would like to extend my deepest thanks to everyone at News Associates Manchester for their support and expertise, and also to the Journalism Diversity Fund."
Very proud to be flying the flag for @ManchesterMill – I've been shortlisted for the Features Award in the @NCTJ_news Awards for Excellence 2021! Thank you to @NewsAssociates & @The_JDF. pic.twitter.com/FcpM1WBnq6

— Dani Cole (@danithecole) December 13, 2021
Shout out to @AndrewGreaves84 for pulling me through this feature – was a fair old slog but well worth the hours! https://t.co/6khqGJOWzQ

— Cal Gaunt (@cpgaunt) December 13, 2021
Last year, Alex Diggins (Telegraph) of London part-time fame took home the gong for student feature writer of the year 2020.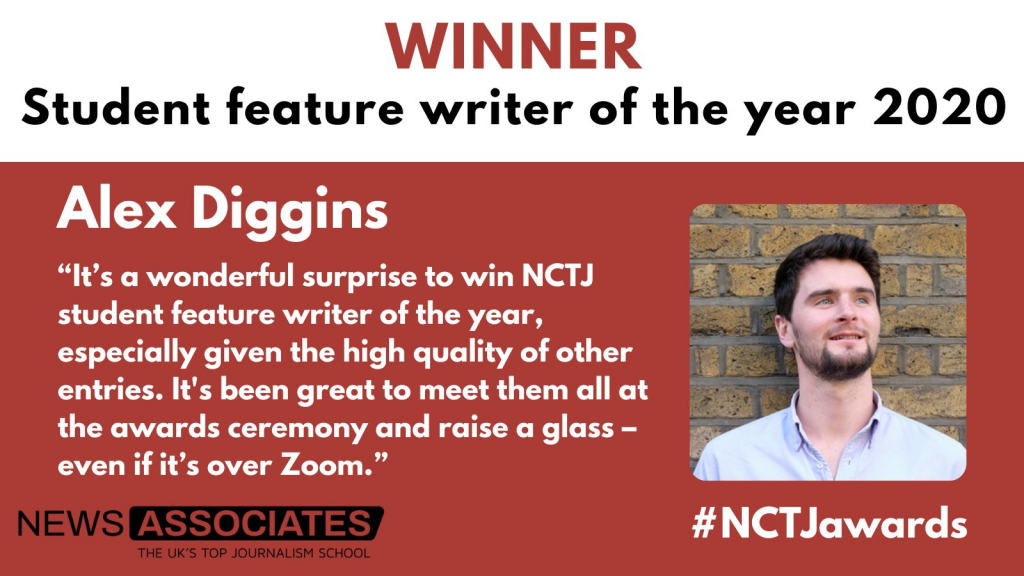 Elsewhere and News Associates London fast-track alumna Carolina Herranz-Carr (ITV) is up for trainee podcast journalist of the year alongside journalists from Winchester Today and NewsShopper.
Carolina said: "I'm incredibly exited to be nominated in the podcast journalism category! I launched true crime podcast Trial by Media with fellow trainee Charlie Jones following our time at News Associates.
"Certainly, the media law and court reporting skills gathered at News Associates played a huge part in making this project possible."
Graduates from a whole host of cohorts are representing in the digital journalism categories.
Jacklin Kwan (Manchester fast-track) and Natasha Livingstone (London part-time) make up 50% of the student category while Matilda Martin (London fast-track) also makes up half of the trainee nominations!
Jacklin (freelance) said: "I'm beyond honoured to be shortlisted in this year's awards. It seems like just yesterday I began taking my journalism dream seriously.
"I honestly couldn't have found a more supportive place to begin my journey than New Associates. The skills and knowledge I learnt from the tutors and staff were invaluable, and it opened up so many opportunities for me!"
Natasha (Mail on Sunday) said: "I'm very grateful to have been shortlisted for an NCTJ award!
"Training part-time with News Associates was challenging but so rewarding. It enabled me to hone my skills as a journalist with great tutors who motivated us through many dark Wednesday evenings in lockdown!"
Matilda (Tes) said: "I am so excited to have been nominated for the data journalism category, especially for a story I am so passionate about.
"Well done to all nominated and thank you NA for your help and guidance! I'm so excited for the ceremony and to meet all the others who have been shortlisted."
Friends of News Associates, News UK and Jem Collins from Journo Resources, are also up for the equality, diversity and inclusion gong, sponsored by the Financial Times.
OH MY GOD I AM ON THIS LIST FOR JOURNO RESOURCES 😱 https://t.co/q3Ti9mOSHB

— Jem-gle Bells Collins 🎊 (@Jem_Collins) December 13, 2021
News Associates editorial development manager Lucy Dyer said: "It's so great to see our graduates recognised for their tireless efforts in the classroom and newsroom over the last year.
"I'm often asked in course interviews about the job prospects for our graduates and I think this shortlist underpins the platform News Associates gives you.
"I know I speak for our entire training team when I say how proud we all are of our trainees and alumni, and equally for our grads in thanking our delivery teams for the monumental effort they put in day in, day out. Well done everyone! "
News Associates Manchester head of journalism Alice Gregory said: "Seeing so many of our graduates on this list of nominations makes us feel very proud. It's a fantastic achievement at any time but seeing what they have accomplished during a pandemic makes it all the more impressive.
"The way they have handled the various challenges thrown at them and the standard of work they have produced is incredible. All have shown themselves to be excellent journalists – demonstrating resilience and a good work ethic – and each and every one of the nominees should feel as proud of themselves as we do!"
News Associates deputy managing editor Graham Dudman said: "The quality of all our journalism courses is second-to-none as the number of nominations from News Associates-trained journalists shows."
In 2020 the News Associates team was over the moon to win the innovation of the year award which celebrates the new and exciting ways NCTJ centres are teaching and inspiring their journalists.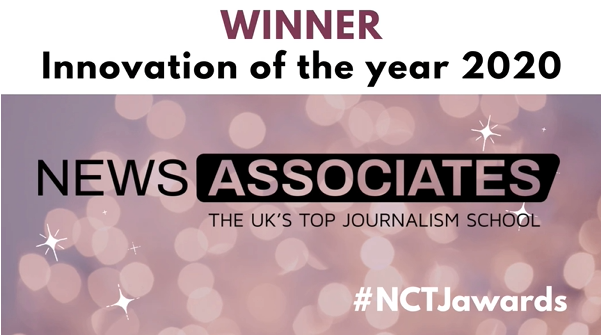 Sky News correspondent Ashna Hurynag, who presented the award, said: "A huge congratulations to you! The judges said they felt there was an impressive, innovative and pioneering re-working of the course and timetable, with careful thought given to student welfare.
"The judges said it felt like a whole team effort, with a comprehensive list of webinars, Q&As and talks, with social media tips which made great use of an impressive list of alumni. Congratulations to you."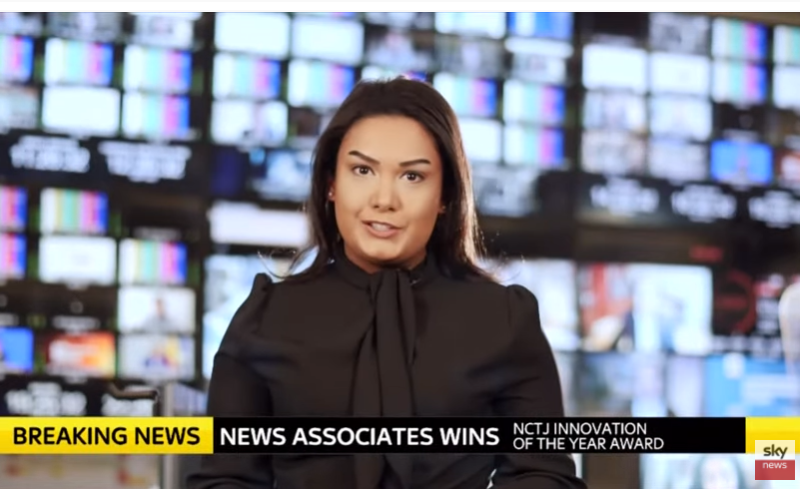 News Associates is officially the UK's number NCTJ journalism school, as has been for six straight years.