JournoFest 2021: The importance of investigative journalism panel
The JournoFest panel 'Truth matters: The importance of investigative journalism' explored the ways journalists can tackle misinformation, writes part-time trainee Paul Kilbey.
Folks, we've chosen a heck of a time to become journalists.
We're surrounded by information like never before, thanks to round-the-clock news coverage and the internet – but it can seem like less and less of that information is what we really need to hear.
That was the concerning key message from the investigative journalism panel – although thankfully the three panellists had some useful thoughts on forging a positive way forward.
"Facts are not enough – how do you get across that something is an injustice and has to change?"

Fascinating panel on why investigative journalism matters with @KatharineQ @Hardeep_Matharu @lauragrb as part of #journofest at @NewsAssociates today! pic.twitter.com/EVRQYmqipF

— Beth Kirkbride (@BettyKirkers) March 6, 2021
Laura Garcia, training manager at First Draft News, said: "We have to rebuild our relationship with information."
She said that's especially the case when it comes to the internet, where we have an alarming tendency to be less critical than we should be, whether it's breaking news or memes.
Garcia said: "We don't react to stories based on facts, we have an emotional connection." She argued this leaves us open to being manipulated.
Investigative journalist Katharine Quarmby agreed: "Facts are not enough."
Quarmby said fact-checking is more important now than ever before, especially during a pandemic in which government statistics, especially around daily Covid-19 deaths, have required careful scrutiny.
A further problem is that, despite all the information out there, the bigger, underlying issues often remain unaddressed.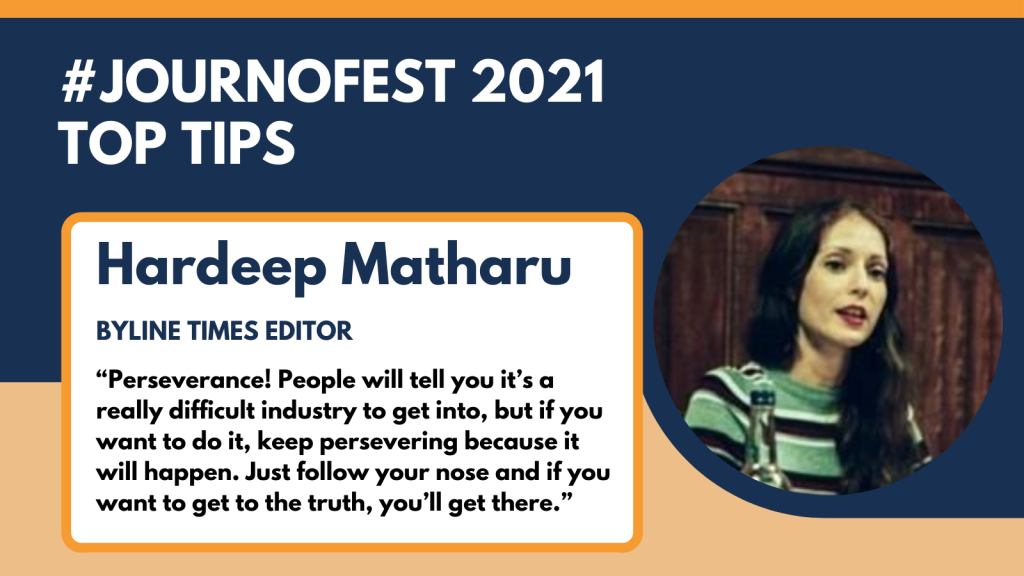 Hardeep Matharu, Byline Times editor, explained the remit of her publication. She said it's 'to cover what the papers don't say', hence their focus on deeper investigative projects, including their recent work uncovering the shady ways in which Covid-related government contracts have been handed out.
Although Byline Times still stands apart from the mainstream media, Matharu was keen to stress that the journalistic fundamentals still apply – which includes maintaining the feel of local journalism by creating work that their readers really care about.
Quarmby also stressed the importance of having a range of skills, especially in data journalism, and trusting your hunches. Oh, and on FOIs – she advised to 'file lots'.
'What is the story behind why you're telling this story', a powerful statement from @Hardeep_Matharu encouraging us to think deeper about the wider importance of the story, whilst delivering it in a sensitive yet effective way. A lot to think about.. @NewsAssociates #JournoFest

— jessica. 🧚🏻‍♀️ (@jessxlittle) March 6, 2021
Garcia suggested learning Python to enhance data skills – just one example of the proactive approach that journalists need to take.
"Journalism is a doing thing," she said, adding student journalists shouldn't be afraid to get stuck in. "When you do journalism, you are a journalist."
We may live in strange times, but maybe that just makes our job as journalists all the more important. Ask yourself, as Matharu said: "What's the story behind why you're telling the story?"
You can read the highlights from JournoFest 2021 and all our previous journalism conferences here!