JournoFest 2021: In conversation with Scottish Sun editor Alan Muir
Scottish Sun editor Alan Muir gave a fascinating and wide-ranging talk to News Associates trainees at JournoFest 2021, writes sports journalism trainee Tomas Hill.
"Being an editor is kind of like conducting an orchestra," he said.
"We've got a very small orchestra in the Scottish office and they're all very good at playing their instruments, so it's a joy to go in every day and be a part of that.
"When you're editor, you can wallow in all of the victories right across the whole paper, rather than just be involved in one part of it."
Really interesting stuff from Alan Muir for #JournoFest.

Fascinating to hear about gathering sources, fact-checking stories, and how to sensitively but impactfully break news.

— Andrew Dowdeswell (@a_dowdeswell) March 6, 2021
Muir has enjoyed several of those victories during his near-five-year spell as editor of the best-selling Scottish newspaper.
Two of the most significant came in the last year, with The Scottish Sun breaking the news of Scotland's then-chief medical officer Dr Catherine Calderwood breaking Covid-19 lockdown rules last April.
Then in December they led with the exclusive of First Minister Nicola Sturgeon also breaking protocol by talking to a group of pensioners in a pub without her mask on, a story which made national headlines.
Muir knows the value of an exclusive, having cut his teeth as a reporter with stories such as 'Fettesgate', the Lothian and Borders police scandal in which sensitive Scottish Crime Squad files were stolen from their Edinburgh headquarters.
His reporting on that incident led to police holding him in a cell for seven hours, which he admits 'didn't do my career any harm'.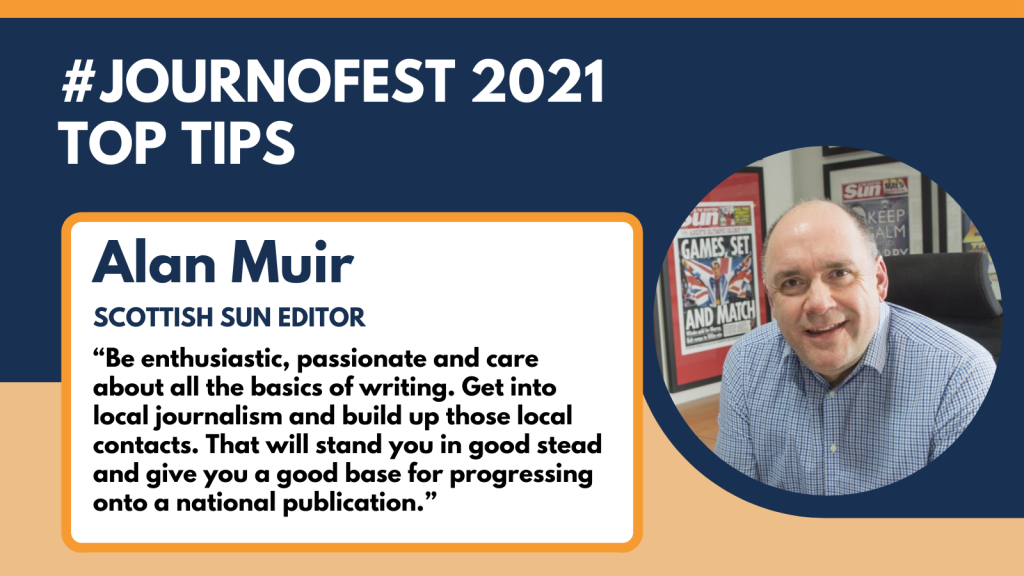 He rejects the idea put forward by Andrew Neil that the Scottish press do not have the resources to hold those in charge to account and says that Scotland has a 'really healthy media'.
"We hold the government to account all the time," he said.
"You just have to look at one of Nicola Sturgeon's briefings to see her facial expressions when she's asked a question by the Daily Mail, by us, or the Telegraph or whoever. She doesn't like it."
Muir still sees journalism as a 'public service' but pointed out that it was also about finding the 'sweet spot' between informing and entertaining.
So fascinating to hear from Alan Muir talking about the huge stories @ScottishSun have broken during the pandemic #JournoFest https://t.co/UqQXulfDKP

— Will Evans (@WillEvo20) March 6, 2021
He ended his talk on an encouraging note to the next generation of journalists, who he said would know how to continue to provide 'good quality, paid for' journalism.
"One of you out there has probably got the answer to the conundrum that we face at the moment," he said.
"You guys have probably got the answers that I or people of my generation would never have."
You can read the highlights from JournoFest 2021 and all our previous journalism conferences here!