JournoFest 2021: In conversation with The Times podcast host Manveen Rana
The Times journalist Manveen Rana spoke to News Associates trainees about the benefits of podcasts in the current journalism landscape, writes first year undergraduate trainee Honor Cockroft.
Rana hosts The Times daily podcast 'Stories Our Times', which explores in-depth stories with exclusive reporting and interviews.
Detailing how people have become used to short bites of news, whether it be from newspapers or Twitter, she said how important it is that there is a platform which takes the time to tell remarkable stories.
An absolute pleasure hearing from @ManveenRana at @NewsAssociates' #JournoFest this afternoon, her career, talent and all-round bravery is so inspiring. pic.twitter.com/CD6sUlaqYH

— mattspivey (@mattlspivey) March 6, 2021
"The value you can add is to give people the equivalent of a long read in a fun and engaging way. People take on more of the detail, nuance and colour than if they are reading it," she said.
Whilst Rana conceded the existence of Covid-19-related 'news fatigue', she excitedly related that podcasts have only increased in demand.
She said: "Podcasts have become a perfect friend in lockdown."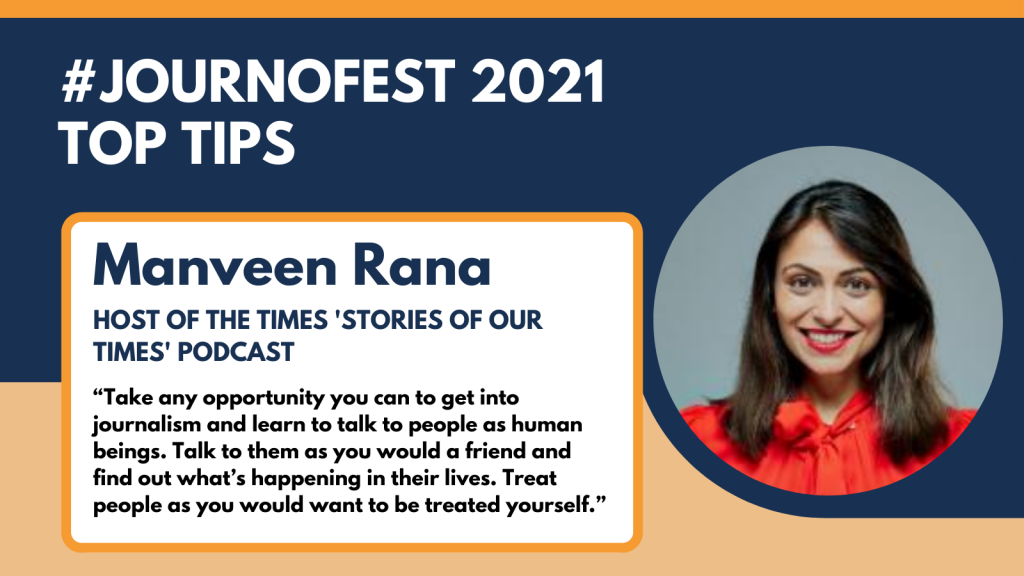 And while hosting a daily podcast seems a world away from her former role as an investigative reporter, which included experiences such as trailing Syrian refugees through Europe and being kidnapped in Lebanon, Rana explained the similarities.
She said that whilst podcasts are a more intimate and narrative way of sharing news, they are still breaking original stories from investigations such as Russia's campaign against the AstraZeneca vaccine.
The presenter's advice for anyone wishing to go into investigative journalism, whether in print or podcast, was to: "Be curious, keep digging and persevere."
Great set of speakers today at @NewsAssociates #JournoFest Special appreciation for @ManveenRana though, who was so so interesting, thoughtful, and generous when sharing her experiences. Thank you to everyone who put this event together🙏🏻 pic.twitter.com/mYdTNoSDp1

— Charlotte Robinson (@char_robinson27) March 6, 2021
She described her differing experience as a female investigative reporter and being a woman in the journalism industry, sharing some pearls of wisdom with over 150 Zoom participants.
Rana said: "Push yourself, take any opportunity and keep reminding people you're there.
"And remember to treat people like you'd want to be treated and let them talk to you so they can trust you – never turn your back on that."
You can read the highlights from JournoFest 2021 and all our previous journalism conferences here!