A behind the scenes guide to studying at News Associates: Our start to 2018
As our latest bunch of young journalists fly the nest, we celebrate their last month at News Associates HQ.
But it all starts again this month. To study with us full or part-time starting this February, apply here.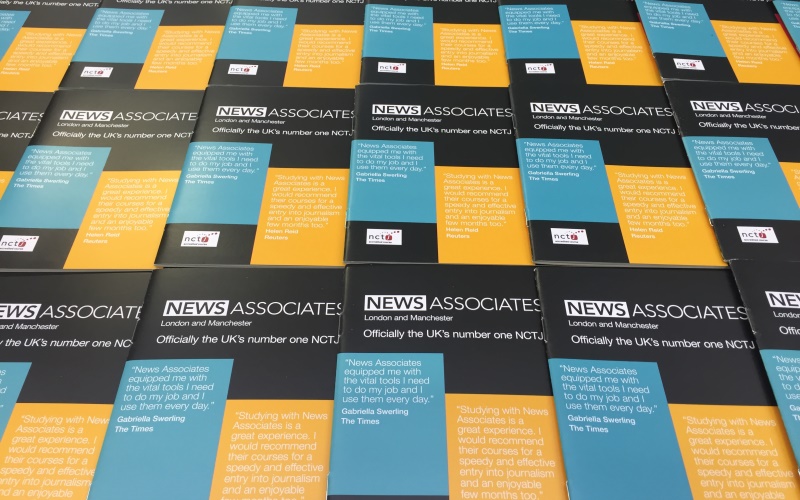 Always ones to go the extra mile, #TeamNA excelled themselves once again with an impressive set of 110wpm results. #showusyourTeeline
8️⃣ people passed 110wpm shorthand nationally on December 7 and all are #TeamNA 💪 With @dora_allday getting 💯% accuracy. #StartedHere #LoveShorthand @NCTJ_news 🌟 Well done everyone 👏 pic.twitter.com/y6TnOgVTcF

— News Associates (@NewsAssociates) January 3, 2018
We've had loads of special guests already this year, including News Associates graduate turned The Telegraph reporter Izzy Lyons, Will Gore and Doug Wills from the Evening Standard, the Daily Mail's Andrew Pierce and Jayne Pearce from Pearce International.
Great to have @LyonsIzzy from @Telegraph in chatting to our Manchester @NewsAssociates trainees. pic.twitter.com/5gDD83L1C4

— Andrew Greaves (@AndrewGreaves84) January 3, 2018
Thanks to Jayne from @PearceIntSport for chatting to our @NCTJ_news sports journalism trainees and putting them through their paces with some crisis communications exercises. pic.twitter.com/ENXJ2JXLTs

— News Associates (@NewsAssociates) January 29, 2018
We waved farewell and good luck to our latest bunch of fast-track trainees and here's what they had to say…
finished my NCTJ at @NewsAssociates on Friday and I could not have asked for a better place to study, better tutors to learn from, and better young journalists to go through it all alongside – very grateful to have had the opportunity to start my career here ✨✨✨ pic.twitter.com/9NES4cHsHm

— Sarah Turnnidge (@sarah_turnnidge) January 28, 2018
The last 5 months have been the most amazing learning experience of my life – and I owe it all to @NewsAssociates and all the wonderful friends I made on the #fasttrack course! 🙏🏻🥂 Future #newsroom right here in this picture so watch out for these names! ❤️🙌🏻 #NCTJ #journo pic.twitter.com/4FXKE4ZaEI

— Jess Lester (@JessicaJaneMay) January 27, 2018
Can't quite believe 5 months at @NewsAssociates is over! Thanks to this group of fab people/tutors I've even managed to survive shorthand… 🤞Now to start full time @TheSun (After I've hibernated on the Isle of Wight for a week) ✨💥🌞🗞 pic.twitter.com/JdXYmbDxEW

— Bonnie McLaren (@bonaldmcdonald) January 27, 2018
Would like to thank everyone at @NewsAssociates for being the best journalism tutors anyone could ask for. And I was very fortunate to study with a group of highly-talented, friendly and intelligent journalists who will have great success in the future.

Thanks, and all the best!

— Samuel Skubała (@samskubala) January 27, 2018
NCTJ ✅ Can't thank @NewsAssociates enough for providing the best start to my #journalism career. I have loved every minute and made some friends for life! It was topped off with the #shorthand zero to hero award! 📝 #showusyourTeeline pic.twitter.com/e6P7z5MvcO

— Eleanor Sharples (@EleanorSharples) January 27, 2018
Dora loved us so much she's now working upstairs for Sportsbeat.
After 22 mad, fast weeks it feels strange to not be in the @NewsAssociates office with this gang! pic.twitter.com/5Z4Qn6EaFY

— Dora Allday (@dora_allday) January 29, 2018
Just days after they left #TeamNA were speaking on BBC5Live and interviewing the England Lionesses captain.
Catch me on @bbc5live tonight at 10 and 11pm chatting all things @realDonaldTrump and @piersmorgan! 🇺🇸 🎉 🇬🇧 #journalist pic.twitter.com/mInWIjgx7w

— Lela London (@lelalondon) January 28, 2018
Friday: Finish @NCTJ_news at News Associates ✅

Monday: Interview England Lionesses coach Phil Neville ✅

Great work @alexmarrow57 🌟 #TeamNA #StartedHere https://t.co/FClN8MyD4x

— News Associates (@NewsAssociates) January 31, 2018
And we really enjoyed playing 'spot the News Associates graduate' while watching Sky Sports News deadline day coverage!
Oh hi @AlicePiper1 from the roof of @SkySportsNews HQ 👏 Fab work 🎤 We're not jealous at all… ⚽#TeamNA #StartedHere #DeadlineDay ✨✨ https://t.co/5H8pJD9zei

— News Associates (@NewsAssociates) January 31, 2018
#TeamNA's @chrisreidy1 live on @SkySportsNews playing 'I have never' with @denniswise. 😀😀 #DeadlineDay

News Associates making dreams come true every day! #StartedHere Chris, #StartedHere. https://t.co/NlYGQ6D6zq

— News Associates (@NewsAssociates) January 31, 2018
And that's just in January! To join us in February, click here.
Read more about our full and part-time journalism courses and sports journalism courses by clicking the below.
NCTJ fast-track Multimedia Journalism Diploma (22 weeks)
NCTJ part-time Multimedia Journalism Diploma (40 weeks)
NCTJ Diploma in Multimedia Sports Journalism (35 weeks)