The best journalism TikTok accounts to follow
So you've made it to journalism TikTok… what now?
More and more creators are choosing to share news on TikTok. The app is no longer associated with dancing videos, but instead is saturated with the latest headlines and news to make consuming current affairs accessible, quick and fun.
We've put together a list of the top journalism TikTok accounts you should be following on the app.
Advice and behind-the-scenes content
Whether you're looking for journalism top tips, how to get into the industry or how to gain work experience, these accounts might be able to help.
Megan Healy – Healy is a broadcast journalist based in San Diego. She makes loads of behind-the-scenes content, including autocue and news bulletin practice.
Leanna Byrne – Bryne is a BBC Radio 5 Live producer and takes you behind the scenes of her radio shift. She also shares lots of helpful advice and interview techniques.
Jack Surfleet – Journalist and TV presenter Surfleet shares days in the life clips and videos of presenting 'The Catch Up' on BBC Three. You can practice reading an autocue from your own phone!
Fadumo Olow– News Associates graduate Olow shares her interviews with famous faces, such as Stormzy, and takes us on a day in the life as a sports journalist.
Ellie Colts – A BBC presenter, Colts shoots all of her content all from the studio so you can get up close and personal with all things radio.
Journo Resources – Journo Resources make content dedicated to all things journalism. They share advice and the latest job opportunities.
Neha Gohil – News Associates graduate Gohil is a journalist at The News Movement. Her content focusses on topical issues and trending pop culture topics.
Calum Leslie – Leslie is a presenter at Newsbeat on BBC Radio 1. Enjoy his videos recorded live from the studio and get a sneak peak into his daily routine.
Emma Bentley – Bentley shows us all things camera related and also gives us a personal look at her day-to-day life and job.
News explained
Victoria Derbyshire – The legendary BBC broadcast journalist has a large following on TikTok where she discusses the biggest headlines and breaks down the news in a simple and informative way.
Click here to find out what our trainees learnt when Victoria Derbyshire visited our office.
Sophia Smith Galer – Senior news reporter for VICE World News, Smith Galer was one of the first journalists on TikTok. She dives deeper into popular media topics to give clear and insightful explanations.
Max Foster – An essential follow if you want to keep up to date with UK news. He's to the point and personable as he posts everything from the latest headlines to doing his makeup for onscreen presenting.
Clodagh Griffin – A journalist at The News Movement, Griffin breaks down the latest news headlines. Expect everything from Love Island, red carpets and trending news topics.
Abbie Dewhurst – Weather and climate presenter for the BBC, Dewhurst discusses environmental issues and gives advice to young journalists.
Gully Burrows – A former Mirror journalist who during the coronavirus pandemic became one of the most followed journalists in the world on TikTok. He makes content on quirky, bizarre news stories.
News channels
Here's a collective mix of news channels that post regularly. You'll find breaking news, the latest headlines and fun interviews with famous faces:
Vice, The Washington Post, Sky News, BBC News, PinkNews, The News Movement, i-D Magazine, Channel 4, Evening Standard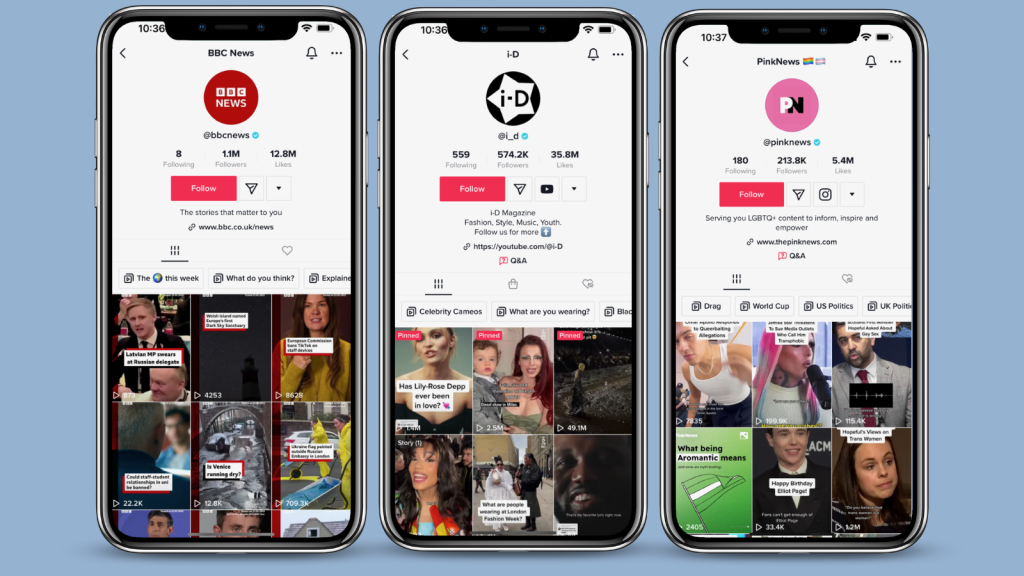 Honourable mentions
NCTJ – You can find day in the life videos and useful tips for navigating their website and jobs board.
News Associates – Follow us for journalism top tips from famous faces, day in the life videos from our trainees and grads and behind-the-scenes content.
UCAS – Follow UCAS for helpful tips on university applications, navigating clearing and interview advice!
Are you on journalism TikTok? Let us know your favourite creators!