Victoria Derbyshire shares invaluable journalism advice with News Associates trainees
News Associates hosted legendary BBC broadcast journalist Victoria Derbyshire for a talk and Q&A with our London and Manchester trainees.
Here, fast-track NCTJ trainees Georgia Hase and Martha McHardy share what they learnt.
Listen. That was Victoria Derbyshire's main advice to News Associates' trainee journalists who gathered for a Q&A that became a masterclass in journalism.
The Newsnight presenter listened to questions from trainees, asked for their names and put her 28 years at the BBC into action by returning those questions with her own.
Below are some of the tips and stories Derbyshire shared.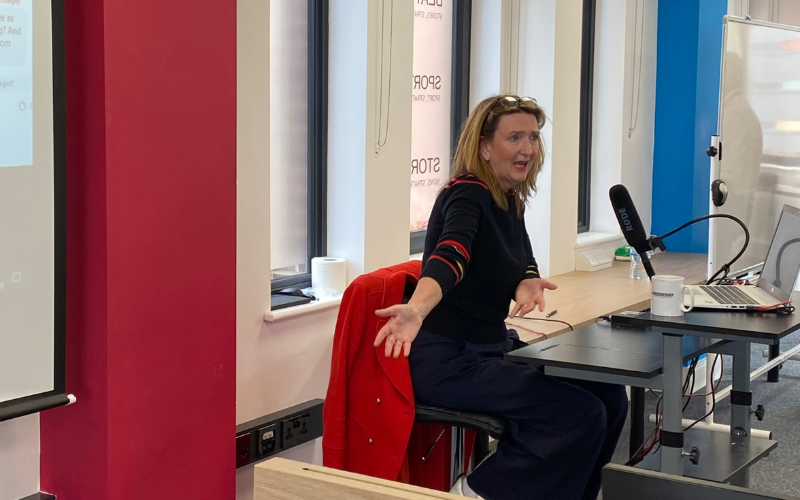 "Don't give up, keep going."
Derbyshire began her journalism career writing reviews for her student newspaper, but she said 'something didn't feel quite right about that'.
She described being 'bitten by the bug' which sparked her interest in journalism. It was then she looked for other forms of journalism and decided to pursue a career in broadcasting.
Derbyshire never gave up on her dream. She told our us she wrote to the editor of her favourite show, The Clothes Show, every month for two years.
Her last letter was written in French – because the editor was French – and she finally received a reply. Subsequently, she was invited to work on the show during London Fashion Week.
Derbyshire said: "Don't give up, keep going."
She also shared tips on how to approach journalists, advising us to start letters and emails with 'I know you're super busy and get hundreds of these' and always coming to a meeting prepared with a story.
"Stories are your currency," she said. 
"Be kind, no matter your position."
So, you've landed the job, got the interview. Now what?
Most of the questions our trainees asked Derbyshire were about interviewing.
'Be kind' was the advice Derbyshire gave, emphasising this should influence every journalistic decision you make.
Whether you're door knocking, talking to people on the street, or have made your way up the ladder and are now an editor, be kind to those you're speaking to.
Derbyshire explained she reassures nervous interviewees by telling them 'I have my arm around you'.
"As journalists it's not about us, it's their story and they have to trust us to tell it," she said.
Derbyshire's other interview tips included using simple language, 'don't use 50 words when five will do', and always do your research.
When asked about TikTok, Derbyshire emphasised the landscape of broadcast journalism is changing.
Embracing the shift, Derbyshire set up her TikTok account in response to the invasion of Ukraine.
She told trainees 'young people have so many tools for telling stories at their disposal' and suggested getting on TikTok because there is a massive appetite for news on the platform.
Victoria Derbyshire was one of many of our guest speakers we've hosted at News Associates, find out more here.