News Associates trainees mix with the stars at SJA British Sports Journalism Awards 2021
News Associates trainees met some of the UK's top sports journalists at the SJA British Sports Journalism Awards in London.
The Sports Journalists' Association British Sports Journalism Awards recognise the achievements of the best sports journalists, photographers and broadcasters in the country.
SJA Academy members and News Associates trainees Ben Hart, Alec McQuarrie, Tamara Prenn and Dom Hogan were all guests of The National Lottery at the showpiece awards.
Ben said: "It was such a fantastic opportunity and I felt really honoured to be in the company of so many of the industry's best.
"I really enjoyed the chance to network with some of the writers and broadcasters I've always looked up to, and think it's a testament to the reputation of News Associates that so many of it's trainees were in attendance.
"I'm really thankful to News Associates and the National Lottery for the chance to attend the awards and I think it only intensified my passion for journalism and made me even more determined to one day be there as a sports journalist supporting my friends and colleagues."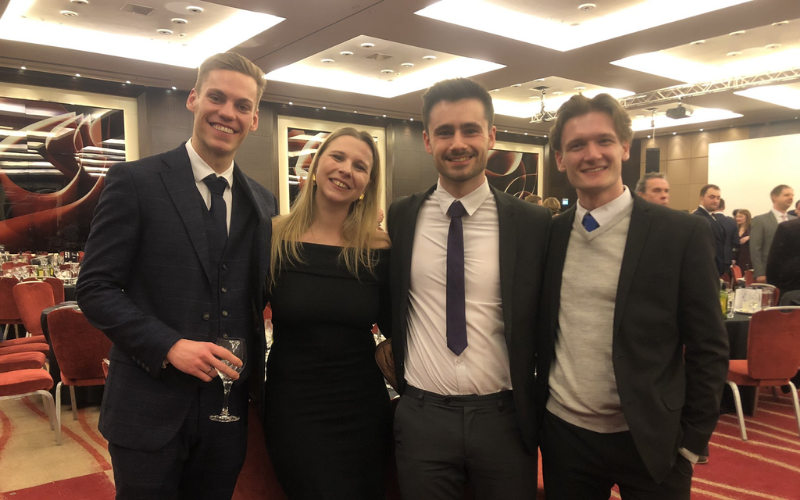 Alec said: "It was a fantastic opportunity to attend the SJA awards and an occasion that will live long in my memory.
"To see so many talented journalists, broadcasters and photographers speak with gratitude and emotion was as much a pleasure as it was a motivation.
"Aside from the invaluable networking, it was a powerful reminder what determination and dedication can lead to."
Tamara said: "It was such a thrill to be invited to the SJA awards to spend a night with the raft of talented journalists, broadcasters, and photographers looking to take home one of the top prizes.
"It was an amazing opportunity for us all to meet journalists we admired, and reconnect with those we had met through work placements, as well as for the occasional elbowing when we spotted some of the most recognisable faces in sports journalism!
"Highlights for me were Martyn Ziegler of The Times and Sunday Times winning three awards on one evening, and Andrew Todos from the Ukrainian Sports Press Association presenting the Broadcast Journalist Award and sharing a few words on the sports industry's response to the war in Ukraine."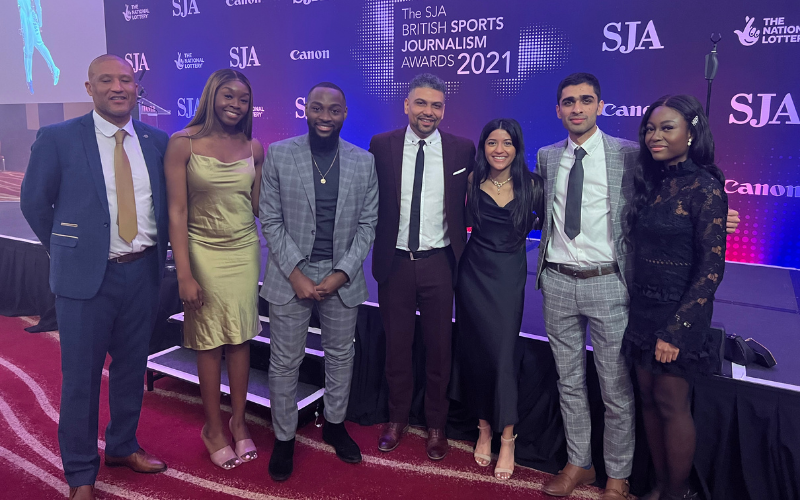 Dom said: "The event itself was very glamourous and I was quite star-struck just reading the seating plan to try and find our table, seeing the likes of Laura Woods, Jeff Stelling and Jermaine Jenas amongst those attending.
"A highlight of the evening was a sustained standing ovation in solidarity with the people of Ukraine. The entire room of around 700 people came together to show their support.
"From the ceremony the main thing that I took away was that patience and hard-work are intrinsic skills to success as a journalist, as was underlined in almost every acceptance speech on the night."
News Associates joined forces with the Black Collective of Media in Sport (BCOMS) and the Chelsea Foundation to deliver NCTJ journalism training to budding sports journalists Brian Matovu and Aymen Babar, who are now studying on our fast-track multimedia journalism course.
BCOMS invited Brian, Aymen, and another News Associates fast-track trainee Aadam Patel, to attend the British Sports Journalism Awards and meet some of the most inspirational journalists in the industry.
Brian said: "Attending the SJA Awards was a fantastic experience. Being able to celebrate some of Britain's finest sports journalists was a sight to behold and meeting some of the biggest names in the sport from diverse backgrounds was really inspiring.
"It's amazing when the whole of sports media can come together and celebrate the hard work and achievements of such talented people. Hopefully, I'll return as a winner one day!"
One of the first sports journalists I started reading was @jonathanliew

Always admired his style and insight into sport, especially his journalism during the Azeem Rafiq scandal

A very special moment to meet him last night at the @SportSJA

Congratulations are in order too✨ pic.twitter.com/UBu2c6DlJs

— Um-E-Aymen (@ItsUmeAymen) March 8, 2022
Aymen said: "I'm so grateful to have attended the SJA Awards. It was an inspiring evening meeting so many journalists and celebrating their success and seeing my colleagues up on stage.
"I was able to meet Jonathan Liew, who was one of the first sports journalist I started reading and it was a really special moment."
Aadam said: "I'd describe my time at the SJA awards as nothing short of inspiring. Getting to meet and talk to some of the most accomplished names in sports media from an array of backgrounds and various areas of expertise was an incredibly insightful experience.
"It is something that has no doubt motivated me further to create a career in the industry and help improve representation within sports media."
Beat Media Group managing editor James Toney, a committee member of the Sports Journalists' Association, said: "This was a fantastic networking opportunity for these trainees and SJA Academy members, a chance to spend the evening being inspired by the very best in our industry."
The SJA Academy offers support and advice for the next generation of sports journalists. Find out more here.