A day in the life of a Washington Post reporter
Emmanuel Felton, Washington Post race and ethnicity reporter, shared how he built a career in investigative journalism and the challenges of reporting on race in the United States, writes part-time News Associates trainee Micaela Arneson.
Emmanuel didn't set out to be a journalist — much less an award-winning one, whose reporting on Black officers who protected the US Capitol Building from rioters last January was cited during President Trump's second impeachment hearing.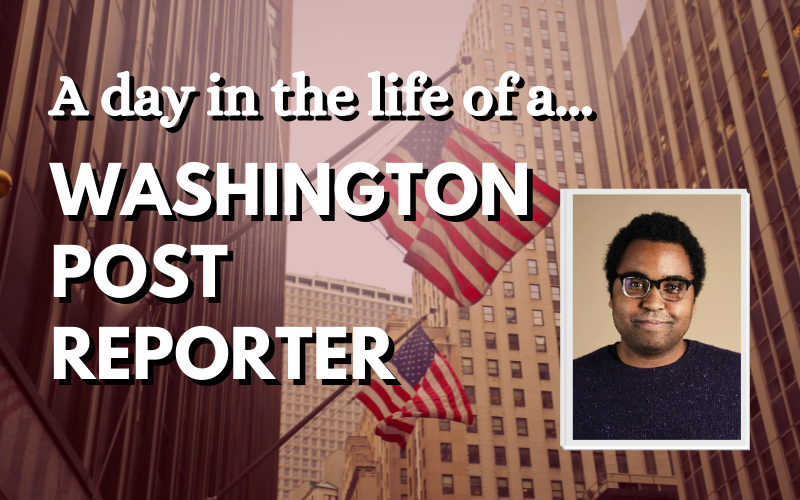 He was on a path to law school when he realised the best part of working with the Southern Poverty Law Center, a legal advocacy non-profit in the US, was meeting potential plaintiffs and hearing their stories.
For anyone interested in pursuing investigative journalism, Emmanuel shared some insights from his career leading up to The Washington Post, in a guest talk to News Associates trainees.
LOOK BEYOND THE BIG TITLES
Emmanuel's first job with the small newsroom The Hechinger Report might not have been flashy, but it gave him a unique opportunity: "I was allowed to do really ambitious, long-form journalism at an early point in my career, because I went to a place that no one heard of."
Smaller organisations can give early career journos with good ideas space to develop them, which can lead to jobs with bigger media outlets down the road. Case in point: BuzzFeed recruited Emmanuel because of his work with The Hechinger Report, and The Washington Post came calling a couple years later.
I've been writing this in my mind for years. Reporting in the South, I run into people who've moved to the region from cities like New York or LA. Often they've moved back to the places where they have roots and usually they have a lot to say about it all. https://t.co/1DaWZ74kzZ

— Emmanuel Felton (@emmanuelfelton) January 14, 2022
PLAY TO YOUR STRENGTHS
Carving out your niche isn't always easy, but Emmanuel advises his journalism students at Hunter College to find their strengths and express their interests.
Emmanuel said: "I was an education reporter for years and knowing how to cover any beat is good.
"But I think what I did do is make very clear early on that [race reporting] was what I wanted to do."
Everyone has a unique background and perspective to offer — and therefore stories only they can tell.
BE KIND, BE PREPARED
LinkedIn is one of many places to find sources, Emmanuel said, but there's another, more important principle to keep in mind: "I think generally the best thing, both with sources and with other people in this business (because it's a really small world) is not to be an a**hole."
He added you should give sources space to tell their story, but always be prepared in interviews. It helps build rapport and gives people reason to trust that you're the right person to tell their story.
Emmanuel said: "Especially early in your career when you're not at a place where people instinctively trust you, showing that you've done your homework is an important part."
FIND YOUR MAIN CHARACTERS
One of the keys to long-form journalism is finding people who have an unusual point of view that goes deeper than the headlines.
Emmanuel advised trainees to ask themselves questions like: "Who are the people who are really injured?
"Who can sustain writing 2,000 to 4,000 words?
"A good sign of a story is when I'm calling someone and I have no idea what they're gonna say."
Another pro tip: try to find the gaps in someone else's coverage.
Emmanuel said: "I read a lot of the local news, I also read really good narrative and investigative work as a motto.
"But I spend a lot of time reading a lot of crappy journalism and trying to find, where are the gems in here that they haven't touched on?"
DO GOOD WORK, BUT DON'T JUST WORK
Emmanuel is the first to admit that his work-life balance isn't ideal, but he's putting in the hours because he's still new-ish to The Washington Post. And to prove yourself, you have to do good work.
But it's definitely possible to set boundaries around your personal life — especially in long-form journalism, which doesn't move as fast as daily news. Emmanuel thinks it's also important to be aware of how the work, which can be emotional and personal, can impact your mental health.
He said: "I think there's some second-hand trauma that's often a part of this job."
One way he copes is by keeping in touch with people after the reporter-source relationship is over, and he said diversifying your interests is also key.
He said: "Find a job where you can do the work that you're really passionate about because this is not an easy job.
"But making sure that this job isn't the only thing in your life is really important."
News Associates is proud to regularly invite inspiring guest speakers to talk about their lives as journalists, as well as offering free, practical journalism workshops. Find out more here to get a taster of our award-winning training.