A day in the life of a political journalist
Political journalist Adam Payne shared his experience of building contacts and developing his career as a lobby reporter during an exciting time in British politics.
Adam is a senior correspondent at Politics Home, soon to be their new political editor, covering everything from Brexit and Westminster politics to the Covid-19 pandemic.
Having studied with News Associates in Manchester, he previously worked for Business Insider for five years before joining Politics Home where he has covered the recent Tory party infighting, Boris Johnson's leadership, and Partygate.
At our online guest talk, he described the highs and lows of political reporting and shared advice for those wanting to follow in his footsteps.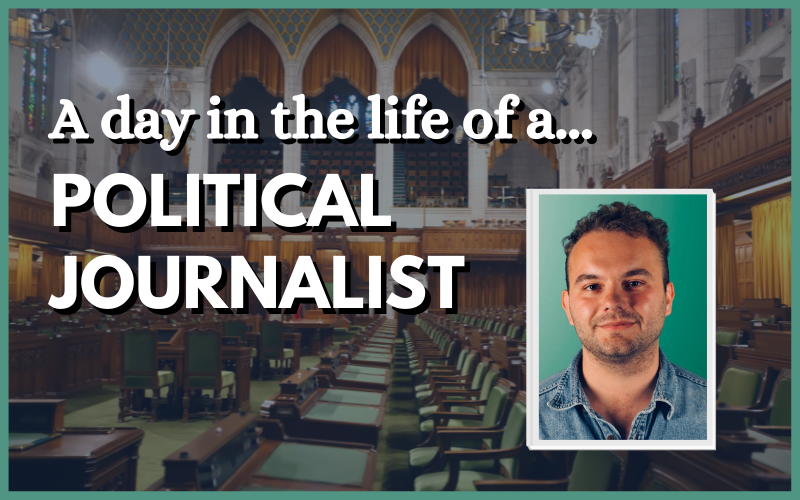 How did you launch your career as a political journalist?
I made Brexit my beat very early on. When the Brexit referendum result came in, it was the most amazing sense of shock. There were clear political ramifications, but no-one knew what that meant.
The level of public and political knowledge about the EU and the UK's relationship with it was quite low, so I decided there was a gap in the market and had some success with it.
I was by no means an EU expert – I was learning as I went and learning the jargon.
Is fact-checking a big part of your role?
So much reporting on the EU was hyper-partisan and ideological. I tried to report in a way that was fact-based, seeking to correct myths and falsehoods.
The political climate in this country has been quite toxic and we entered an era when seeking out the truth became more difficult, linked to the Trump phenomenon in the US.
I'm honoured and quite overwhelmed to be the next political editor of @PoliticsHome. It's a big step up but too fantastic an opportunity to turn down, and I'm very excited to give it a crack with the help of my wonderful team!

— Adam Payne (@adampayne26) February 18, 2022
How do you provide balanced reporting?
The vast majority of people who want to go into political journalism are very opinionated.
At News Associates you get taught to write free of opinion of agenda, it's a professional skill and there are checks and balances to ensure you're not loading your copy with opinion.
Social media is a massive part of journalism and it's harder to not be opinionated there – my Twitter profile is an extension of my presence on the Politics Home website.
How do you develop sources as a political journalist?
At the beginning I felt huge feelings of imposter syndrome, but you've got to start somewhere, emailing MP's offices and sharing contact numbers with colleagues.
Go for a coffee and develop a relationship with one MP, and then over many months and years it's an organic process of building up your contact book.
Managing relationships is a big part of political journalism. You've got to build that trust – if you have a conversation with them and it's off-the-record, you should absolutely honour that.
🎙OUT NOW🎙 The Rundown: How is Westminster responding to the crisis in Ukraine?

🗣 Former Deputy PM @DamianGreen tells @Alain_Tolhurst that Priti Patel's policy for for Ukrainian refugees "doesn't cut it"

👉 Listen to the full podcast: https://t.co/sgPy14I9zG pic.twitter.com/lnsp6EAlaX

— PoliticsHome (@politicshome) March 4, 2022
Who are the biggest names you've spoken to?
Downing Street hosts drinks for journalists twice a year and I've met Boris Johnson several times. I've interviewed Keir Starmer, Michael Gove, Liz Truss, Theresa May, Jeremy Corbyn and more.
As a political journalist you're right at the heart of history, talking to people with incredible decision-making authority. You are very much at the centre for an incredibly important time for our country.
Which story you are most proud of writing?
Two years ago, I was leaked a letter from Liz Truss to Rishi Sunak and Michael Gove about how Brexit preparations were not ready.
That story went massive, all the newspapers picked it up, it was mentioned in Parliament, and I went on radio and TV to talk about it.
In your life you'll have two or three big stories, and that was definitely one of them.
What is it really like to be an investigative journalist? 🔎

What does it take to become one? 💡

Read our interview with @vi_gayle to find out 👇 #TeamNA #StartedHerehttps://t.co/3eTrkDZgNy

— News Associates (@NewsAssociates) September 25, 2021
Do you get to travel as a political journalist?
While covering Brexit I was lucky enough to go out to Brussels and various European Councils, and I got to meet Angela Merkel.
I also spent a week in Northern Ireland doing a piece on communities who were incredibly worried about Brexit and its potential impact.
It felt real and like I'd given a voice to people. It was an amazing experience. If you get an opportunity to travel and go look for the story, I'd absolutely recommend it.
How do you balance work life and personal life?
As journalists you have unfiltered exposure to really bad news. There were points in the pandemic I had to take time off work because the relentlessness of the news was tough.
Most newsrooms now will understand and allow you to take a break if you need it. It's important to establish your personal boundaries, otherwise you'll be knackered – and really bad company!
What were your biggest takeaways from your News Associates course?
News Associates gave me a sense of how much of a skill journalism is, particularly in an era when journalists have quite a bad reputation. To be able to write a news story quickly and cleanly is quite hard.
Before doing the course, the thought of ringing an MP out of the blue would make me shake with anxiety – we were given practical experience that gave me the confidence to be a journalist dealing with people.
What are your top tips for aspiring journalists?
Establishing a beat and devoting most of my energies to it is probably why I am here today.
It's very easy to feel like you don't belong and that you're not qualified and not worthy. It took me a while to muster the courage to grab a microphone at a press conference and ask a question.
If you're ever at an event and you're surrounded by high profile people, don't feel like they have more rights than you – you have earnt your right to be there. Be confident, back yourself.
Any political journalists needs to learn how to be a good news reporter first. Come along to our free journalism workshops to try your hand at news reporting and write a breaking news story.