News Associates presents JournoFest 2019: Digital journalism – What's the future?
Journalism needs a new generation of data-savvy reporters was the theme of our JournoFest 'Digital Journalism – What's the future?' panel writes Harry Normanton.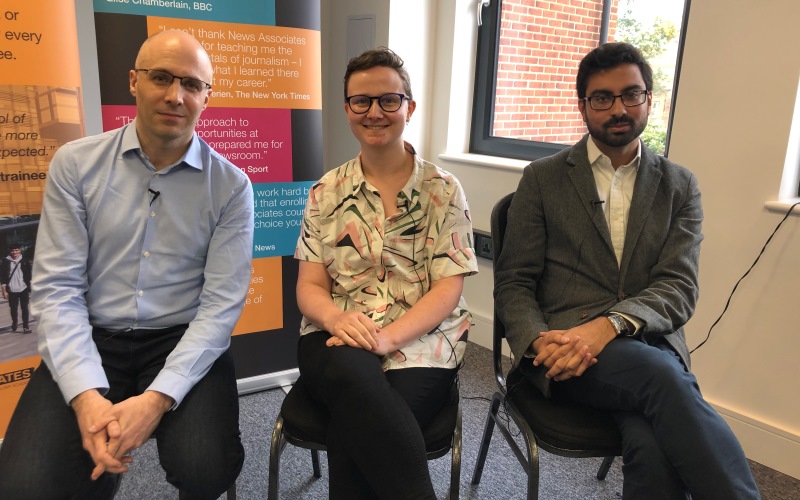 Financial Times' head of interactive news Martin Stabe said: "Data exists on every beat, so even if you want to be an arts correspondent you're going to have to engage with this because everything is becoming data."
Next up we are very lucky to have a data journalism presentation with the Financial Times' head of interactive news @martinstabe. #JournoFest pic.twitter.com/bngjUt6jV4

— News Associates (@NewsAssociates) March 16, 2019
Stabe spoke about his work before discussing the future of digital journalism with Amy Ashenden, video editor at Pink News, and Abbas Panjwani, a journalist for Full Fact.
The panel mulled over the perils of digital journalism, including fake news.
Panjwani said Full Fact, an independent fact checking charity, had achieved considerable success in taking an interventionist approach to misinformation on social media, and argued that most British newspapers were strong on facts.
But he conceded that disinformation – deliberately misleading journalism – remained a thorny problem.
He said: "It's probably not something that will ever be completely sorted, it's a perpetual whack-a-mole."
Ashenden said combatting false narratives was a significant part of her job at Pink News, a website for the LGBT community.
"We separate fact from fiction, that's what makes us vital," says @AmyAshenden of @PinkNews. #JournoFest pic.twitter.com/xbcXGMN2Vj

— News Associates (@NewsAssociates) March 16, 2019
She argued focussing on human interest was a powerful tool to correct misconceptions.
"A lot of the time on the other side of scaremongering transphobic narratives are trans- and non-binary people being attacked online," she said.
"By trying to tell the human side of the story we can change how the narrative is perceived."
Stabe agreed there were many subjects for which human focus was most suitable.
But he insisted that the use of data in journalism was spreading, and that it was to be embraced.
"I don't find data boring," says @martinstabe.

"If you're finding data boring, you're looking at the wrong data." #JournoFest pic.twitter.com/fuJSW3RXJH

— News Associates (@NewsAssociates) March 16, 2019
Although computers can now write front pages on their own – the audience was shown a slideful of examples – Stabe argued that the most significant use of data in future journalism will be to find stories, to identify patterns and outliers for reporters to investigate.
And he contended that data will soon not only be finding stories, but will itself become a subject of investigation, as specialist reporters try to unpick and hold to account the opaque algorithms which occupy shady but significant roles in business and politics.