News Associates presents JournoFest 2019: Keynote speaker Susie Boniface AKA The Fleet Street Fox
Susie Boniface, also known as the Fleet Street Fox, informed and entertained with her keynote speech at JournoFest, writes Yasemin Craggs Mersinoglu.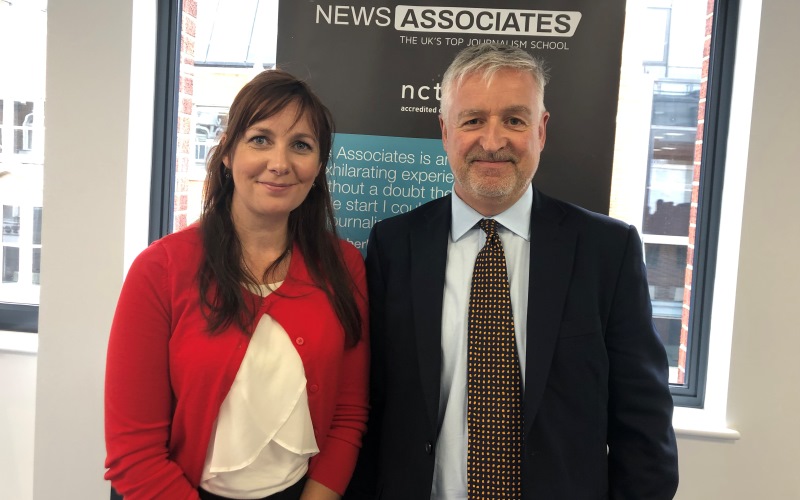 It centred around the creation of her anonymous blog and the top ten mistakes young journalists should avoid.
Rule number 1️⃣: Don't become the story. #JournoFest @fleetstreetfox pic.twitter.com/T8bmogW7v7

— News Associates (@NewsAssociates) March 16, 2019
Boniface started freelancing aged 15, became at chief reporter at 20 and arrived on Fleet Street aged 23.
Despite failing her NCTJ repeatedly, she has worked for the Daily Mail and the Daily Mirror among many others.
Her talk was peppered with personal anecdotes and provided practical tips.
Fascinating to hear from Susie Boniface on how she came up with the pseudonym @fleetstreetfox and why she started writing anonymously. Some great tips from her to student journalists here at #journofest – be prepared and read before you write

— NCTJ (@NCTJ_news) March 16, 2019
Boniface set up her blog after seeing 'columnists having more fun at the pub – and wearing nicer shoes'.
She stressed the exciting opportunities the internet has opened up for journalists starting their careers now.
"This is the greatest opportunity in front of you of anyone that ever lived," she said.
"Dickens and Defoe both would be on Twitter picking a fight with Piers Morgan. You can be read by more people than anyone before."
Boniface emphasised the importance of reading widely in order to 'know how to structure phrases and bend language around what you want it to do'.
She said social media means people see what is being published in real time, which has created the necessity to interact with readers to build engagement – reflecting on what people think about a piece can also provide new ways to move it on.
Being prepared for all eventualities was one of Boniface's rules. A clean pair of knickers and a pencil – 'the only recording device that works in the rain' – are two essentials.
She also recommended always carrying 'spare clothes, pyjamas, make up, Tampax, two passports, cargo pants and an evening dress'.
Boniface claimed journalists are treated as second class citizens in the UK, warning of the public's lack of sympathy and trust for those in the profession.
She reminded the audience not to become the story or to make up quotes because you can make a mockery of your workplace and make everything harder for other journalists.
Boniface said that while 99/100 door knocks result in a cup of tea, now and again it could turn violent and suggested journalists should take self-defence classes.
She spoke about the importance of following your gut instinct.
"If something feels wrong then it is, get out. If think someone's lying or dodgy, follow it up," she said.
Boniface stressed keeping the two sides of a journalist's brain – human empathy and getting a front page worthy story – in balance, while talking about her experience reporting on the Boxing Day tsunami.
In response to a question from the audience, she explained her view on coverage on contentious issues.
She said: "If you are sanitising truth it is not the truth. You mostly don't get to tell the whole truth, you get to tell version of truth can prove. You can't report stuff the lawyer can't ok, the editor does not want or the readers are not interested in."