News Associates presents JournoFest 2019: News Associates graduates – My first steps
News Associates alumni took centre stage to excite and inspire this year's JournoFest audience by retracing their first steps into the industry as NCTJ-qualified journalists, writes Emma Pengelly.
On the panel was Jessica Cripps, a journalist at Manchester press agency Kennedy News and Media, Sky Sports News journalist Chris Reidy and Madeleine Howell, lifestyle writer at The Daily Telegraph.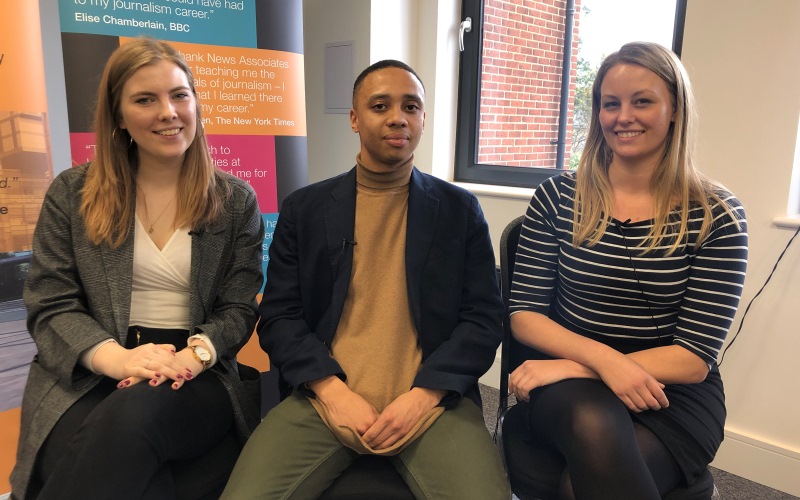 Each panellist said skills they learned during the course continue to help them in their jobs today.
Both Madeleine and Jessica pointed out shorthand is absolutely worth the blood, sweat and tears.
"I use shorthand every single day," great start from @jessica__cripps! #TeamNA #LoveShorthand #StartedHere #JournoFest pic.twitter.com/YLSLsnyvDY

— News Associates (@NewsAssociates) March 16, 2019
Jessica keeps her media law textbook on her desk for reference and Chris said his law knowledge has helped him navigate tough situations at Sky Sports News.
He said: "Especially the instances of racial rows, a lot of those cases are still going on and you can soon get in a lot of trouble if you report them incorrectly or mention names."
The panel went on to discuss job prospects as Jessica and Madeleine admitted they did not have a clear career path in mind as trainees.
Jessica said: "Even at the end I was very unsure about where I wanted to go with it."
Madeleine agreed and said she initially took on a role at a small magazine as it allowed her a lot of editorial responsibility.
Three years later and now a lifestyle writer at The Daily Telegraph, Madeleine commented on the many doors that News Associates opens for trainees.
She said: "It is not just news reporting, there are so many different opportunities."
Onto job applications, where versatility, an ability to speak to new people and simply being yourself were the panellists' top tips.
Chris said it is important to show your confidence, but he also stressed to never overcompensate in competitive situations.
He spoke from experience as the successful candidate among 12 Sky Sports News graduate scheme applicants.
He learned to strike that balance and encouraged the audience to be bold as juniors in the workplace.
He added: "People will really value your opinions as a young person.
"You are the target audience for a lot of these TV companies and newspapers."