Baroness Lawrence meets News Associates trainees and recipients of Daily Mail Stephen Lawrence Scholarship
Stephen Lawrence Day should be written in all British calendars to ensure the memory of the murdered teenager is etched in British history, said his mother when she addressed trainees at News Associates, writes Michael Boniface.
Baroness Lawrence of Clarendon spoke to our trainees about the legacy of her 18-year-old son who was murdered in a racially-motivated attack in south east London on April 22 1993 – now marked as Stephen Lawrence Day.
The life peer addressed full and part-time NCTJ trainees from News Associates, including past and present recipients of the Daily Mail Stephen Lawrence Scholarship aimed at promoting diversity in British newsrooms.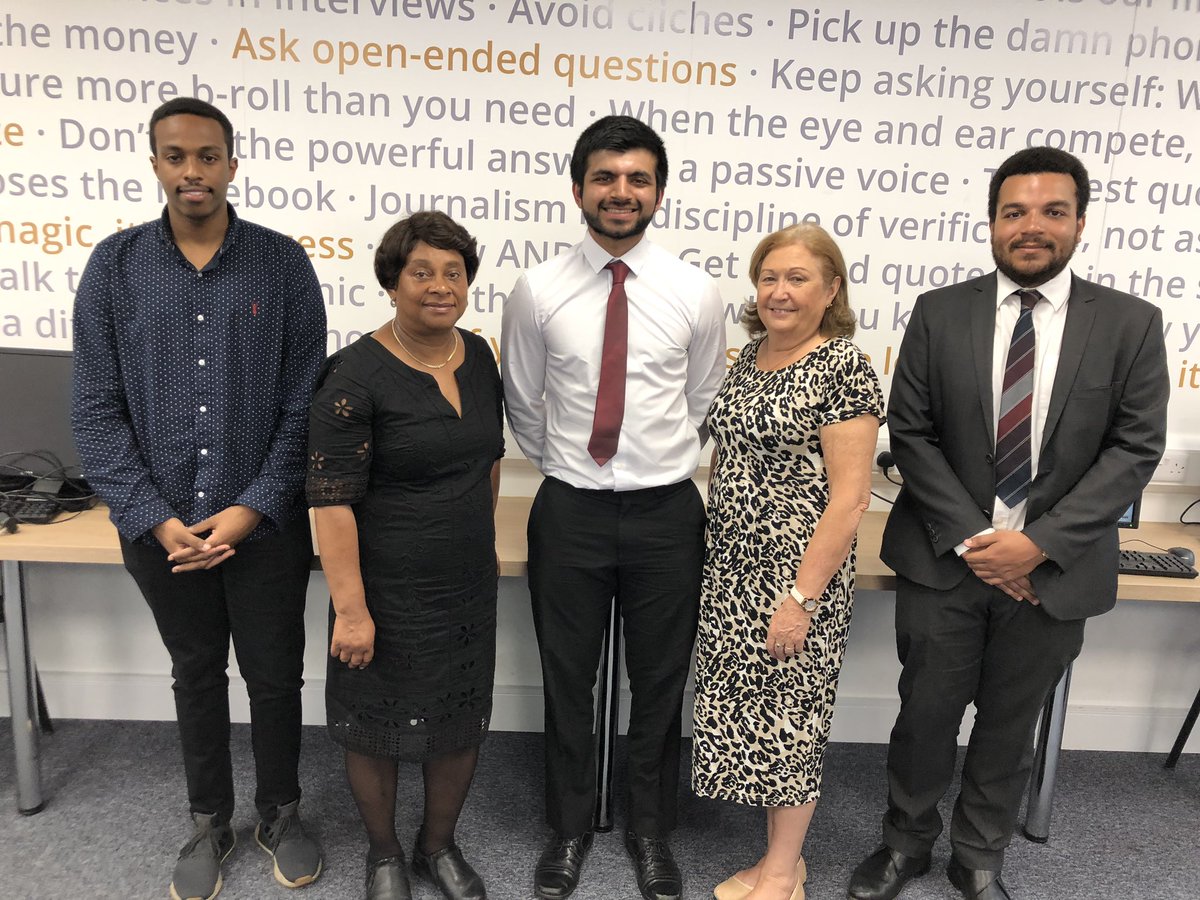 Baroness Lawrence said: "26 years ago when Stephen died no one knew what would happen but I was determined to make sure, through his death, that positive things came out of it.
"I don't want to look back, and Stephen Lawrence Day is a way of making sure we move forward.
"That's why we want it printed in every calendar so that when young people flick to April 22 they never forget what happened to Stephen."
A new police training room is also opening in Hendon to commemorate Stephen and recognise the protracted failure of the force to put his killers behind bars.
Gary Dobson and David Norris were jailed for life in 2012 for Stephen's murder – 19 years after he was stabbed to death.
"Cressida Dick (Metropolitan Police Commissioner) approached me about naming the room in Stephen's honour," continued Baroness Lawrence.
"At first I was very critical knowing what the police had done over the years but then I realised it was actually a positive way of remembering Stephen, again looking forward, not back.
"It will be a reminder for them to see what went on and remember their own mistakes, but also to see all the positive things that have come out from it.
"I've been told by officers that everyone in the force wants to make sure Stephen's name is not forgotten.
"We all make mistakes but we've got to learn from them."
Kamal Sultan, 22, current recipient of the Daily Mail Stephen Lawrence Scholarship training at News Associates, said: "It was so inspiring to hear from Baroness Lawrence.
"I want to honour Stephen's legacy and ensure our newsrooms are filled with a mix of backgrounds, talents and opinions.
"Only then can journalism represent the real views of the communities it represents."
News Associates managing editor James Toney said: "We were thrilled to welcome Baroness Lawrence to our newsroom and are delighted to be working with the Daily Mail and the Stephen Lawrence Charitable Trust on such a worthwhile scheme."
You may also like:
Aspiring chief football writer and role model receives News Associates and Sports Journalists' Association diversity scholarship
Yahoo chooses News Associates to help bring greater diversity to their newsroom
News Associates to train latest recipient of Daily Mail Stephen Lawrence Scholarship aimed at promoting diversity in journalism