Teamwork in the newsroom: bringing a notorious criminal back to justice
20 years ago, the teamwork of a group of journalists brought infamous Great Train Robber and prison escapee Ronnie Briggs back to Britain, after he had escaped prison and evaded justice for over a quarter of a century.
Here, our deputy managing editor Graham Dudman recounts his role leading a team of journalists who pulled off one of the most famous Fleet Street world exclusives.
Twenty years ago today this great team (plus many others) from The Sun pulled off a great (the greatest?) Fleet Street paper chase to bring Great Train Robber Ronnie Biggs back to Britain. pic.twitter.com/mc1KooEccS

— Graham Dudman (@1dudders) May 7, 2021
"20 years ago today one of the great newspaper adventures came to a spectacularly successful conclusion.
Great Train Robber Ronnie Biggs was returned to Britain from his Brazilian bolthole thanks to one of the finest team of reporters ever assembled from one newsroom for a single story.
A lot of water has flowed under a lot of bridges since Biggs and Co landed at RAF Northolt on May 7 2001.
I was lucky enough to run The Sun's operation from Wapping – but it was the team in Rio that pulled off what every other paper thought (and hoped) was bound to fail: bringing Britain's most-wanted fugitive 6,000 miles home to face justice.
Endless stories have been told over the years of how the Rio team of Mike Sullivan, Nick Parker, Andy Parker, John Askill, Nigel Cairns, Marc Giddings, Simon Hughes and Harry Page became The Sun's brilliant boys from Brazil.
Not forgetting Jamie Pyatt and Doug Seeberg, who were sent to Australia to track down and interview Biggs' ex-wife Charmian.
Uncovering corruption and investigating the truth… here are the best journalism documentaries you should watch 🔎https://t.co/jWYLLhwQn5

— News Associates (@NewsAssociates) March 23, 2021
The logistics faced by The Sun's Team Rio were enormous and required incredible teamwork.
Biggs was a frail 71-year-old who could barely speak because of a stroke. He had no passport and had to be hidden away for a week from rival teams of reporters scouring Rio desperate to ruin our scoop.
Inevitably some of the stories from the great Brazilian paperchase have improved with age. Did we really think about trying to smuggle Biggs out of the country on a British Airways flight dressed as an old woman using John Askill's mother's passport? We did. Or at least I did. Seems laughable now, but at the time it was a serious consideration.
I look back fondly at the scolding from The Sun's editor David Yelland who wanted to know why the private jet didn't have any Sun stickers on its side as it took off from Farnborough bound for Rio. Answer: they blew off as the plane reached 150mph on the runway. Sorry boss, I hadn't thought of that.
To be fair to David, he played his part by interrupting the then Foreign Secretary Robin Cook's holiday and persuaded him to authorise the British embassy in Rio to issue Biggs a single-use travel document allowing him to leave Brazil.
Just wrapped up a fantastic session with our guest @davidyelland speaking to our #NAFutureLeaders about his time as @TheSun editor, how to stand out early in your career and more! Thank you David 🌟 pic.twitter.com/PWjov6cGHh

— News Associates (@NewsAssociates) March 16, 2021
While Operation Biggs wasn't quite money-no-object – it wasn't far off.
Imagine sending seven reporters and four photographers halfway round the world on the same tale.
But hey. What was another ten grand for a buy-up when the bill for the private jet was £100k?
Of the many heart-stopping moments, my worst was when the BBC's reporter David Willis – who had been sent from Los Angeles – providing live coverage of Biggs' chaotic departure from Rio airport – suddenly announced The Sun's plane had taken off bound for the UK.
This was news to us back in Wapping. We knew our team and Biggs were through passport control and the plane. But they were out of contact.
For a few nerve-shredding minutes, mission control at Wapping had no idea what was happening in Rio.
As we endured a Brazilian blackout, the BBC's report The Sun team had pulled off mission impossible triggered cheers, whoops and applause in the newsroom. Herograms from the editor zapped across everyone's emails. We'd done it! Get those awards ready! Trebles all round!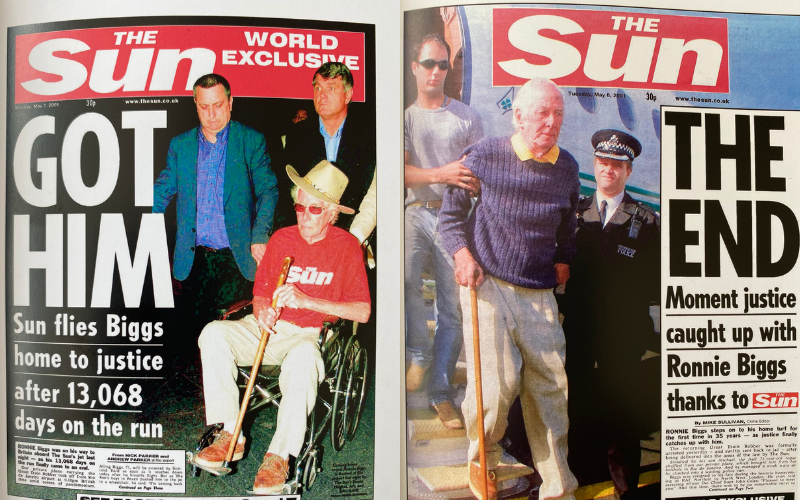 Two decades before anyone had heard of VAR destroying celebrations, one of The Sun team who wasn't flying back with Biggs was on the phone from Rio airport's car park roof with the appalling news the BBC had got the wrong plane. Biggs and our team's jet were still on the tarmac.
With visions of Brazilian customs and immigration officers crawling over the plane ordering it back to the terminal, I planned my resignation. Visions of next day's Mirror with a 'GOTCHA' headline over a picture of Biggs and our team stuck in Rio completed the horror of what appeared to be unfolding.
Moments later, our man on the airport roof called back to say he'd just seen our plane take off with his own eyes.
Of all the questions I'd asked reporters over the years, 'Are you sure it's our plane?' was right up there.
He was sure and – of course – he was right. I collapsed in a heap of sweat and adrenaline as the plane began its long flight home.
Next morning, after landing at RAF Northolt, Biggs was arrested by the head of the Flying Squad Detective Chief Supt John Coles who had assembled a welcome party of 60 – yes 60 coppers for Britain's most wanted.
After a brief appearance at West London Magistrates' Court, Biggs was taken straight to Belmarsh where he spent the next six years before being moved to Norwich jail, from which he released shortly before his death in 2013.
The Sun's boys from Brazil returned to Wapping where its peerless team of subs, back and middle bench and art desk put together a brilliant paper.
Teamwork?
Twenty years later, it's still what makes any newsroom tick."
Graham is part of our talented and award-winning team of tutors who deliver our NCTJ courses. Our experienced tutors, innovative approach and brilliant results make us officially the number one NCTJ journalism school.