Super seven News Associates alumni shortlisted for 2016 NCTJ Awards for Excellence
A magnificent seven News Associates graduates have been shortlisted for the 2016 NCTJ Awards for Excellence.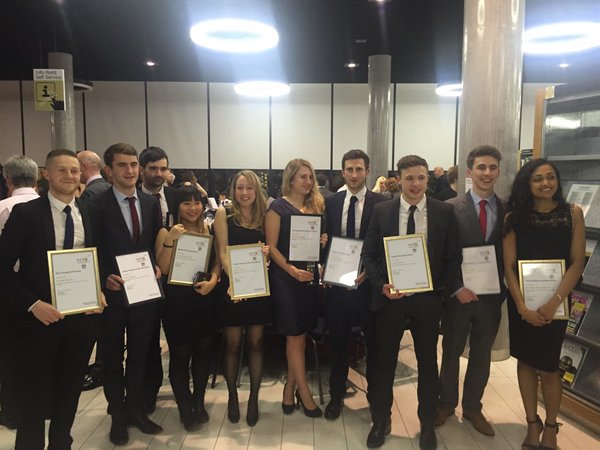 Our seven nominees span five categories – with two graduates from our sports course dominating the trainee Sports Journalism category.
Lucy Pasha-Robinson and Ross Kempsell make up two-thirds of the student Top Scoop category, while former part-time trainee Carly Minsky is in the running for trainee Feature of the Year.
Carly, who now works for The Times, said: "I almost didn't apply for the NCTJ Awards because I genuinely wasn't sure I had done work that was important or interesting enough to get that kind of recognition.
"Needless to say I was overwhelmed and delighted to be shortlisted for feature of the year.
"It immediately made me realise that my doubts were unfounded and that, despite all the difficulties we inevitably go through as young journalists, producing meaningful work is exactly why we do it.
"My training at News Associates undoubtedly helped me into the job at the Times Higher Education, and I know I wouldn't have had the same opportunities I've had in my very short journalism career if I hadn't completed the diploma."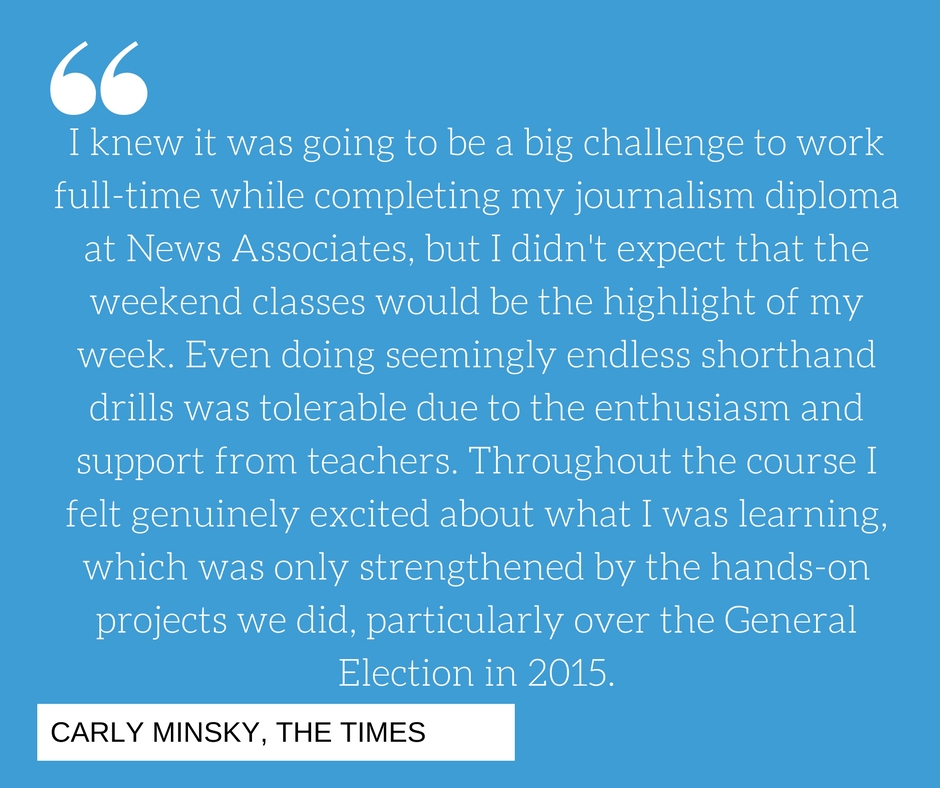 But it doesn't stop there as part-time alumni Richard Amofa is also up for a Sports Journalism award in the student category.
Richard, who works at The Daily Telegraph, said: "It is a huge honour to be nominated for something like this. There are obviously so many quality journalists out there, especially so many up and coming ones, so to be put forward for this is great.
"I was shocked when I got the email and I am glad to be selected along with these talented people."
Pleased to have been shortlisted for the Sports Journalism award at the NCTJ Awards for Excellence 2016.

— Richard Amofa (@_RichardAmofa) October 16, 2016
Both of our sports multimedia diploma grads Ross Lawson and Will Kelleher were pleased with their trainee Sports Journalism nominations.
Will, now a sports journalist at the Daily Mail, said: "It is fantastic – and highly unexpected – to be shortlisted for the sports journalism award this year. The training News Associates provided meant I was well prepared to join a national newspaper.
"The experiences I gained while on the course sharpened the skills I use every day – so it is thanks to them, and a large dollops of luck, that I'm where I am today!"
Ross, a multimedia journalist at national press agency Sportsbeat, added: "I'm absolutely delighted to be nominated – it's not something I expected and a huge amount of thanks has to go to News Associates and Sportsbeat.
"With them I've been given opportunities I would not otherwise have had across a variety of different sports and to be able to enter work been on Team GB and The British & Irish Lions websites is a pretty incredible feeling."
So, this is cool. Nominated in the Sports Journalism category. Big thanks to all at @NewsAssociates and @Sportsbeat. https://t.co/q4lp9fnZul

— Ross Lawson (@RossLawson03) October 14, 2016
September 2015 fast-track alumni Lily Waddell was also shortlisted in the trainee Top Scoop group.
Lily, who now at the Daily Star, said: "I was really excited when I found out I was shortlisted for the NCTJ awards and I'm really looking forward to the evening.
"I would like to say a big thank you to both the fantastic, hit-the-ground running training at News Associates and the incredible hands-on team at the Daily Star Online who made this possible.
"The piece I've been nominated for was my first exclusive scoop I pitched to my news director Gary Nicks when I joined the news team.
"Our lawyer said it was one of the best pieces of work he had seen by a new journalist to join the national newspaper website."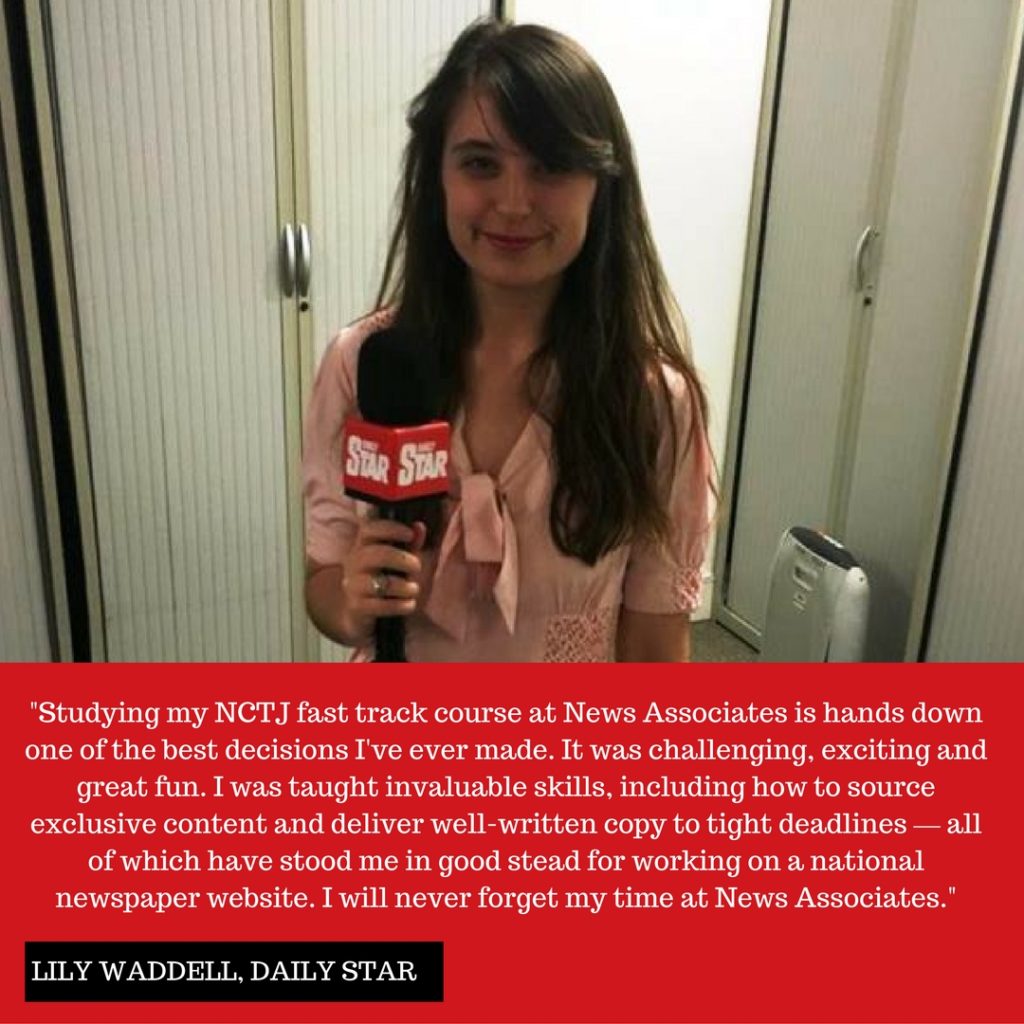 News Associates – which was also named the UK's top journalism course at last year's awards – has a proud record in the NCTJ Awards for Excellence and former winners include journalists now working across the media from The Times to Evening Standard, Time Out to the BBC and Sky News and in local and regional press and agencies.
"Seven nominations is an absolutely stunning achievement and we wish all those shortlisted the best of luck for the awards," said managing editor James Toney. "It's hard to believe the quality of these submissions when you think these graduates are just a year or so, in some cases just months, into their careers."
This year, BBC deputy political editor, John Pienaar, will present the NCTJ Awards for Excellence at the Journalism Skills Conference gala dinner on Thursday, November 24.
If you are interested in studying with News Associates, the UK's number one NCTJ journalism school, click here
NCTJ Awards for Excellence – News Associates winners
2015: George Gigney – Student Journalist of the Year, Leonie Chao-Fong – Student Scoop of the Year, Jordan Bluer – Trainee Scoop of the Year, Naomi Firsht – Trainee Feature Writer of the Year, Nemesha Balasundaram – Trainee Sports Reporter of the Year
2014: Paul Berentzen – Trainee Reporter of the Year, Jon Robinson – Trainee News Reporter of the Year
2013: Lauren Potts – Trainee Reporter of the Year, Eleanor Ross – Student News Reporter of the Year, James Coldwell – Trainee News Reporter of the Year, Thomas Allnut – Trainee Sports Reporter of the Year
2012: Jen Morris – Student Feature writer, Hardeep Matharu – Trainee Feature Writer, David Churchill – Trainee News Journalist, Adam Knight – Scoop of the Year
2011: Jessica Baldwin – Student Feature writer, Marcus Chippindale – Sports Journalist
2010: Josh Burrows – Student Sports Journalist
2009: Emily Koch – Trainee Feature Writer, George Scott – Student Sports Journalist, David Jordan – Trainee Sports Journalist
2008: Steve Jones – Student Sports Journalist