News Associates presents JournoFest 2018: The biggest challenges facing newsrooms
Trainee journalists are entering an industry at a crossroads which is both daunting and thrilling in equal measure according to JournoFest 2018 panellists, writes part-time journalism trainee Emma Gant.
With parliament debating a data protection bill that will see a limit to press freedom, the looming threat of having news organisations being forced to sign up to government approved regulators and statistics showing that journalism is less diverse than ever, it was up to the panel to prove it's not all doom and gloom.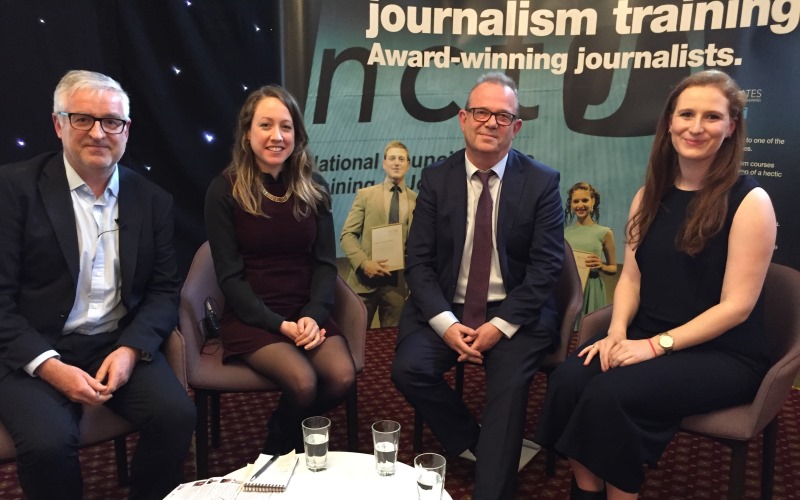 Daily Mail leader writer Neil Darbyshire, The New York Times journalist Anna Schaverien and columnist Naomi Firsht grappled with how newsrooms can tackle the problems head on.
"Pressure groups at the minute want to see national newspapers under state control," said Darbyshire.
"We have a responsibility to restore trust in the mainstream media.
"We mustn't be taken in by all the noise and ignorance and there is a sheer volume of it, we have to cut through to what is useful and reject what isn't."
Schaverien agreed, saying: "There is a constant battle to remain trusted and protect your newspaper's reputation."
But it was a controversial comment from Firsht that has set Twitter alight, with people on both sides of the argument weighing in and the official page defending itself online.
Firsht said: "The Stop Funding Hate campaign is a censorship campaign.
"Journalists should speak out about this."
Apparently I hit a nerve at #JorunoFest @NewsAssociates when I said @StopFundingHate was an anti-press freedom campaign that calls for press censorship. Wonder why… https://t.co/NZKbXLeNTl

— Naomi Firsht (@Naomi_theFirsht) March 11, 2018
Darbyshire agreed saying that some of the facts the campaign is based upon are not entirely true and that while it is important that people are free to campaign for whatever they like, it is important that the knowledge they have is correct.
As someone who acknowledges that her career has benefitted from saying what others won't, Firsht argued that what we need is a freer press.
"There is a lack of diversity of opinion," she said
"It feels like there's a bubble of accepted opinion at the minute.
"It's great that there is one opinion in The Daily Express and the opposite in The Guardian, we need to protect that."
"Journalism should cover a wide range of opinions," says @Naomi_theFirsht.

"We want all the opinions." #JournoFest pic.twitter.com/7i3keDJTui

— News Associates (@NewsAssociates) March 10, 2018
Schaverien argued that the only way to really get a diversity of opinion and stories is to have a diverse range of people working in the newsroom.
She said: "It's more and more unacceptable to walk into a newsroom where you see a sea of faces that look the same and everyone has the same background and reads the same content.
"More needs to be done to make sure that newsrooms reflect society.
"Unpaid internships are damaging diversity because they are only possible for people who live in London and are of a class where they can support themselves, which most people are not."
A shout out to @The_JDF from @annaschav at #JournoFest 🎉 pic.twitter.com/bNLO1VX3Cs

— News Associates (@NewsAssociates) March 10, 2018
Darbyshire strongly agreed, he said: "At the Daily Mail nothing is unpaid because unpaid experience and training is a not a good thing.
"People should be paid for the work they do."
A statement that is music to every journalists' ears.
To read about our 'Breaking into Broadcast' panel click here.
To read about our 'Politics and Dealing with Fake News Panel' click here.
To learn more about JournoFest click here. 
We are now interviewing for our fast-track and part-time journalism courses as well as our sports journalism courses starting this September/October – apply now.