News Associates grads win Wembley date to report on NFL series
Two News Associates graduates graced Wembley's turf to pick up their NFL NCTJ Sports Journalism Award this week.
Pete Thompson and Rob Lowson were presented their awards by Will Blackmon, cornerback for the Jacksonville Jaguars, for their A grades in the 2013 exams.
A third winner was Tom Mellor, who graduated from St Mary's University and received tuition from News Associates as part of his NCTJ course, and was unable to attend the ceremony.
All three will get to report on the NFL international series in the autumn, hosted by Wembley Stadium and involving legendary teams such as the Dallas Cowboys and Miami Dolphins.
The wins are the latest in a long-running series of Sports Journalism winners from News Associates.
Pete, who studied on the Sportsbeat Multimedia Diploma in London, now works for extreme.com.
He said: "Sportsbeat/News Associates gave me loads of chances to report on live games, and interview athletes and there's no better exam practice than doing it for real, so take every chance you get."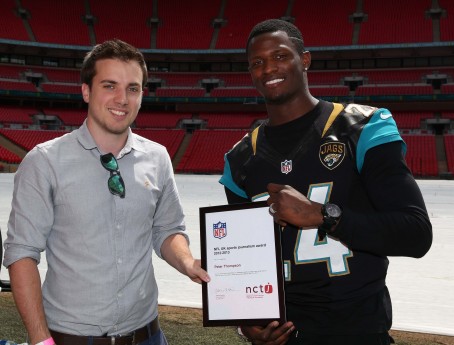 Rob is now a trainee at the Telegraph and Argus after graduating from News Associates in Manchester.
He said: "I'm very proud for my work to be recognised, it shows that all the preparation I put in for the sports journalism exam paid off."