News Associates delivering journalism training to Telegraph editorial graduates
News Associates is working with The Telegraph to help deliver its journalism training to their editorial graduates.
As part of the in-house Telegraph training scheme, News Associates – the UK's top-performing NCTJ-accredited journalism school – is providing tuition in media law and shorthand, as well as sessions on reporting.
Brilliant first day @Telegraph with this lovely bunch of people 😊
Excited to start shorthand training with @NewsAssociates tomorrow! Anyone got any tips for passing 100wpm 😳 pic.twitter.com/KNVbk5jFi7

— Matilda (@tillyhead2506) September 26, 2022
The writing programme – taking place at The Telegraph headquarters in Victoria – covers a range of subjects including newsgathering, interviewing skills and features writing.
The teaching of Teeline shorthand is being done remotely with the ambition of the graduates reaching 100 words-per-minute.
The Telegraph editor emeritus Ian MacGregor said: "We are delighted to continue our investment in talented young journalists with the best graduate training scheme."
Beat Media Group deputy managing editor Graham Dudman said: "We're excited to be helping the new intake of Telegraph editorial graduates as they take their first steps in their journalism careers.
"I'm taking the five graduates through the news reporting and feature writing areas of the training delivered by News Associates as part of The Telegraph scheme."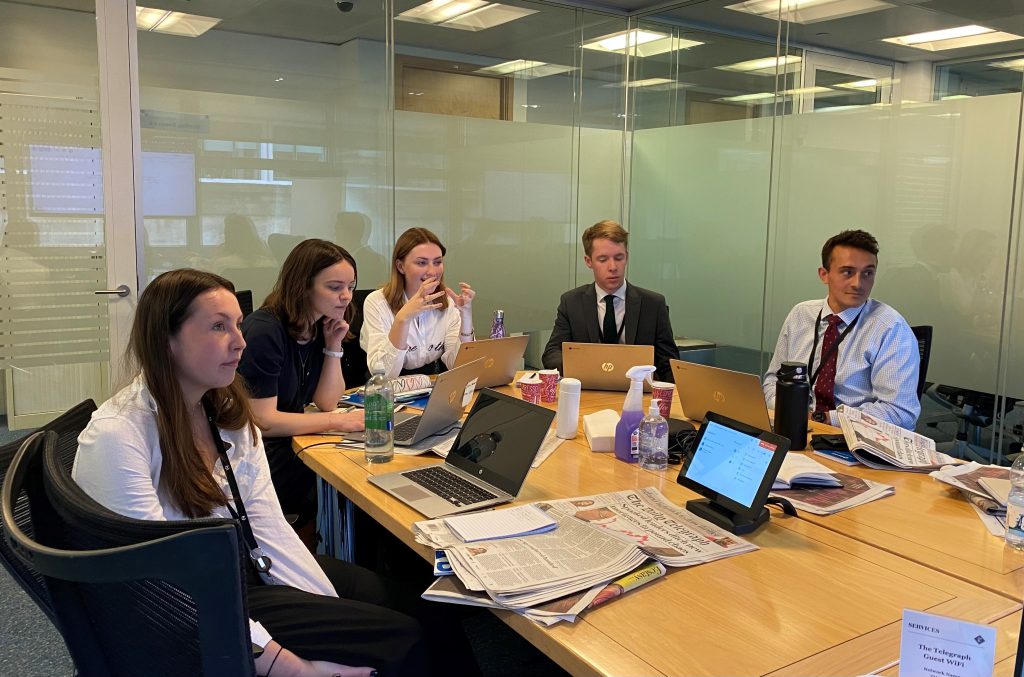 News Associates editorial development manager Lucy Dyer said: "It's great to see two of our News Associates alumni in this cohort of Telegraph editorial graduates and to also meet three new faces about to make their mark in the industry.
"They've all worked really hard to get where they are and are very lucky to have the support and guidance of The Telegraph."
Lots of News Associates graduates already work in The Telegraph newsroom and for the publication across the globe.
Read about how The Telegraph South Asia correspondent and News Associates alumnus Joe Wallen became a foreign reporter here.
And read about other schemes we work on here.