My pathway into journalism… getting your NCTJ Diploma as a postgraduate
We spoke to three early-career journalists who didn't study journalism at university but after getting involved in student media they decided to study journalism postgraduate and are now thriving in the industry.
News Associates alumni Kat Pirnak, Kit Shepard and Tasnim Chowdhury explain their pathways into journalism after studying for the NCTJ Diploma.
Time at university
Kat studied modern languages at University College London as she had always felt a deep appreciation towards languages and other cultures.
Kat felt the journalism industry wasn't a viable option for her while at university. She said: "It felt like an exclusive industry that was hard to break into. It wasn't until I learnt about the different paths available to me that I started to seriously consider it and save the money I needed for a postgraduate qualification."
Similarly, Kit studied history at the University of Birmingham as it was his favourite subject, but he always kept his options open from a careers perspective.
It wasn't until he got involved with student media that he decided to think about journalism postgraduate.
He said: "I was not set on journalism as a career path aged 18 but after being involved with my student newspaper at university, I decided that it was what I wanted to pursue. It was at university I found out about the importance of the NCTJ, meaning a postgraduate journalism course was the natural option after university."
Kat said: "Student media is a great way to break the daunting cycle of needing experience to get experience. During my final year, I wrote for various student papers and eventually became the editor of a well-recognised student publication. It not only gave me something to put on my CV but also helped me determine whether journalism was the right career for me."
Kit was the editor for his university student paper and this was where he knew he wanted to study journalism postgraduate.
Tasnim studied linguistics at the University of Manchester as she had enjoyed studying it at sixth form. She knew she wanted to go into journalism later but she knew she could get into the field as a postgrad.
While at university she was a student blogger and she found this was where she found a passion for writing and journalism.
She said: "I knew there were journalism postgraduate courses which I could look into later on. I think it was the right decision as I went into journalism a lot more mature and eager to jump into different roles. My 18 year old self definitely would not have done that!"
Getting the NCTJ Diploma
It wasn't until Kat found out about the NCTJ that the idea of journalism as a career became possible.
Kat said: "Journalism never felt like anything more than a dream until I found out about the NCTJ.
"I Googled pathways into journalism and discovered the NCTJ website alongside all the NCTJ-accredited courses. Later on, my university held a careers event on journalism where I first heard directly from News Associates.
"I think the NCTJ is the quickest and most reliable way of getting your foot in the door."
Through his student paper and careers fairs, Kit found out about the importance of the NCTJ.
Tasnim, Kit and Kat knew that their next step had to include the NCTJ in some way as all of their research pointed towards the qualification.
Tasnim said: "I wanted to know what would be the best qualification I'd need to become a journalist and a lot of graduate websites and forums would always mention the NCTJ."
Training at News Associates
Tasnim studied on our Manchester fast-track multimedia journalism postgraduate course and said she enjoyed the practical nature of the course.
She said: "You're thrown into it as soon as you start, I really enjoyed that. It felt more like training than studying. We were also given room for creativity in our content and I think that really helped us thrive! I was always supported during my training, especially as I was studying through the pandemic.
"We were trained from the start on how to write a news story, how to structure breaking news pieces as well as getting experience in digital journalism. On the fast-track course we were treated as trainee journalists from the very start, rather than students and that gave me the confidence I needed."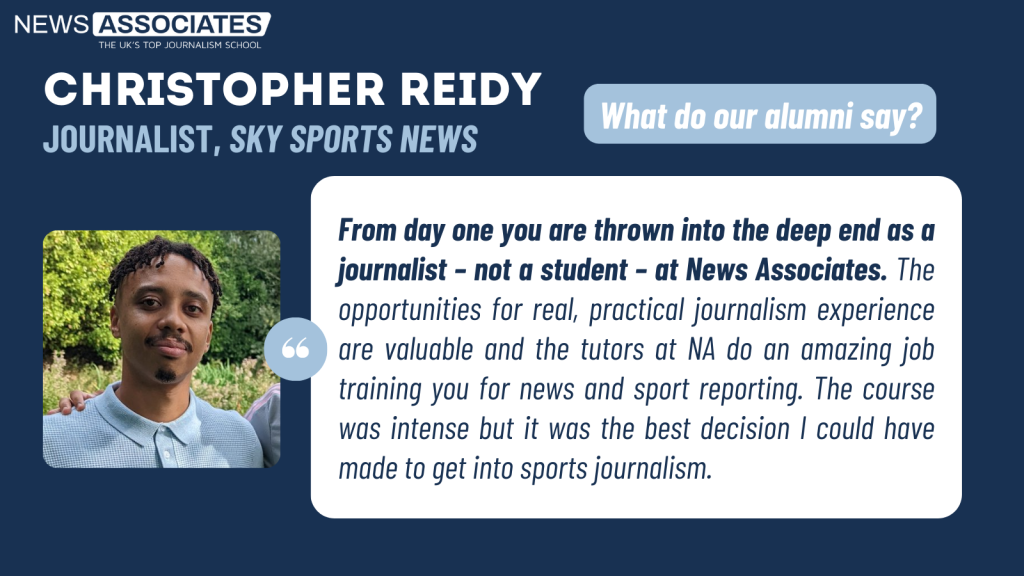 Kat said studying on our fast-track multimedia journalism course in London in 2021 was an intense but necessary experience.
She said: "The NCTJ course at News Associates equipped me with all the skills required to become a news reporter, and gave me the confidence to pursue my first job."
Likewise Kit, who studied on our sports journalism course, said: "The intensity of the course reflects the industry. While I always felt supported at News Associates, the quantity and variety of tasks helped me to learn how to work efficiently, manage my time and not get overwhelmed by a single project."
Kit highlighted the importance of the NCTJ when searching for a job within the industry.
He said: "I think the NCTJ is important because it tells prospective employers instantly that you already have lots of journalistic skills and experience. Many outlets expect you to have the qualification so while the NCTJ alone will not get you a job, not having it could stop you from getting one."
Being in the industry
Kat secured her first job offer before she even finished her NCTJ studies.
Kat said: "I got my first job offer before I even finished the NCTJ course at News Associates. One week after I completed the course, I started working as a news reporter for MyLondon. During my time there I was also able to develop my skills as a video journalist.
"This experience later enabled me to apply for my current job at The Bureau of Investigative Journalism where I predominantly produce videos, manage the growth of our TikTok channel, and write copy for our socials."
Kit is a freelance journalist who mainly writes for The Times Sport, and is shortlisted for student sports journalist of the year in the NCTJ Awards for Excellence.
He said: "I did some work experience on The Times sports desk and managed to stick around long enough to get freelance opportunities from them. I am still officially freelance now, but get enough work from The Times to work for that publication only. My work currently includes Football League coverage, ghost-writing columnists and sub-editing."
Tasnim is still at her first job in the industry as a journalism researcher for BBC Sport.
Advice
Kat said: "I would encourage others to pick a subject they'd truly enjoy studying at university before eventually applying to do a Masters or the NCTJ. In my case, doing an essay-based subject really got me into the habit of writing and reading a lot while also expanding my understanding of the world – all of which is very important for a journalist.
"Focus on enjoying your time at university – just make sure to get involved in student publications while you're at it!"
Similarly, Kit said: "University is your chance to understand your strengths as a person and a professional, so you do not have to be totally set on journalism the moment you leave school. Many degrees will develop skills that would be useful for journalism down the line, especially writing subjects like English and history, so study what interests and excites you.
"Whatever you choose, I would definitely recommend getting into student journalism. It is great fun, you will meet lots of new people, and it will help you find out whether journalism is the career for you."
Tasnim said: "Studying linguistics at undergrad gave me the freedom to really decide the career I want and when I started my training with News Associates, I was much more mature and ready for the world of journalism.
"Even if you study something different at undergrad, get involved in student media, whether that is blogging, writing for the university's paper, getting involved in radio or podcasting. Or start your own content!
"Build up your experience so you have examples when it comes to studying journalism at postgrad. Also do your research, there are loads of postgrad journalism courses out there, but some aren't NCTJ accredited. Also go to as many open days and drop in sessions – I knew News Associates was the ideal place for me to train after visiting a writing workshop and joining in on Zoom sessions during the pandemic."
To find out more about our NCTJ multimedia journalism courses, click here.
To sign up to our free journalism workshops, click here.