Making the news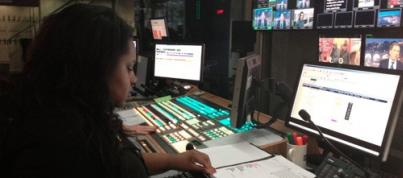 After graduating from News Associates, Funmi Olutoye earned a place on the prestigious ITV News training scheme.
Here's the latest update on her progress, in her own words.
So right now I'm an ITV News Trainee for ITV Yorkshire in Leeds and ITV West & Westcountry in Bristol.
The contract is ending soon so as of September I'm going to be a Production Journalist for ITV Meridian in Southampton. As a trainee you're building up to become a PJ. But you also get trained on cameras, how to report, media law and compliance and more.
Production Journalist means you work on the main 6pm regional news programme as well as producing bulletins throughout the day – for example Daybreak bulletins, Lunchtime bulletin and Late news bulletin at 10.30pm. You also work on the website updating stories throughout the day.
What I like about my job is that everyday you come into work not knowing what to expect. Different stories everyday bring up different challenges. It's fast paced, it's exciting and you're always in the know before everyone else – before the entire nation. It's great. I also like my job because it involves social media – Lord knows I love Facebook and Twitter. Can't get enough.
As a trainee, I'm the baby of ITV News – I'm an investment into the future of this part of ITV so I have to work hard and prove my worth. But also a lot of opportunities are open to me such as meeting many top and experienced journalists within the newsgroup that you wouldn't do if you were just a freelancer. They always pass on fantastic advice and they like to stay in touch with you to see how you grow from a baby journo to a toddler and so on.
How News Associates helped along the way was securing that NCTJ certificate. I think most places I applied to for internships and work experience after the course would not have looked at me twice without it. It's good grounding and a springboard for whatever you want to do next.