"Award-winning scoop"
Léonie Chao-Fong's agenda setting investigation into the seedy underworld of Hong Kong bankers – published in Vice – was awarded scoop of the year by the National Council for the Training of Journalists.
Léonie studied for her NCTJ Diploma in Journalism on the fast-track course at News Associates, graduating with her gold standard qualification in January 2014. She now works at Metro.
"Leonie's stunning feature combined the very best in journalism – it was brilliantly written, meticoulously researched, both using traditional methods and social media, it is the best piece of work a trainee has ever produced on one of our training schemes," said managing editor James Toney.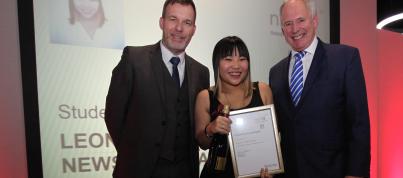 Léonie Chao-Fong won top scoop at the NCTJ Conference