A behind the scenes guide to studying at News Associates: Shorthand, media law and an international press trip
Between juggling shorthand and revising for media law one fast-track trainee was invited to a press trip in Madeira just eight weeks into her course.
We love catching up with our journalism trainees as they undertake their NCTJ Diploma in Multimedia Journalism at News Associates – officially the UK's number one NCTJ school.
Already know it's the career for you? Apply now to study on our fast-track, part-time or sports journalism course.
Here, News Associates Manchester journalism trainee Marthe de Ferrer tells us all about her first international press trip just two months into her course with us…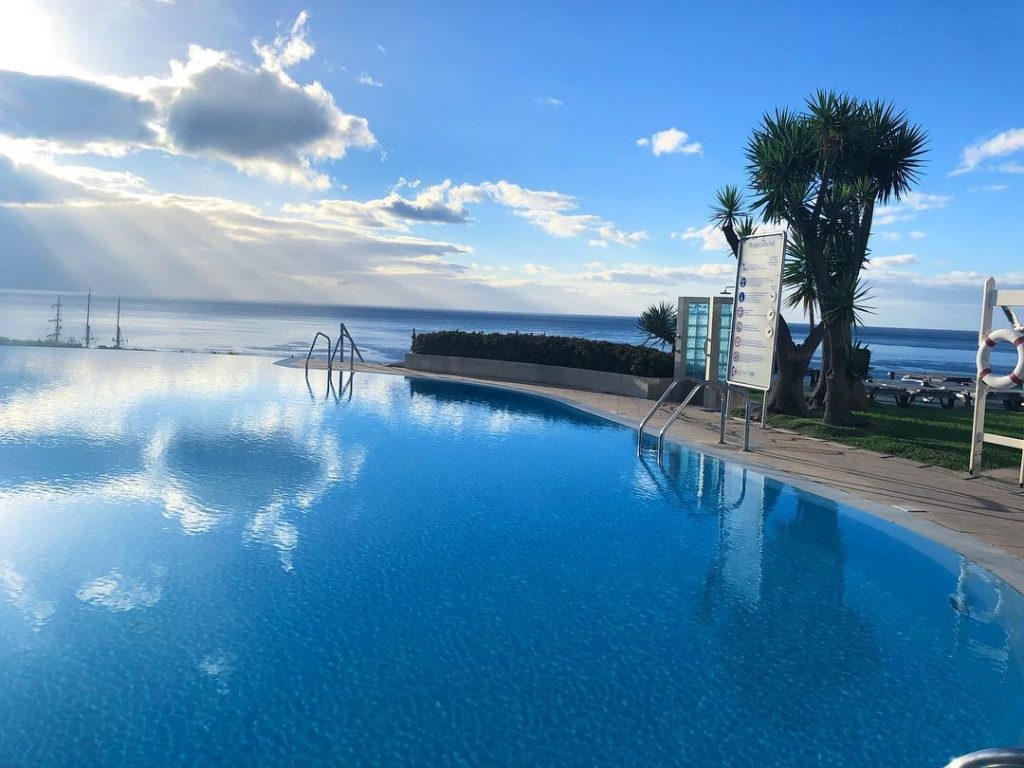 "When I started my NCTJ at News Associates, I never would have expected that less than two months later I would be sat at Manchester Airport waiting to fly to Madeira for my first press trip, covering the ETU European Triathlon Sprint Cup and ITU Paratriathlon World Cup.
Initially I was just doing phone interviews with two of the athletes making their international debut at the paratriathlon event. I was delighted enough to be writing about my favourite sport, for Paralympics GB no less, so the prospect of covering an international event live was quite a surprise.
But, after a series of emails between me, British Triathlon, and the event organiser in Madeira, it was decided the event wanted a British press presence and they were happy to fund my trip.
I had just a couple of days to prepare by the time it was confirmed, so after bailing on a family trip to the Peak District and sorting a dog-sitter for that weekend, I was good to go.
When I got to Funchal, there was a transfer service waiting to take me to the event hotel, which is a stunning 5* place overlooking the ocean. Less than three days after the trip was confirmed, I was sat overlooking the sea, eating 'mousse de maracujá' (passionfruit mousse – the island's speciality) at the event restaurant, preparing my notes for the weekend's racing.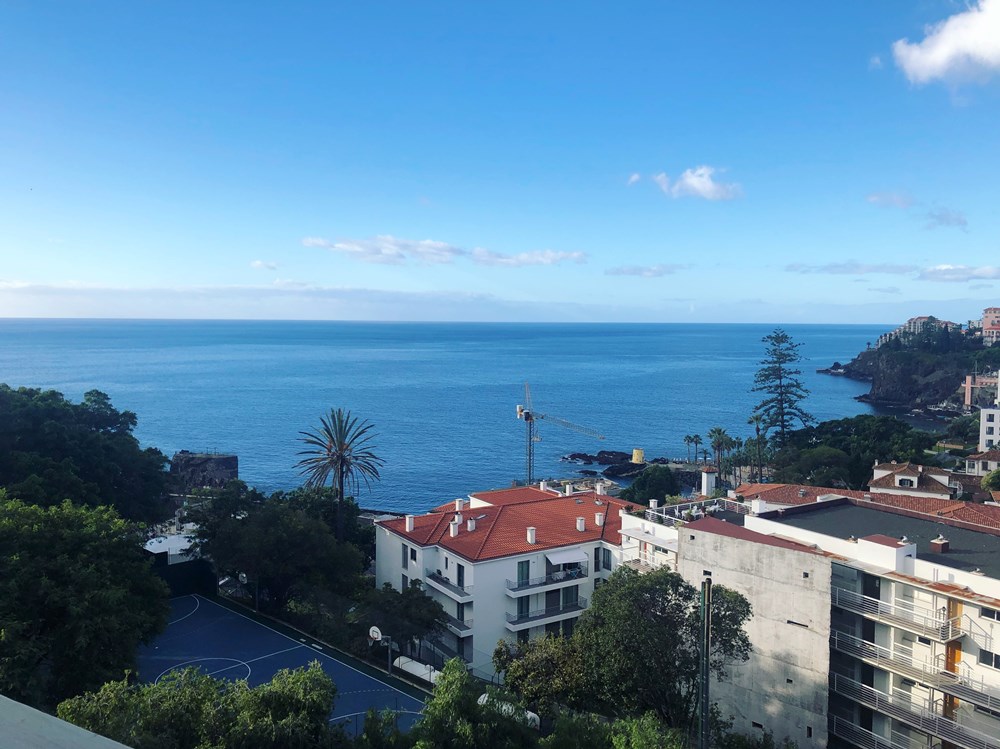 I was lucky enough to be paired with a wonderful Spanish journalist who knew the ropes and shepherded me from meal to meal and press conference to press conference. Along with a pair of French reporters, we were the sole international journalists.
While I knew objectively how important languages are for journalists, it was really crystallised for me in our first press meal together, as the four of us communicated in what can only be described as Spanglish with a smattering of French and Portuguese. I promptly looked up some refresher courses for both French and Spanish once I was back in the UK.
The next day, after a run through the old town, a quick swim, and one of the most amazing breakfasts I've ever had (unlimited pastels de nata made my morning exercise incredibly necessary) – I was sat with the paratriathlon team coach, discussing the various athletes to look out for in the race and longer term. While I have a background in triathlon, paratriathlon is much newer to me, so having this access to the British team was vital in solidifying my understanding of the categorisation systems and nature of the racing.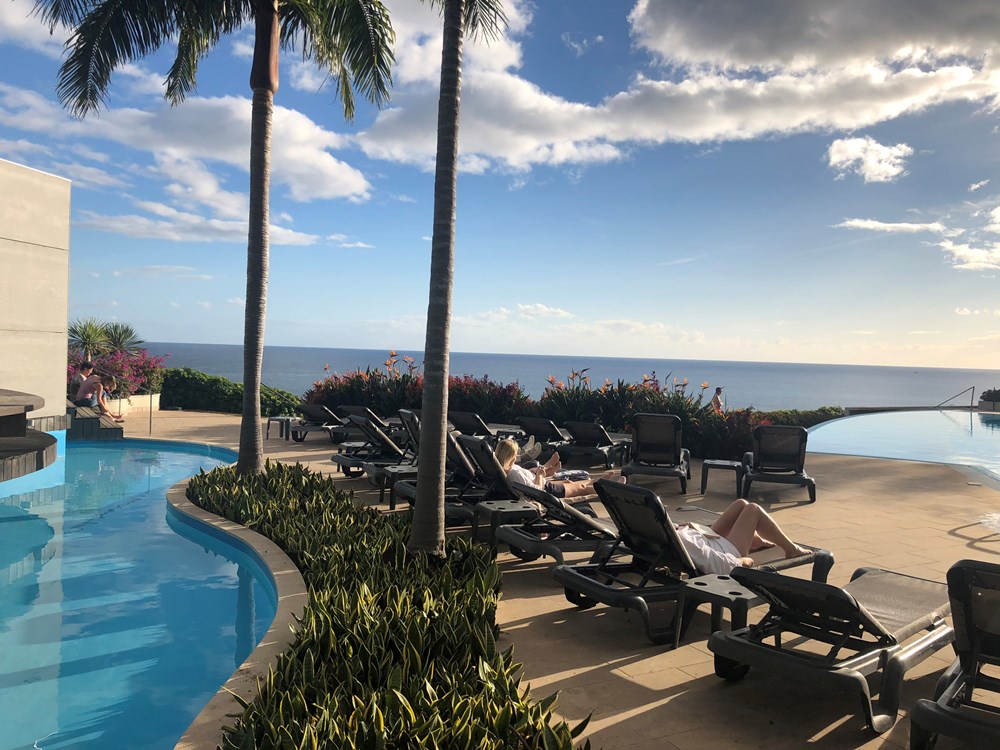 Later that afternoon the sprint events started, first the women, followed by the men. Until an hour before the race it still wasn't confirmed whether it would be a duathlon (run/bike/run) or a triathlon, due to the conditions of the water. I could see several relieved faces when the swim section was confirmed, and the press teams were taken down to the water's edge to watch the starts.
Having watched countless events over the last few years, it was an absolute privilege to get the level of access we were given. If we weren't in the way of the athletes, we could go anywhere we wanted. I never understood the power of the press pass before then.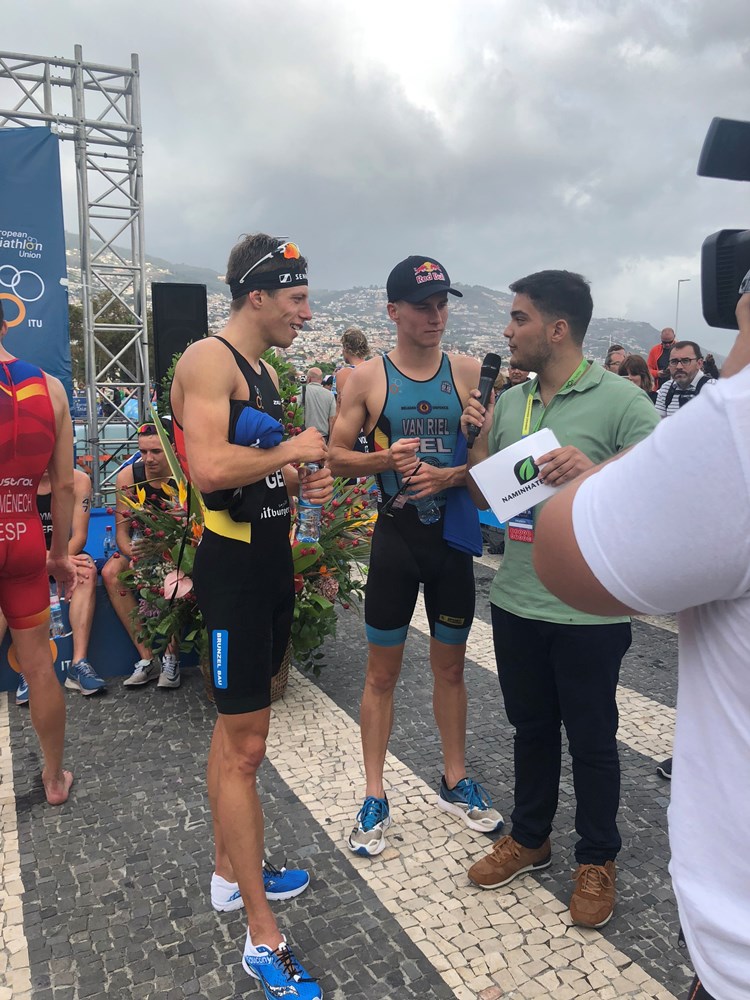 Soon I was grateful for my choice of sportswear over something more formal, as we were dashing through crowds and chasing athletes as they went through transition trying to get a good view of what was happening. The change in pace between journalism and my previous career in the charity sector was keenly felt throughout the weekend, as I ran from point to point to catch key moments.
The finale of the men's race was one of the most spectacular finishes I've ever seen, made all the more exciting as I watched it inches from the finish line along with the rest of the photographers and reporters. As both athletes dove headfirst across the finish line, desperately trying to clinch gold, I was really aware of just how brilliant sports journalism can be.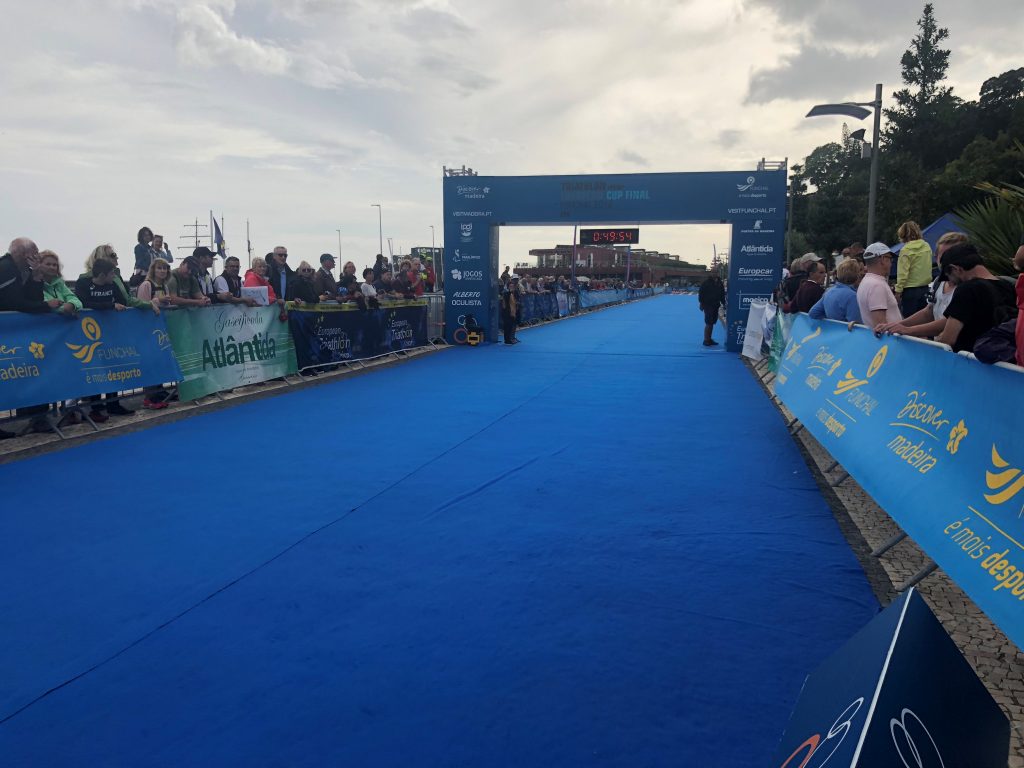 The next day started similarly, with a quick swim before dashing down to the start-line. Paratriathlons are operationally quite different from triathlons, with additional race crew there to support athletes in and out of the water dependent on their respective impairments. You only really get to appreciate the logistics of these events when you have close access, and you have to factor these timings into your coverage. With so many different categories, it is impossible to watch all of one discipline at once, so there were many frantic dashes between athletes, trying to capture as many of the British performances as possible.
Again there was an excellent crowd for the paratriathlon, and with a bigger British contingency than the day before. One athlete later told me that it was a weird mixture of regular triathlon fans and pensioners from Yorkshire on holiday who stumbled across the event.
The British team did particularly well in the paratriathlon, picking up several medals across the different categories.
🥇🥇🥇🥈🥉🥉

Great day for British para triathlon talent team as newcomers make a splash at the ITU Paratriathlon World Cup in Portugal.

➡️ https://t.co/j9To8x4nB3 pic.twitter.com/IdTsX3kQCj

— ParalympicsGB (@ParalympicsGB) 28 October 2018
Getting to interview one young athlete, who I had previously interviewed prior to the race, straight after her incredible win was an absolute highlight.
🗣️ "Knowing that they were once in the same position as me, makes me want to just keep pushing."@JoshLandmann talks us through an amazing journey ahead of his first @worldtriathlon World Cup race this weekend ➡️ https://t.co/mtb7tMeI33 pic.twitter.com/1yfdPTk0YJ

— ParalympicsGB (@ParalympicsGB) 26 October 2018
After a dash back to the hotel to write up the various stories, while waiting for confirmation of different results, it was a tight turnaround to produce all the race reports.
I love working under pressure, so this was one of my favourite moments of the weekend – and confirmed for me that retraining as a journalist was the right decision.
I used the final day in Funchal to do a few touristy things: going in the cablecar up to the top of the mountain, visiting the markets, and a final hilly run along the coast.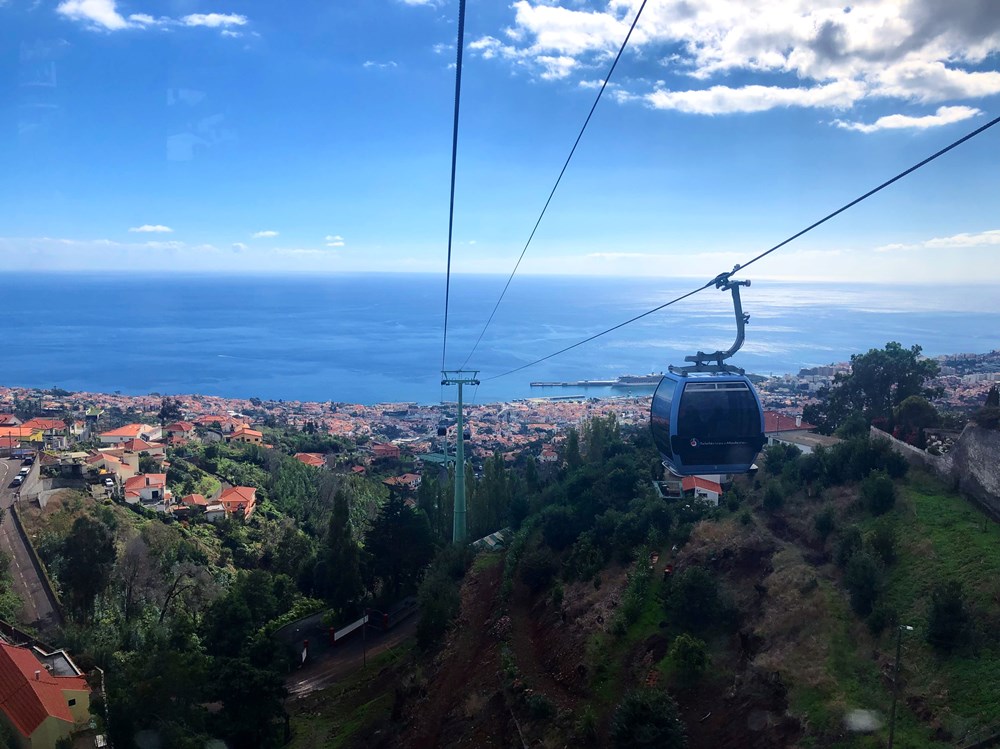 I couldn't have asked for a better first press trip. I was covering a sport I loved, in a beautiful location, at an end-of-season event – making it the perfect opportunity to really learn more about the industry in practice.
I'm so grateful to have had this weird and wonderful opportunity, something I never would have dreamt of doing before joining News Associates. I can't imagine many journalism schools with the connections to make this trip happen for a trainee just two months into the course, but I am unbelievably thankful that the stars aligned for me here.
I've come away with a new understanding of the field, some incredible press contacts around Europe, an internship offer in Spain, and a burning desire to throw myself back into it all over again."
Follow in Marthe's footsteps and apply for our fast-track, part-time or sports journalism courses now. 
Get a glimpse into the industry and our style of training by coming along to one of our free news and sports journalism workshops.