Top performing trainees
Sara Oldfield was recognised as student journalist of the year in 2016 following her stunning NCTJ exam results, beating over 1,500 others from accredited courses across the UK.
Sara is now a digital editor at Fabulous Magazine.
"The News Associates tutors push you to achieve your own potential and will be just as thrilled with the person who sails through as the person who fought tooth and nail to pass shorthand," she said.
"They genuinely care and I don't think I'd have achieved these exam results anywhere else."
Sara succeeded fellow News Associates graduate George Gigney, who won the Student Journalist of the Year prize in 2015.
George, who benefited from a Journalism Diversity Fund bursary, studied for his NCTJ Diploma in Journalism at News Associates in London, graduating in summer 2015, before joining Boxing News as a reporter.
He achieved a clean sweep of A grades and 120 words a minute shorthand.
He said: "While an NCTJ course is hard, hard work it can also be a lot of fun and that was certainly the case at News Associates. The staff there are all brilliant – they pushed us hard and were great teachers, but we also got on with them really well. If I had done my NCTJ course somewhere else, I really don't think I would have won this award."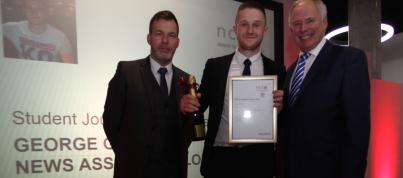 George Gigney was named the NCTJ's student journalist of the year in 2015