Nine News Associates nominations on NCTJ Awards for Excellence shortlists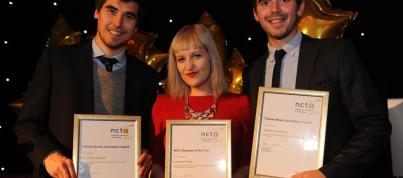 Former News Associates winners at the NCTJ Awards for Excellence
News Associates trainees feature prominently on the shortlists for the NCTJ Awards for Excellence – with nine nominations, more than any other journalism school.
Leonie Chao Fong's exclusive news review story, following up Merrill Lynch banker Rurik Jutting's arrest on suspicion of murdering two prostitutes in Hong Kong, was recognised in the student top scoop category.
The story, published by Vice, was described by Leonie's tutors as a 'simply stunning piece of in-depth news feature writing'.
After leaving News Associates, where she studied on the London fast-track course that graduated in January 2015, she joined multimedia news agency NewZulu, covering the UK General Election, and is now a journalist at Metro.
Also recognised in the trainee top scoop nominations are Jordan Bluer and George Odling. Jordan studied fast-track in Manchester, graduating in January 2015, and joined the Dover Express. George graduated in July 2014, after studying fast-track in London, and now works at theRichmond and Twickenham Times.
Three News Associates graduates make up the entire shortlist for the trainee feature writer of the year category – Naomi Firsht, a reporter at the Jewish Chronicle, studied fast-track in London, graduating summer 2014.
Newsweek reporter Conor Gaffey and Rosie Hopegood, a feature writer on the Sunday Mirror and The People, were classmates in the London fast-track course, which graduated in January 2015.
In the student sports journalist category, two trainees from News Associates in Manchester are among the three strong shortlist.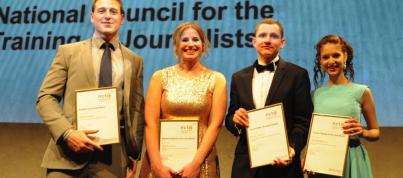 Former winners now work across the media from The Times to the BBC
Andy Donley, who is now working for the Daily Mirror and news websiteMancunian Matters, graduated in July 2015 from the fast-track intake. Michael Hincks – now a digital editor at BT Sport – was part of the year long sports journalism course in Manchester, which concluded in summer 2015.
Completing the nine nominations is Nemesha Balasundaram, a sports writer with the Irish Post, who is nominated in the trainee sports journalism category.
Nemesha studied part-time for her NCTJ Diploma in Journalism with News Associates in London, graduating in summer 2015. She was also nominated earlier this year in the Young Sports Journalist of the Year category at the prestigious Sports Journalists' Association awards.
All nominees achieved gold standard diplomas from their respective News Associates courses and all found full-time journalism roles within weeks of graduating.
"The NCTJ Awards for Excellence are always competitive, so to earn a nomination is a fantastic achievement and we're very proud of all our alumni and their achievements both on the course, and since leaving us," said managing editor James Toney.
"We're obviously delighted to see so many News Associates names on the shortlists and also extend our congratulations and best wishes to every nominee."
News Associates has a proud record in the NCTJ Awards for Excellence and former winners include journalists now working across the media from The Times to Evening Standard, Time Out to the BBC and in local and regional press and agencies.
2014 – Paul Berentzen – Trainee Reporter of the Year, Jon Robinson – Trainee News Reporter of the Year
2013 – Lauren Potts – Trainee Reporter of the Year, Eleanor Ross – Student News Reporter of the Year, James Coldwell – Trainee News Reporter of the Year, Thomas Allnut – Trainee Sports Reporter of the Year
2012 – Jen Morris – Student Feature writer, Hardeep Matharu – Trainee Feature Writer, David Churchill – Trainee News Journalist, Adam Knight – Scoop of the Year
2011 – Jessica Baldwin – Student Feature writer, Marcus Chippindale – Sports Journalist
2010 – Josh Burrows – Student Sports Journalist
2009 – Emily Koch – Trainee Feature Writer, George Scott – Student Sports Journalist, David Jordan – Trainee Sports Journalist
2008 – Steve Jones – Student Sports Journalist