News Associates presents JournoFest 2018: Breaking into Broadcast Journalism
Accuracy is everything in broadcast journalism, according to JournoFest's 'Breaking into Broadcast' panel, writes sports journalism trainee James Roberts.
This was one of many issues discussed by Sky Sports News head of journalism training Laurie Tucker, BBC News Intake senior broadcast journalist Narinder Kalsi and Sky News presenter Tom Macleod.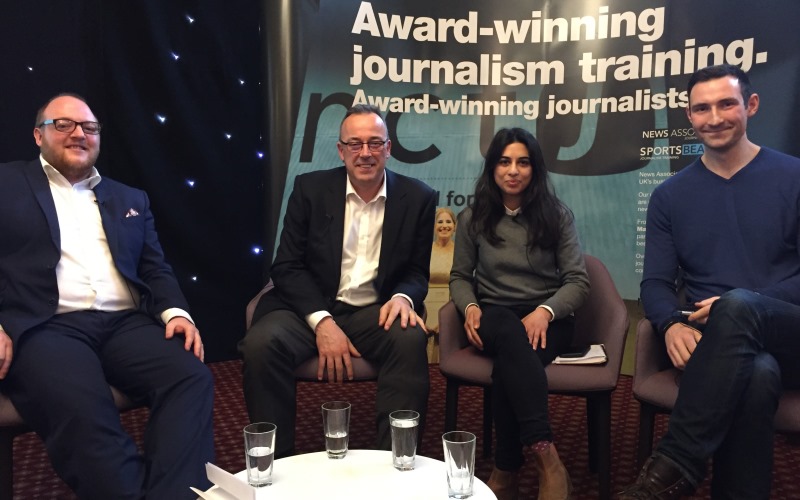 Today's social media-dominated world magnifies inaccuracies and Tucker admitted even a single error can inflict lasting damage on a journalist's reputation.
He said: "People only remember you for your mistakes.
"Whenever you make a mistake, someone will come down on you like a tonne of bricks."
Tucker explained how this is important from the beginning of a journalist's career.
He said: "I look through a lot of applications and if I see a mistake on a CV it's heading for the bin."
"If you want to get into broadcast you need a journalism qualification," says @tickleup. #JournoFest pic.twitter.com/5sAg61YH7h

— News Associates (@NewsAssociates) March 10, 2018
With two of the country's biggest hitters in breaking news represented on the panel, Macleod reminded the audience being first to the story is not always best.
The News Associates alumnus said: "Speed's great, but accuracy comes before speed every single time."
"Get your @NCTJ_news even if you're not interested in written journalism," says @SkyNewsTom. #JournoFest #TeamNA #StartedHere pic.twitter.com/oKFNY5QrwU

— News Associates (@NewsAssociates) March 10, 2018
The panel emphasised that broadcast reports must be impartial and fair – particularly for Kalsi's employer, the publicly-funded BBC.
She said: "Our coverage is a reflection on the audience which is watching us.
"When you're taking licence fee money you're accountable to them and you have to be able to justify and show that you're representing your audience and no-one else."
Kalsi was involved in the BBC's coverage of the Grenfell Tower disaster, while Macleod has anchored major breaking news stories including the Bastille Day terror attack in 2016 and the failed military coup in Turkey the same year.
Macleod acknowledged there is huge pressure to report breaking news effectively and accurately, but insisted it is the best part of the job.
"Keeping a cool head is right up there, particularly when something is breaking," he said.
"I really like the pressure – the bit I enjoy the most is when they say 'all we have is this: talk'."
Kalsi agreed, saying: "You don't want to go home, you want to stay in the newsroom because there's this massive buzz."
Questions to the panel followed, including their tips on breaking into broadcast journalism.
All three emphasised how you should not feel any job is beneath you and Kalsi summarised the value of starting from the bottom.
She said: "Don't be put off by entry-level roles.
"Those are sometimes the best because it gives you an understanding of the organisation you are working for."
She added: "Try and get involved in a small paper or regional TV station.
"You have to have a game plan – think 'That's where I want to be, but how do I get there?'."
The BBC's @MorningBooster is in there somewhere! #JournoFest pic.twitter.com/kAc7TcZznP

— News Associates (@NewsAssociates) March 10, 2018
Super audience at #JournoFest – warm, intelligent and motivated. @NewsAssociates

— Narinder Kalsi (@MorningBooster) March 10, 2018
To read about our 'Politics and Dealing with Fake News Panel' click here.
To read about our 'The biggest challenges facing newsrooms in 2018' panel click here.
To learn more about JournoFest click here. 
We are now interviewing for our fast-track and part-time journalism courses as well as our sports journalism courses starting this September/October – apply now.