News Associates again named top journalism course
News Associates has again been named as one of the top journalism courses in the UK.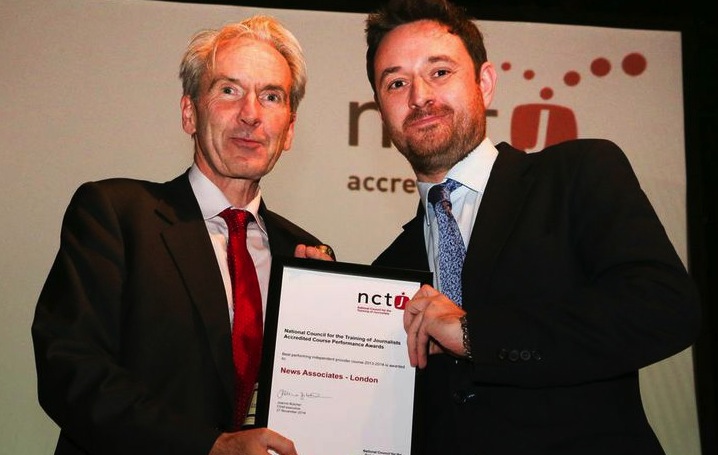 Our fast-track courses in multimedia journalism – officially confirmed as the best in the country for the second consecutive year – both closed with aggregate pass rates of 84%.
In London, where we've now been the top NCTJ-accredited journalism school for seven straight years, 42 out of 50 trainees gained their full diploma, with 41 out of 49 in Manchester.
Our academic year course in sports journalism closed with a pass rate of 83% in London and 77% in Manchester – with 20 out of 24 and ten out 13 achieving the demanding gold standard qualification respectively.
In addition, 24 trainees achieved a full diploma studying their NCTJ qualification on our part-time courses in London and Manchester.
In total 137 trainees achieved the gold standard National Council for the Training of Journalists qualification (A-C passes in all modules and 100 words per minute shorthand) at our centres in London and Manchester.
It means, once again, News Associates trains more gold standard NCTJ-qualified reporters in the UK than any other journalism school. More than a third of those who achieved the full diploma nationally were trained with us.

"These stunning set of results are a testament to our fantastic trainees and our committed staff, led by our heads of journalism Rachel Bull and Andrew Greaves," said managing editor James Toney.
"In the past year we've seen trainees who have graduated in the previous 12 months, secure front page splashes on various national newspapers, present bulletins on Sky News and win nationally recognised awards for their journalism.
"Our ambition is to remain at the forefront of journalism training in the UK, developing courses that deliver the ever-changing skills required in today's newsroom."
In addition, News Associates-trained journalists again were at the forefront of the NCTJ's Excellence in Journalism Awards.
For the second straight year they scooped the journalist of the year prize. Paul Berentzen, who now works at the Blackpool Gazette, followed 2013 winner Lauren Potts, who is now a broadcast journalist at the BBC. Jon Robinson, currently of the Lancashire Telegraph, was named trainee news reporter of the year.
"In 2014/2015, we must continue to produce unparalleled exam results and assist our trainees to maintain our unmatched record in securing paid journalism jobs, across a range of sectors," said course director Richard Parsons.
"However, we must first recognise the considerable achievements of our classes of 2013/2014 below."
Fast-track (London)
Bruce Archer, Naomi Argius, Jas Bahia, Luke Baker, Rachel Barr, Kai Seng Ing Bawmwang, Imogen Calderwood, Felicity Capon, Sean Conner, James Cozens, Jack Crone, Ciara Farmer, Naomi Firsht, Alex Finnis, Charlotte Goodwin, Kerrina Gray, Emma Griffin, Charlie Hare, Robert Horgan, Rachel Hur, Tabi Jackson Gee, Rachel Jenkins, Molly Kersey, Liane Lau, Andrew Lawton, Francesca Le Noury, Amy Martin, Jack Miller, Koel Mukherjee, Drew Nicol, George Odling, Olivia Parish, Douglas Patient, Tom Powell, Hannah Pupkewitz, Carly Read, Jack Skelton, Hannah Stubbs, Oliver Todd, Alice Todman, Sarah Ward, Bethany Whymark
Fast-track (Manchester)
David Aspinall, Jessica Badger, Annabel Bagdi, Kate Brady, Megan Bramall, Steven Brown, Richard Browne, Rachel Buckley, Alex Carey, Patrick Christys, Eve Commander, Charlotte Emsley, Liam Geraghty, Judith Hawkins, Louise Hill, Ana Hine, Helen Jake, Kenneth Lomas, Stefan Mackley, Hannah Marshall, James Metcalf, Christopher Ord, Matthew Ord, Richard O'Meara, Jess Owen, Marios Papaloizou, Edward Roberts, Danielle Roper, Nicholas Statham, Amelia Shaw, Gabriella Swerling, Michael Taylor, Matthew Turner, Lucy Varley, Chloe Vinden, Olivia Wheeler, Toby Wadey, Daniel Windham, Josh Willacy, Kathyn Woodrock, Sarah Yates
Academic year (London)
James Abbott, Lee Astley, Max Bentley, Ashley Birch, George Boulton, Stuart Clarke, Owen Fulda, Jonathan Green, Felix Henderson, George Jones, Sean Kearns, Joel Lamy, Ed Langford, Jack McCluskey, Fiona O'Brien, Daniel Prescott, Theo Lee Ray, Joe Short, Kit Sproson, David Taylor
Academic year (Manchester)
Sean Butters, Ruth Dacey, Patrick Dinham, Scott Hunt, Alex Lanigan, Amy Lofthouse, Matt Naylor, Josh Nicholls, Alan Ross, Arandeep Dhillon
Part-time (London & Manchester)
Sarah Acton, Lauren Belcher, Sarah Blewett, Danny Collins, Charlotte Court, Harriet Davies, Tess De La Mare, Kathryn Jacques, Nick Harris, Sarah Lingard, Melissa Massey, Justin Moll, Katie Moore, Chelsea Moore, Emma McWhinney, Laura Norman, Lawrence Ostlere, Eleanor Pipe, Emily Ray, Julie Small, Leo Szolnoki, Rebecca Taylor, Danielle Wainwright, Sarah Williams